Jeffrey Gibson, I AM YOUR RELATIVE
:
Museum of Contemporary Art, Toronto
Past exhibition
I AM YOUR RELATIVE is a multi-purpose installation featuring 15 moveable stages that will populate the Museum's Floor 1. Co-commissioned by MOCA and the Toronto Biennial of Art (TBA), the surface of the stages will become an archive over time as they are covered with posters created by Jeffrey Gibson that incorporate text and images from local historical archives and from the public. This visual archive, which prioritizes Indigenous, Black, Brown and queer voices, speaks to what histories are remembered and how.
The project will catalyze valuable community and professional creative relationships that will inform moments of activation throughout the run of the project. Over the course of the exhibition, the stages will host artists' performances, talks, workshops and gatherings, amplifying community voices past and present and supported through robust research, coordination, production.
Gibson is an interdisciplinary artist based in Hudson, New York. His artworks make reference to various aesthetic and material histories rooted in Indigenous cultures of the Americas, and in modern and contemporary subcultures. He is known for creating visually rich paintings and sculptures that mix material, saturated colour, pattern, image and text to celebrate and amplify the voices of individuals and communities both past and present.
Toronto Biennial of Art catalogue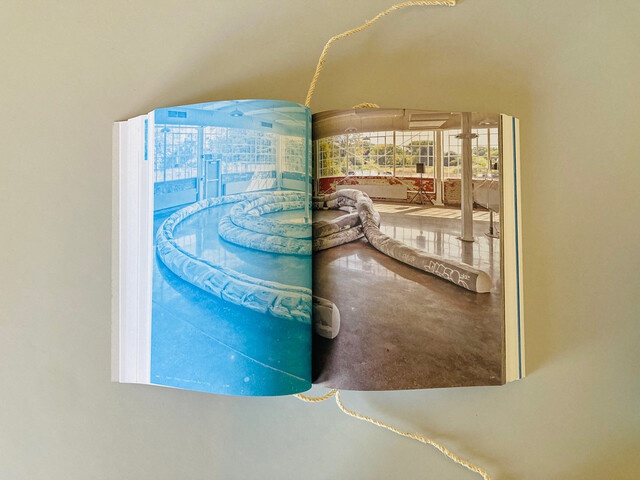 Water, Kinship, Belief . Courtesy of the Toronto Biennial of Art & Art Metropole
The inaugural Toronto Biennial of Art in 2019, titled The Shoreline Dilemma, was the first edition of a two-part biennial that traced interconnected narratives around the city's ever-changing shoreline. These connections sought to reveal strategies of resistance against industrial-colonial systems, uncover polyphonic histories sedimented around the shoreline, and open up relations between the human and more-than-human. To extend this artistic thinking and expand notions of relationality, in 2022, the second edition, titled What Water Knows, The Land Remembers, moves inland to follow tributaries and ravines, both above ground and hidden, that shape this place.
In relation to the two Biennial exhibitions, this publication Water, Kinship, Belief is a "third" site, a place where the continuities, resonances, and dissonances between Biennial editions are extended. Its pages become a means to bring together the artists, artworks, collaborators, and ideas that have together informed the exhibitions, irrespective of chronology, dispensing with categories, and part of a greater whole. Through its content and unique design, it is both a generative guide to the exhibitions and a Biennial site of its own, presenting new artistic relations that course through the book like tributaries.
Order
Water, Kinship, Belief