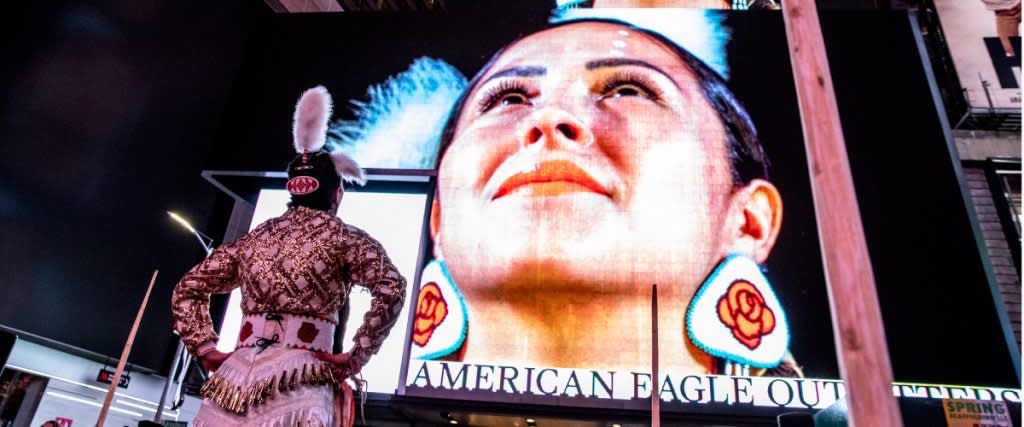 Times Square Arts has released the following statement regarding Jeffrey Gibson's film She Never Dances Alone:
In light of the COVID-19 pandemic, our Midnight Moment series is on pause for the first time in its 8 year history. She Never Dances Alone will continue on as the Midnight Moment until we can gather once again in Times Square.
Gibson's film opened in Times Square on March 1, 2020, along with a live performance on March 7 during Armory Week, just shortly before the complete shutdown of New York City due to the spread of the COVID-19 pandemic. Presented by Kavi Gupta in conjunction with The Armory Show, The Brooklyn Museum, and Roberts Projects, the project is described as
"Gibson's celebration of the Indigenous matriarchy, centering on the jingle dress dance, a powwow dance that originated with the Ojibewea tribe and is traditionally performed by women to call upon ancestors for strength, healing, and protection. As Sarah Ortegon, an acclaimed jingle dress dancer and Miss Native American USA 2013–14, performs in handmade dresses adorned with jingles or rows of ziibaaska'iganan (metal cones), the swaying colors, textures, and patterns pop against a black background and fold into kaleidoscopic abstractions. Ortegon's image multiplies within each screen and across the plazas, creating the impression that many women have come together to dance over Times Square. The video ends with a close-up of Ortegon's face after she has stopped dancing, calming her breath as she stares intently ahead — and at the people watching from below.
Says Gibson:
"I wanted to take this opportunity to draw attention to the importance and strength of Indigenous women. Many tribal communities were historically matriarchal and the acculturation towards patriarchal systems has caused great damage to our communities. We are currently experiencing a crisis with an overwhelming number of cases of missing and murdered Indigenous women, many of which are not investigated beyond the initial reporting. Times Square offers a huge global audience to witness this video and experience the dancing of Sarah Ortegon. It is not just about her as an individual but also the many women she represents. Having this video played in Times Square is an ancestral call for strength and healing for all Indigenous people, and a recognition of the power of Indigenous women."