Congratulations to Jeffrey Gibson for being curated into the 2019 Whitney Biennial. Since 1932, when it was inaugurated by Whitney founder Gertrude Vanderbilt Whitney, the Biennial has gained a reputation as the most significant exhibition or contemporary art in the United States. According to their written statement, this year's curators, Jane Panetta and Rujeko Hockley, selected artists based on how their work reflected upon, "the mining of history in order to reimagine the present or future, a profound and sustained consideration of questions of equity along financial, racial, and sexual lines, a concern with climate change, and explorations of the vulnerability of the body."
Seventy-five artists were chosen for inclusion in the show. More than half are woman; more than half are people of color; the artists' ages range from 28 to 83.
According to a story in The Art Newspaper, one artist-Chicago-based Michael Rakowitz-declined to allow his work in the show in protest of the fact that Warren Kanders, the Whitney's vice chairman, owns a company that manufactures tear-gas canisters and other military hardware that American border patrol agents have recently used on refugee seekers.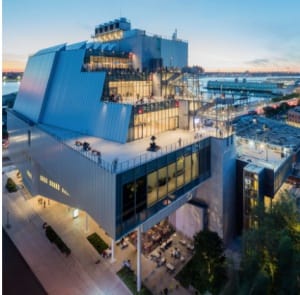 Whitney Museum of Art