Congratulations to Manish Nai, whose work made the cover of the latest issue of ART India Magazine! The issue pays a special nod to Mumbai Gallery Week, which brought in large crowds to see Paper City and Ghost Modernity, Nai's extraordinary, ongoing exhibition at Galerie Mirchandani + Steinruecke.
For the exhibition, curator, researcher and art writer Natasha Ginwala wrote in her essay Paper City and Ghost Modernity:
"As a heap of romance novels and legal manuals enter the artist's studio, Nai is neither invested in their erotic grammar nor in the pronouncement of juridical principles, but rather the gradient of yellow that runs through the outer skins of these books. The artist treats the thousands of books as building blocks, losing their individual character and authorship to become compressed scalar members within vertical architectural schemes. His creative output becomes a performative taxonomy of discarded and resold items-each bearing traces of prior possession.
By covering a central pillar in the gallery with newsprint, the layered installation organically acquires the quality of a gesamtkunstwerk. The smaller book sculptures are negative monuments, characteristic of geologic fossils congealed in time, created through metabolic destruction and then made whole again. From another perspective, they also come to stand in for bodies cramped in chawls and being tightly packed inside hurtling local train compartments-there is a folding of scale and disfiguration in order to coexist as a mutant urban organism.
Across different neighbourhoods from Chor Bazaar in South Bombay to Vikhroli in the East, the artist engages with informal traders and recycling units for materials of use. Over the years he has observed street culture as a realm of spontaneous innovation and carried forward with those markers of influence, lending new constituencies of value and desire to a low-end material spectrum that includes jute, aluminium, recycled paper, and vacant billboards. It is this generous engagement with the city, re-signification of value and terms of exchangeability that has fascinated me when observing Nai's committed approach."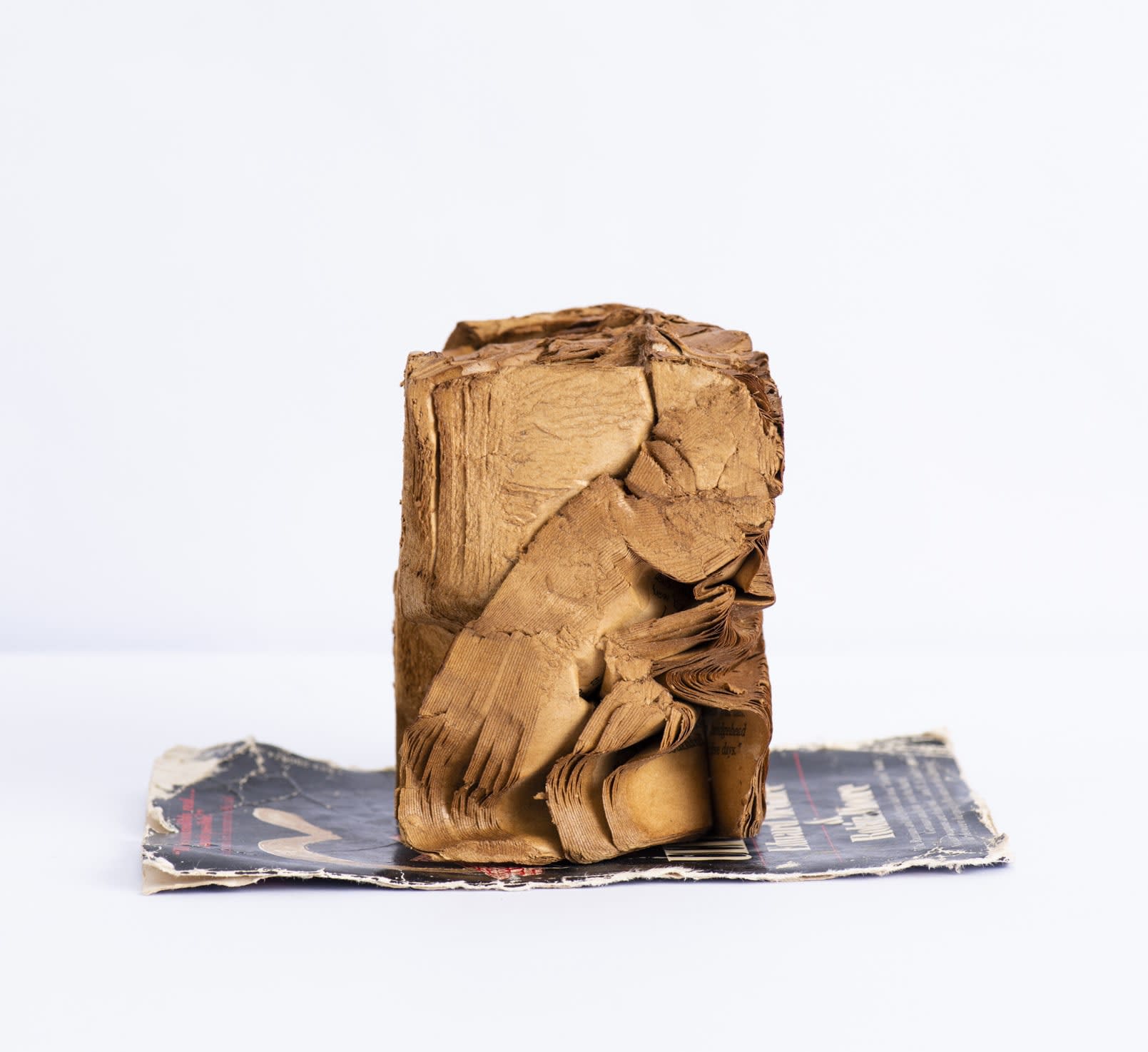 Manish Nai, Untitled, 2018
Compressed paperback book
4 x 3 x 3 in
10.2 x 7.6 x 7.6 cm