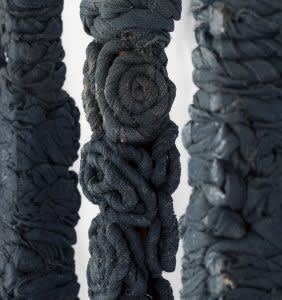 India is world famous for its fine textiles, as well as for the sourcing and production of indigo, a natural dye that produces a brilliant range of blue hues. Indigo has been used in the past to color everything from blue jeans to the first American flags. Recently the Lalbhai family, a family of indigo textile makers, announced plans for the creation of the Arvind Indigo Museum in Ahmedabad, India, which will be dedicated to spotlighting the connection between indigo, art, and culture. The permanent museum space is scheduled to be completed later in 2019. Meanwhile, its inaugural exhibition will open on 25 January 2019 in a gallery in the nearby Kasturbhai Lalbhai Museum.
Manish Nai, Untitled, 2018, Compressed Natural indigo jute cloth and wood, 80 x 3 x 3 each, set of 10, installation view.
Titled ALCHEMY, the exhibition will feature the work of influential contemporary Indian and international artists, whose work demonstrates innovative approaches to the use of textiles. Ten indigo jute sticks by Manish Nai will be included in the exhibition.
In addition to Nai, other artists participating in the exhibition include Alwar Balasubramaniam, G. R. Iranna, Manisha Parekh, Nalini Malani, Amit Ambalal, Sheetal Ghattani, Umang Hutheesing, Pandit Khairnar, Tanya Goel, Sachin Tekade, Nibha Sikander, Bhagyashree Suthar, Meesha Holley, Swapnil Pandeya, Kavin Mehta, Vyom Mehta, Annie Morris, Based Upon, Shola Carletti, Christian Achenbach, Alicia Kwade, Gregor Hildebrandt, and Victoria Andrejeva, as well as designers such as Asif Shaikh, Paresh Patel and Hansika Sharma.