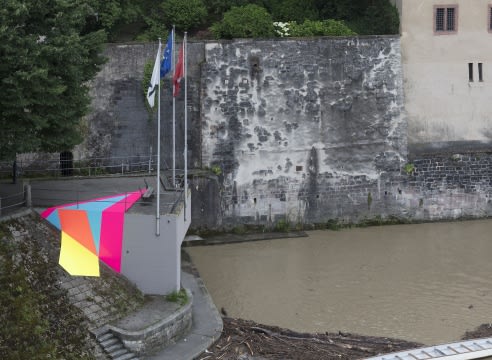 Jessica Stockholder gave the city of Basel, Switzerland, a beautiful assist this year at Art Basel 2018. Well, three assists, actually. Three pieces from Stockholder's "Assist" series (sculptural assemblages that require assistance in order to stand) were featured in the Parcours section of the fair, which, according to the organizers, "engages the public and fairgoers by placing site-specific sculptures, interventions, and performances in the city's neighborhoods."
Titled "Three Squared on the Riverbank," Stockholder's sculptures stood in stark contrast to their environment around Basel's Münsterplatz, infusing the classical, earth tone spaces with luminous colors and Post-Modern forms.
About the sculptures, Parcours curator Samuel Leuenberger said, "The works are not necessarily beautiful - they're disruptive." This is a perfect compliment, one that pays proper homage to an artist who for years has striven to engage people in new levels of awareness about their environments, and to challenge the public's visual perception of the physical world.