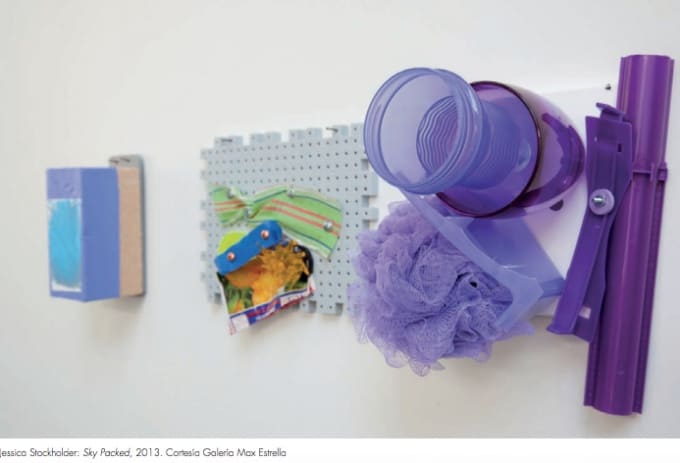 El Centro Galego de Arte Contemporáneo (CGAC) in Santiago de Compostela, Spain, opened a new group exhibition this week titled "En Construcción," which features work by Jessica Stockholder alongside pieces by fourteen other artists spanning multiple generations and nations. The exhibition examines the intersection of aesthetics and construction, and especially analyzes the overlapping concerns of art and architecture. Ideas such as this are essential to Stockholder, who has long been concerned with the ways color, line and form activate space and inform the human experience.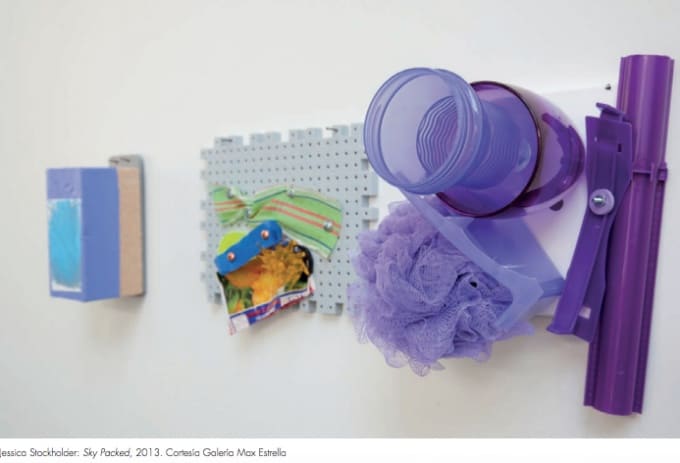 Stockholder's contribution to the exhibition is a small-scale work from 2013 titled "Sky Packed." The assemblage hangs on the wall in three parts. Purple and gray hues interact with an assortment of plastic, everyday items, which convey a range of geometric and biomorphic shapes. Some elements, such as a whimsical purple scrubby and an assortment of vacuum parts, convey a sense of duty and domesticity. Others, such as a grey plastic grid, evoke thoughts of industry. The piece is ultimately about structure, organization, and formal relationships: a perfect complement to a fascinating show.
Other artists included in"En Construcción" are Lara Almarcegui, Marlon de Azambuja, Pablo Barreiro, Carlos Bunga, Rosendo Cid, Björn Dahlem, Tamara Feijoo, María Luisa Fernández, Fernanda Fragateiro, Juan Gopar, Hisae Ikenaga, Kiko Pérez, Tobias Rehberger, and Héctor Zamora. The exhibition will be on view through October 28th, 2018.