Tomokazu Matsuyama: Harmless Charm
:
Sotheby's Hong Kong
Past exhibition
"'Harmless Charm' represents my journey of self-discovery as an artist exploring a whole new medium, as well as a means of exploring our existence and optimizing hope for the future."

-Tomokazu Matsuyama
Following the success of The Best Part About Us, Tomokazu Matsuyama's critically acclaimed, Chicago debut exhibition at Kavi Gupta, Matsuyama's solo exhibition Harmless Charm at Sotheby's Hong Kong represents the artist's inaugural foray into the medium of NFTs.
Matsu is renowned for his ability to create harmony out of contradiction. His intercultural visual language seamlessly amalgamates seemingly disparate references such as figures borrowed from fashion magazines; clothing reminiscent of historic Japanese garments; backgrounds evocative of Shogun-era screens and panels; curved canvases that simultaneously recollect mid-century Modernist Minimalism and the far more ancient history of shaped tea platters; and elements such as junkyard tires, plastic CVS bags, and candy bars that embody mass produced commodity culture and situate Matsu's works starkly in the present.
Harmless Charm extends Matsuyama's interest in the unity of opposites by exhibiting the artist's NFTs directly alongside his paintings.
All of the works share the same formal visual vocabulary and intercultural references. The NFTs incorporate movement and sound, whereas the paintings epitomize stillness and quietude. Matsuyama, however, asks us to contemplate what stillness and quietude mean in a living world. Can we locate ourselves, or perhaps even achieve transcendence, as easily through contemplation of a virtual dreamscape as a painted surface? Are there definitive differences between the ways our psyche experiences the mediums of the past and the mediums of the future?
Harmless Charm creates a space in which viewers can contemplate these questions for themselves and make their own determination about the potential each medium has to serve our ever more interconnected contemporary culture.
By activating his images within a digital space and exhibiting NFTs alongside paintings Matsuyama stakes out his own position in the conversation, announcing unabashedly that he has a hopeful perspective on the meaning, value, and conceptual potential of crypto art. He invites people to experience the totality of his vision while also elucidating the harmonious future these seemingly contradictory mediums share.
From sothebys:
Sotheby's Hong Kong is pleased to present Tomokazu Matsuyama: Harmless Charm, a selling exhibition for New York-based Japanese artist Tomokazu Matsuyama, from 14 - 21 June 2022. Featuring over 20 works, Harmless Charm is Matsuyama's NFT debut and the first time digital works are presented alongside traditional paintings, continuing his exploration of reality and cultural identity through his signature series.
Harmless Charm is Tomokazu Matsuyama's first collection of NFTs. The collection comprises of 3 unique 1-of-1 NFTs, three editions of 5, and three editions of 150. Created especially for this drop, digital artworks in this collection span from his coveted Equestrian, Fictional, Abstract, and Portrait series. Upon purchase of all three editions of 150 NFTs, collectors will be able to redeem a special edition NFT gift. Each wallet is permitted to claim a maximum of one claimable gift.
*Pre-registration is required. Successful registrants will receive an email confirmation, which is required for admission to the exhibition.
REGISTER
---
About the Artist
Tomokazu Matsuyama (b. 1976, Japan) creates work that responds to his own bi-cultural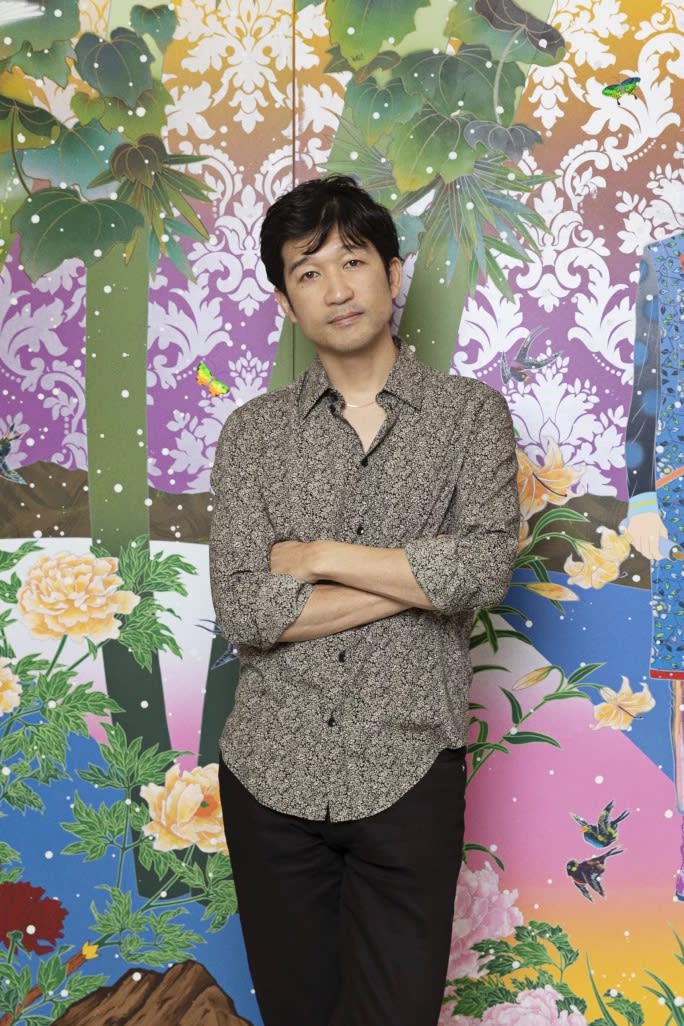 experience of growing up between Japan and America by questioning the aesthetic, cultural and conceptual systems of East and West.
His practice repositions traditional icons within a broader global context in order to create a distinctive style that resists cultural categorization and embodies what the artist refers to as the "struggle of reckoning the familiar local with the familiar global." By raising questions of national and individual identity through the formal qualities and subject matter of his paintings, Matsuyama examines the "natural chaos" of our social environments and challenges viewers to confront their own conceptions of cultural homogeneity.
Matsuyama is influenced by a variety of subjects, including Japanese art from the Edo and Meiji eras, classical Greek and Roman statuary, French Renaissance painting, post-war contemporary art, and the visual language of global, popular culture as embodied by mass-produced commodities.
Matsuyama currently lives and works in Brooklyn, New York. He received his MFA in Communications Design from the Pratt Institute, New York. Matsuyama's important exhibitions include the Long Museums in both Shanghai and Chongqing, China; Hong Kong Contemporary Art (HOCA) Foundation, Hong Kong; Japan Society, New York, NY, USA; Harvard University, Cambridge, MA, USA; Katzen Arts Center at American University Museum, Washington, DC, USA; and Museum of Contemporary Art Museum, Sydney, Australia, among other galleries and institutions.
Matsuyama's works are in the permanent collections of LACMA, Los Angeles, CA, USA; Asian Art Museum, San Francisco, CA, USA; The Royal Family, Prince of Dubai, UAE; Bank of Sharjah Collection, Dubai, UAE; Microsoft Collection, and more.