Discussing his first sculpture collab with AllRightsReserved alongside an exhibition and NFT series with Sotheby's.
Tomokazu Matsuyama returns to Hong Kong once again to lay down a full house of works spanning from his very first sculpture edition in collaboration with AllRightsReserved to an exhibition showcase of traditional paintings and the debut of his first NFT series with Sotheby's. With his signature vibrant and whimsical pieces which string together a multitude of references from various cultures, the Brooklyn-based Japanese artist looks to further emphasize his translation of standard views into positive outlooks within our world today.
It isn't Matsuyama's first rodeo when it comes to launching massive installments within the hearts of some of the biggest cities in the world. From a number of exhibitions to full-scaled digital installations, monumental sculptures and cladding art parks with his pieces, he continues to challenge himself with new mediums through this delicately packaged array of works.
Teaming up with AllRightsReserved, Matsuyama's known "Equestrian" series comes to life through a sculptural edition — dubbed Natural Shell Pride — structured in layers of wood and a combination of patterns distinct from the artist's style. The rider and horse are mounted over a gradient sorbet-like half orb that swivels in every direction giving new meaning to your usual rocking horse.
Alongside, Sotheby's has opened its doors to a highly visual experience composed of over 20 pieces including paintings and 3 unique 1-of-1 NFTs, three editions of 5, and three editions of 150. Entitled "Harmless Charm," the exhibition explores our own reality and cultural identity while manifesting hope for the future.
Matsuyama sat down with HYPEBEAST to indulge us with how he concocted these various works which our eyes and emotions could feast on, what he hopes they bring into our understanding, how music influences his works and his journey into the world of art.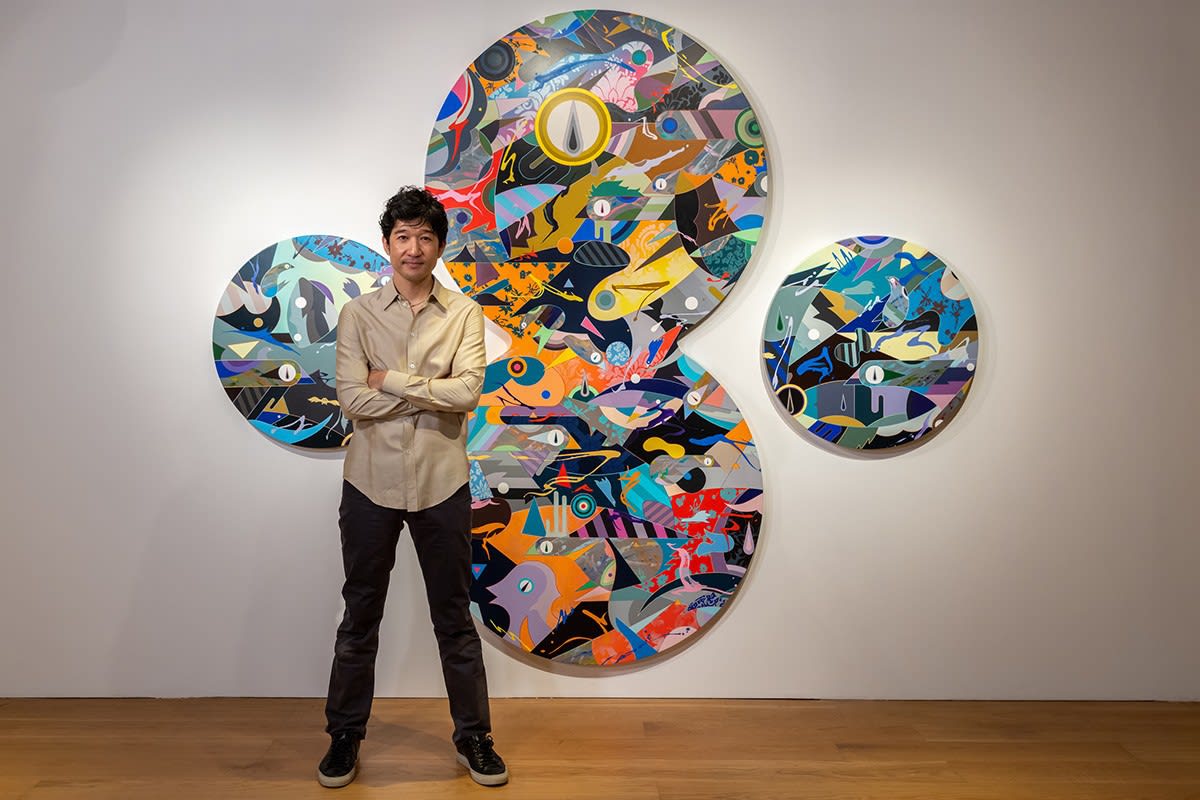 Courtesy of Sotheby's Hong Kong
How did this collab with Kotaro Nukaga, ARR and Sotheby's come about?
Whenever I do a big project or these projects that I've always wanted to do, it had been in Hong Kong. The first time I came here was in 2014 at Harbour City – that was my first monumental outdoor piece where it was about seven meters tall. Three years after, I came back to do my first kind of large show with HOCA at Repulse Bay.
This time, I wanted to meet SK Lam, because he always makes a great social impact. I've known him from doing all these great projects in Harbour City. He knew of me and I knew of him, so when this project happened, everything was all simultaneous. It's my first time making a sculpture edition and it took about maybe four or five months? Due to the unstable social conditions, we're going through post-pandemic, but it happened now.
Meanwhile with Sotheby's, Nick Buckley, who organized the show, asked if there was any way we can collaborate. He said my work would fit well in this digital animation world that the real world is kind of hyping up right now. I thought since I'm going back to Hong Kong after five years, I actually want to find a way to really get this all together, because I was fortunate to be given all these opportunities.
"Artists don't make products, we make value."
You've done a couple of digital installations in the past but in terms of creating NFTs, did you see a difference? And was it a highlight to see your works come to life?
With this NFT, I was less interested in what people were talking about on the trade side, or the artwork just being on the tablet. I wanted to extend what I've done, which was as an Asian artist, being a minority, and being multi-practiced having shown in galleries, museums and public art spaces. There are a few holes when you look at the contemporary art perspective and the crypto language that's being spoken together with NFTs. For me, it was to find that based on my own experience and a way to legitimately clarify the ownership of this digital work.
People say web 3.0 doesn't allow physical ownership. There is no materialistic existence, as a painting, but when you apply it, it does fit into the material world, but it can still be shared through web 3.0. That was the connection that I wanted to make – artists don't make products, we make value. So when you consider it that way, the value goes two ways. Is it worth financial value? Or does the value create a social impact? So I thought by having this approach, it can include both.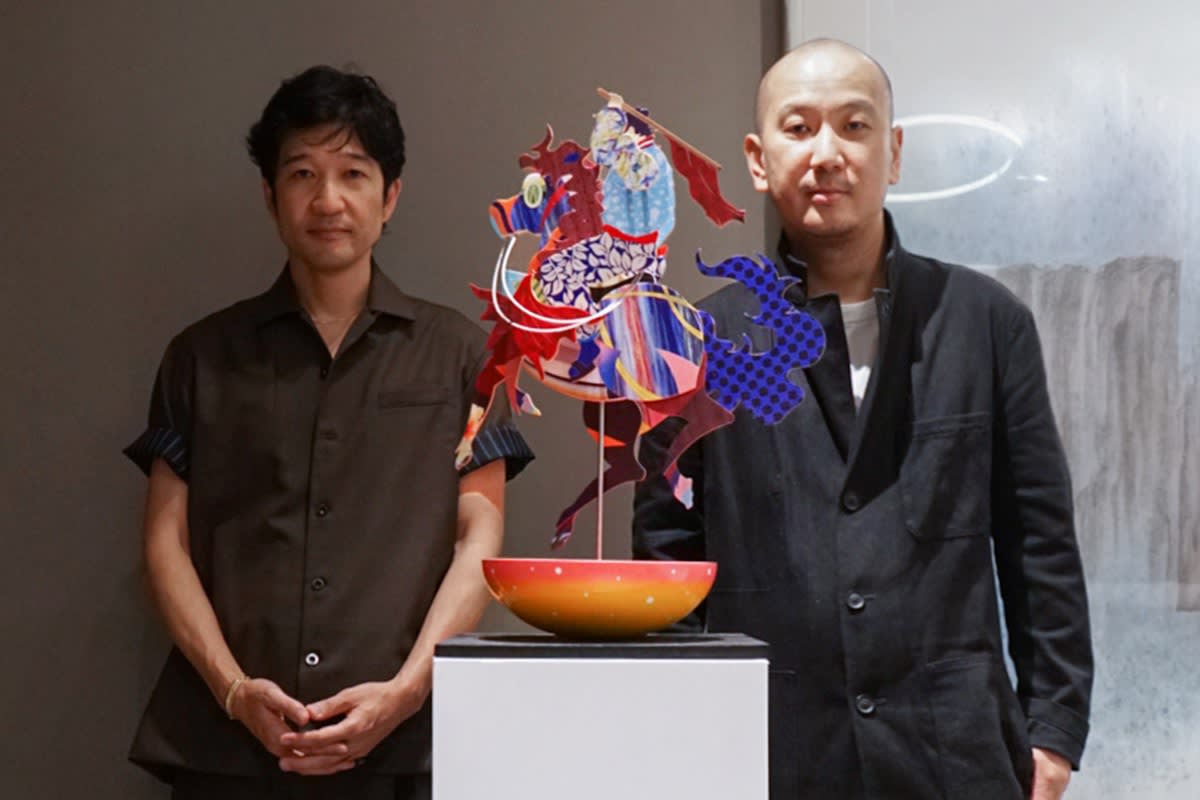 Courtesy of AllRightsReserved
A number of past sculptures you made utilize metal as your preferred medium. Based on your sneak peek, what made you decide to use mainly wood for this current piece?
So this is where SK and I had a long debate about what should be good for people who'll live with it. Metal pieces tend to be so much heavier and my pieces are extremely complex. We did discuss metal, but it's really not easy and it's not home-friendly as well.
We were talking about how it would be a fun idea if we try to make a rocking horse you see little kids riding. But then there's always that Hermes version or the other version that actually became an object in itself. So we took this idea of an Asian object. Making a luxury piece lose its initial function. We wanted to make something that we are familiar with and use my art so it becomes a little bit more home-friendly. I've always wanted to use this language that we know we're familiar with and something a little bit artistic.
What is it about the "Equestrian" series – referencing images of leaders on horseback spanning from a samurai to Napoleon – that interests you?
This horse and rider, historically, especially now, has become a very politically correction-needed subject matter. After BLM, everywhere in Europe, they're trying to take down all the equestrian sculptures because it represents slavery. This idea where the work itself is very historical represents every culture. People are trying to erase that and it's a good move to have this new movement, but at the same time, I don't think history should be erased. We need something to view that even if we have a dark side, history should still be visible. I wanted to completely translate this subject matter to something that becomes a little bit more accessible, positive and has an emotional factor.
"Even when you're being subjective, but since the world is so closely layered within each other, there's a language that becomes objective that we can all start to understand."
You mentioned before that you usually piece together different aspects and contexts from an array of cultures to rather remind viewers of their own narrative, but do you come up with your own personal narrative of each painting?
Everything has to be subjective in some ways, right? Even when you're being subjective, but since the world is so layered closely within each other, there's a language that becomes objective that we can all start to understand. I have to say subjective in a way that it kind of reflects what I feel, what's right. That term was another very subjective term, but what I feel is real, what I've seen and what I've understood in my upbringing.
Then I tried to do something that would kind of be translated to another context. Whether it be influenced by popular culture, traditional Asian, traditional Chinese or Japanese. I think our culture and generation are generally really great in speaking those terms. We influence each other in a similar community and culture.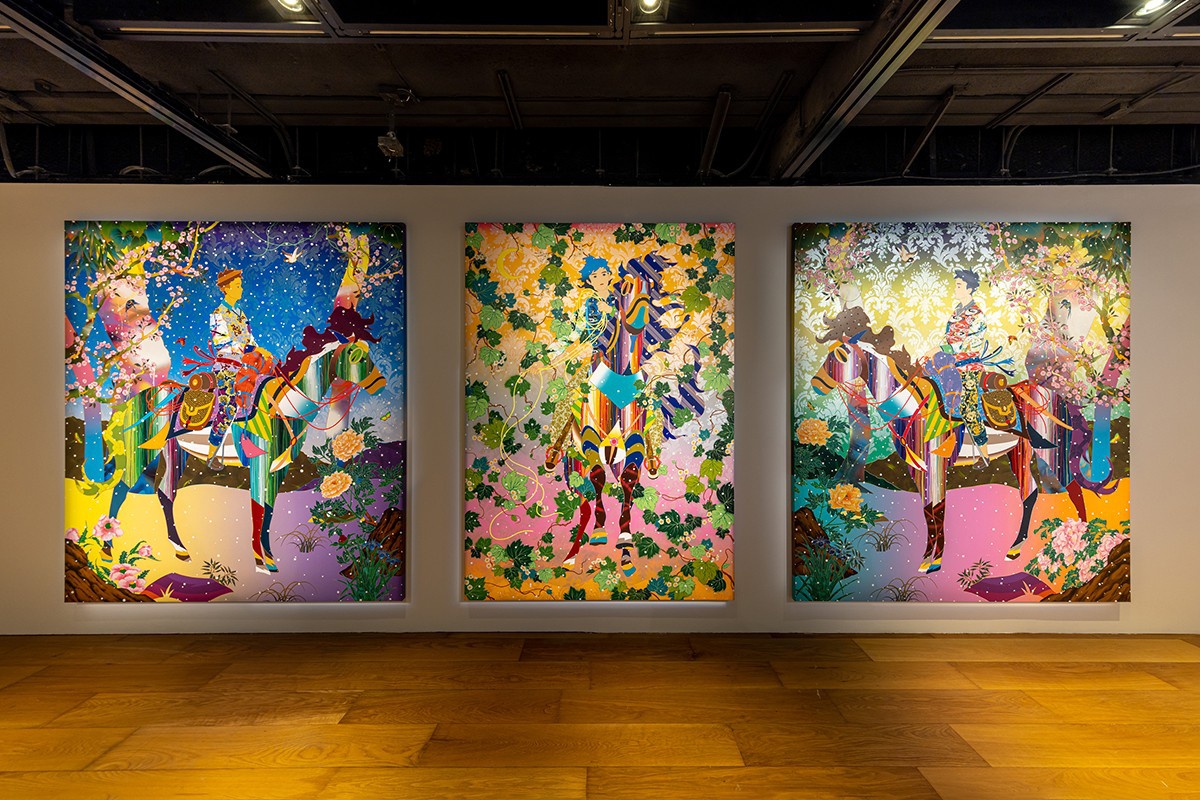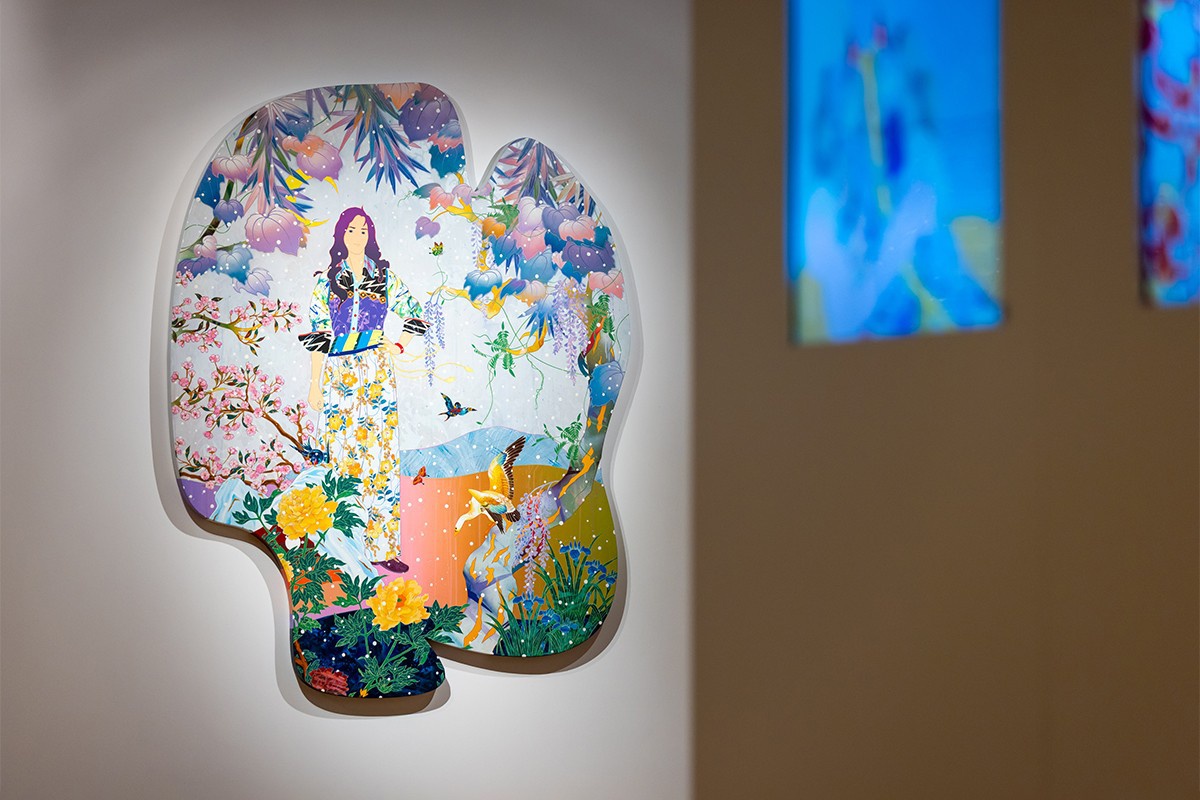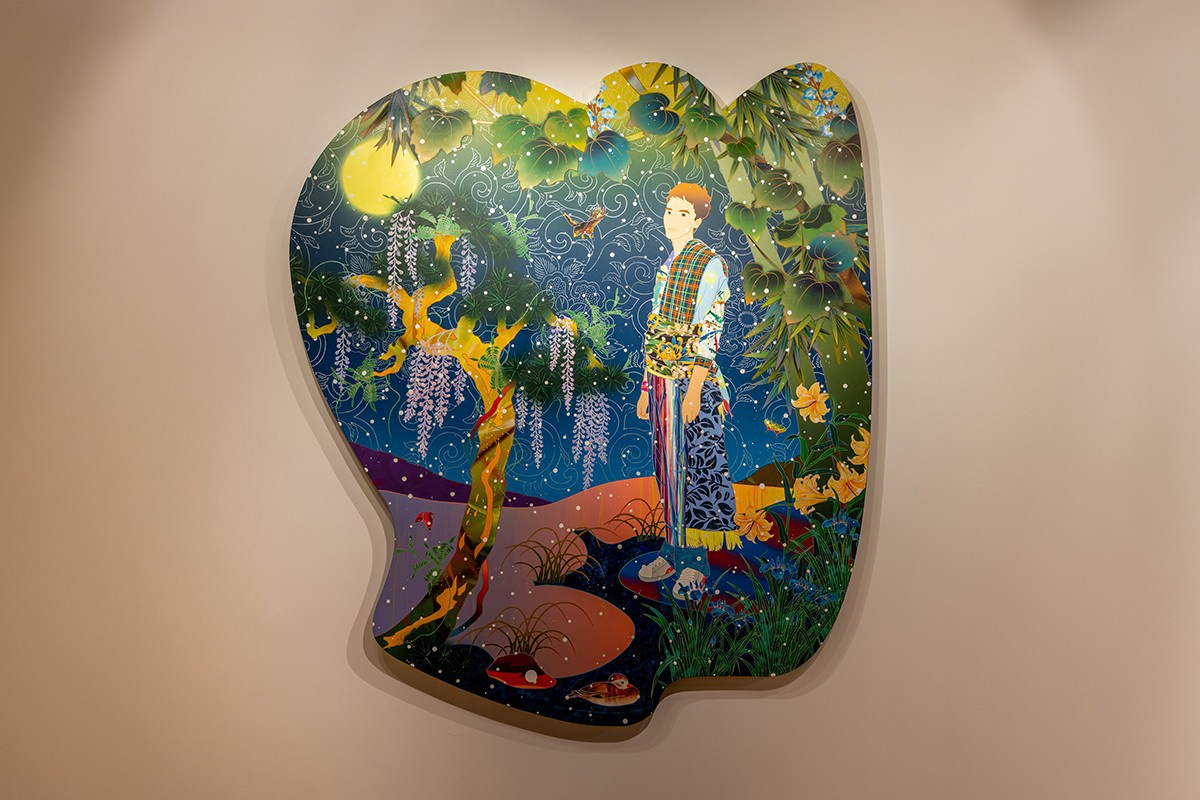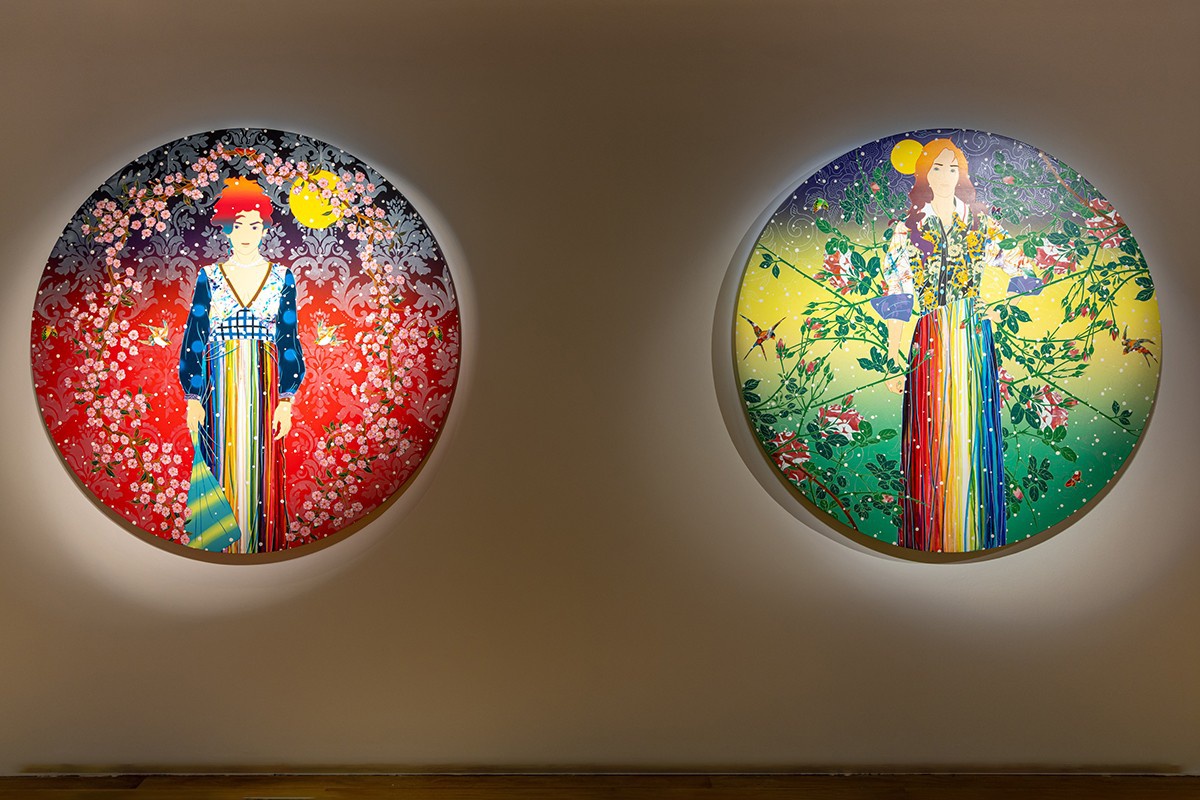 Courtesy of Sotheby's Hong Kong
What music have you been listening to while working?
It kind of goes back and forth with hip-hop. I don't listen to so much EDM and house music, although I like it, but because when I paint, I need a certain rhythm.
And I try not to tell specific narratives with titling. The way I title my works is that I go to my iTunes library, select different songs and titles, and put them together. I bundle all the titles and make it sound as if it means something — it's very vague and subjective. Then the viewer starts to ponder the meaning behind it, and you make the decision based on what you know; subjective opinion.
Having said that, even what I listen to is very diverse, from classical to some very cutting-edge new music even within hip-hop. I do like old school, 90s hip-hop. I don't know if I listen to too much of the current ones because they all kind of sound the same.
"We live in times of hope, so we want to see something that will deliver us a great kind of positive energy."
Is that what you also did for the "Harmless Charm" title?
I did the same thing. The reason why I titled the exhibition was that I've actually added a contextualized conceptual meaning for the entire thing. We live in Asia and being an artist, we kind of are, in some ways, painting the ironic or dark side of our identity, but the world changes and our visions change. We live in times of hope, so we want to see something that will deliver us a great kind of positive energy.
For that reason, I've been painting in this theme for a long time because a lot of Traditional Asian art historically has this component of a lucky charm factor. So I wanted to bring that heritage because that's part of my DNA. But I didn't want to overly express that. "Harmless Charm" really represents what I'm trying to build and deliver in this day and age.
And this is your approach to all your projects?
Yes and no. A lot of people pick up my work as about East and West. I mean, that's just a part of it and it's really not about East and West. I'm trying to really hit the gray zone. Because I've overseen this and it's just kind of cliche to do. You see heavy references from pop culture and they're are pretty deep because I was from them. I fit that culture, but then traditional references you can see from historical museums. I reference some serious historical painters. So I wanted to speak in both languages because I appreciate both.
Paintbrush down, what hobbies do you enjoy outside of painting?
I wish I had time for hobbies. 20 years ago, I was a snowboarder, and I was fully sponsored from goggles to the board and everything. I would travel around the world for shoots for TransWorld skateboarding and other snowboarding magazines. It was a hobby that almost became a profession, but then I got heavily injured.
I think when you're artistic and creative and you find it a hobby, you do it until it becomes something and becomes a profession. I don't even go snowboarding anymore because I want to dedicate and contribute to what I do now. I'm always in the studio. I get in the studio around 7 am. Unless I have dinner plans, a meeting or over-a-meal type of meetings, I'm at the studio until like 10 or 11. I do that six times a week, Monday through Saturday. That's kind of my life. I don't feel this is necessarily work or a job. I mean it is an occupation, but more importantly, its a way of life.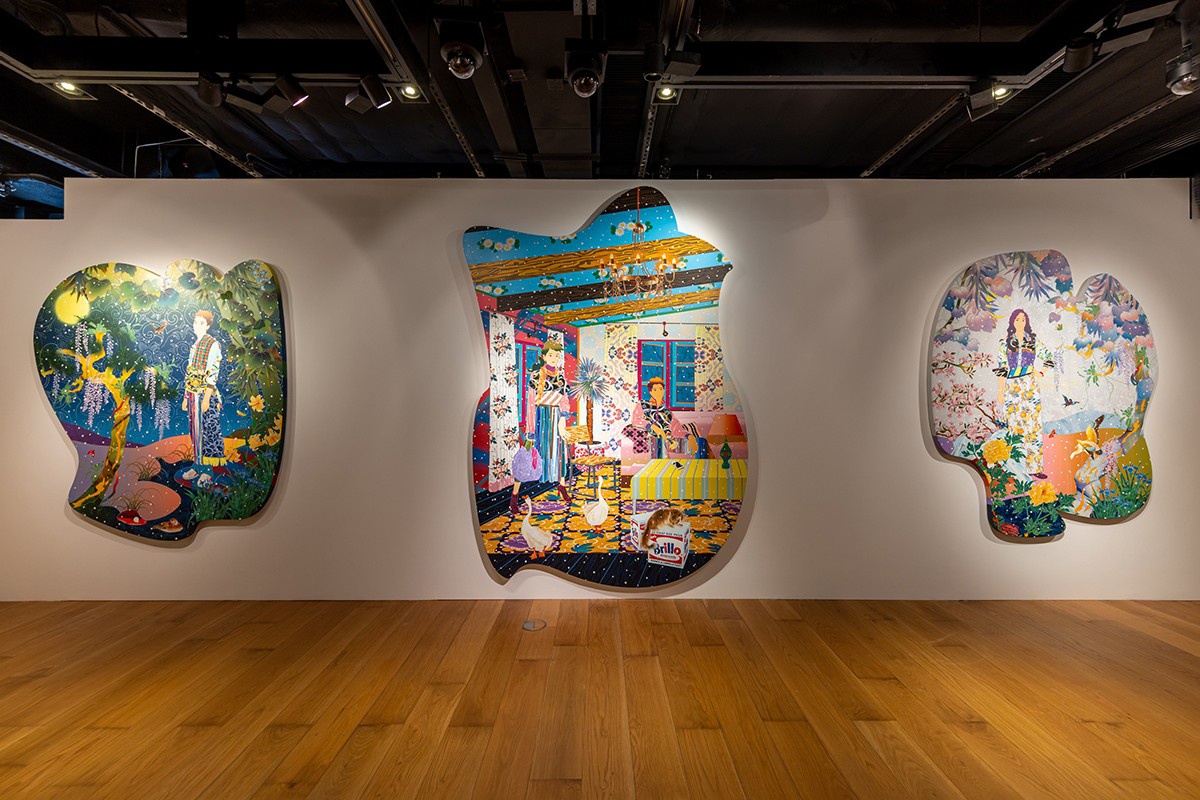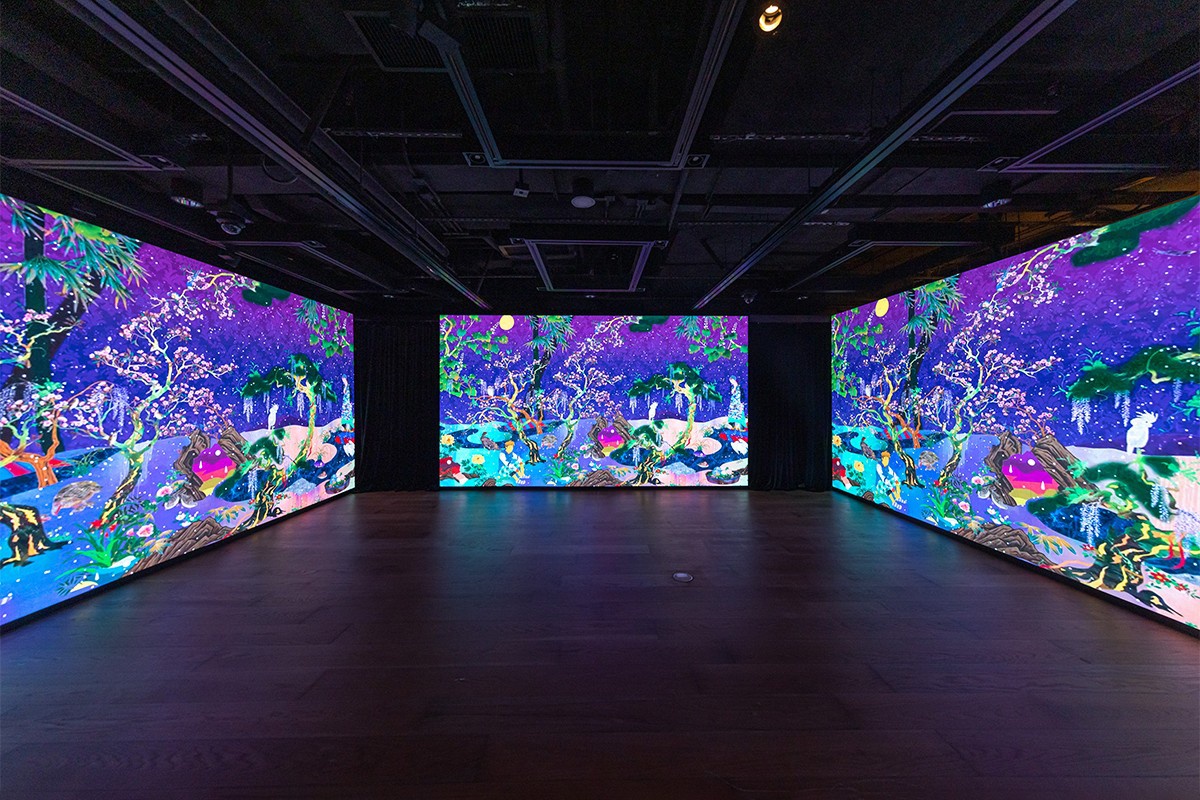 Courtesy of Sotheby's Hong Kong