Jeffrey Gibson, The Body Electric
:
SITE Santa Fe, Santa Fe, NM
Past exhibition
"I have been researching Indigenous kinship and relationality philosophies in response to the chaos of the past few years of the pandemic, political divisiveness, ongoing environmental disasters, racially motivated violence and trauma, and the amplifying of voices that are demanding change. I have sought to find ways to continue to have empathy for different perspectives and these kinship and relationality philosophies have provided me some important ways to move forward."

– Jeffrey Gibson

Jeffrey Gibson's new solo exhibition, The Body Electric, features a comprehensive survey of Gibson's multi-decade practice highlighting his purposeful use of material, provocative language, and collaborative community-rooted performances. The Body Electric is on view May 6, 2022, through September 11, 2022.
"The Body Electric, features a selection of paintings, sculptures, commissioned community-engaged performances, and video installations, expressing a deep appreciation of the Earth and kinship with the natural world. Gibson calls attention to 'outsider-ness' through a celebration of nonconformity and the power of self-expression. Over the course of this four-month exhibition, SITE Santa Fe will offer a wide range of public programs and community collaborations, including a film series curated by Jeffery Gibson and a live performance of She Never Dances Alone by Sarah Ortegon," says curator Brandee Caoba.
In addition, The Body Elecetric will feature a newly commissioned mural, THE LAND IS SPEAKING ARE YOU LISTENING (2022), activating SITE Santa Fe's front lobby and main galleries. Viewed together, the body of work presented in this exhibition encourages contemplation of representation, exclusion, and belonging.
On Sunday, April 10, Jeffrey will gather a group of community members from across New Mexico to participate in a new iteration of To Name An Other. For the first time, this performance piece will be created entirely in collaboration with Indigenous community members. The 54 participants will be filmed performing the piece in front of a live audience and the resulting video work will be installed in the exhibition.
Public programming during the opening weekend will include a conversation with Jeffrey Gibson and Jaune Quick-To-See Smith on Saturday, May 7, and an artist talk with Jeffrey Gibson on Sunday, May 8, 2022. On June 23, SITE Santa Fe welcomes arts patrons, collectors, artists, and music enthusiasts from all over New Mexico, the Southwest, and across the country for their Annual Benefit. On Thursday, August 18, SITE Santa Fe will feature Jeffrey's performance, She Never Dances Alone, performed by Sarah Ortegon.
---
AUDIo walkthrough with jeffrey gibson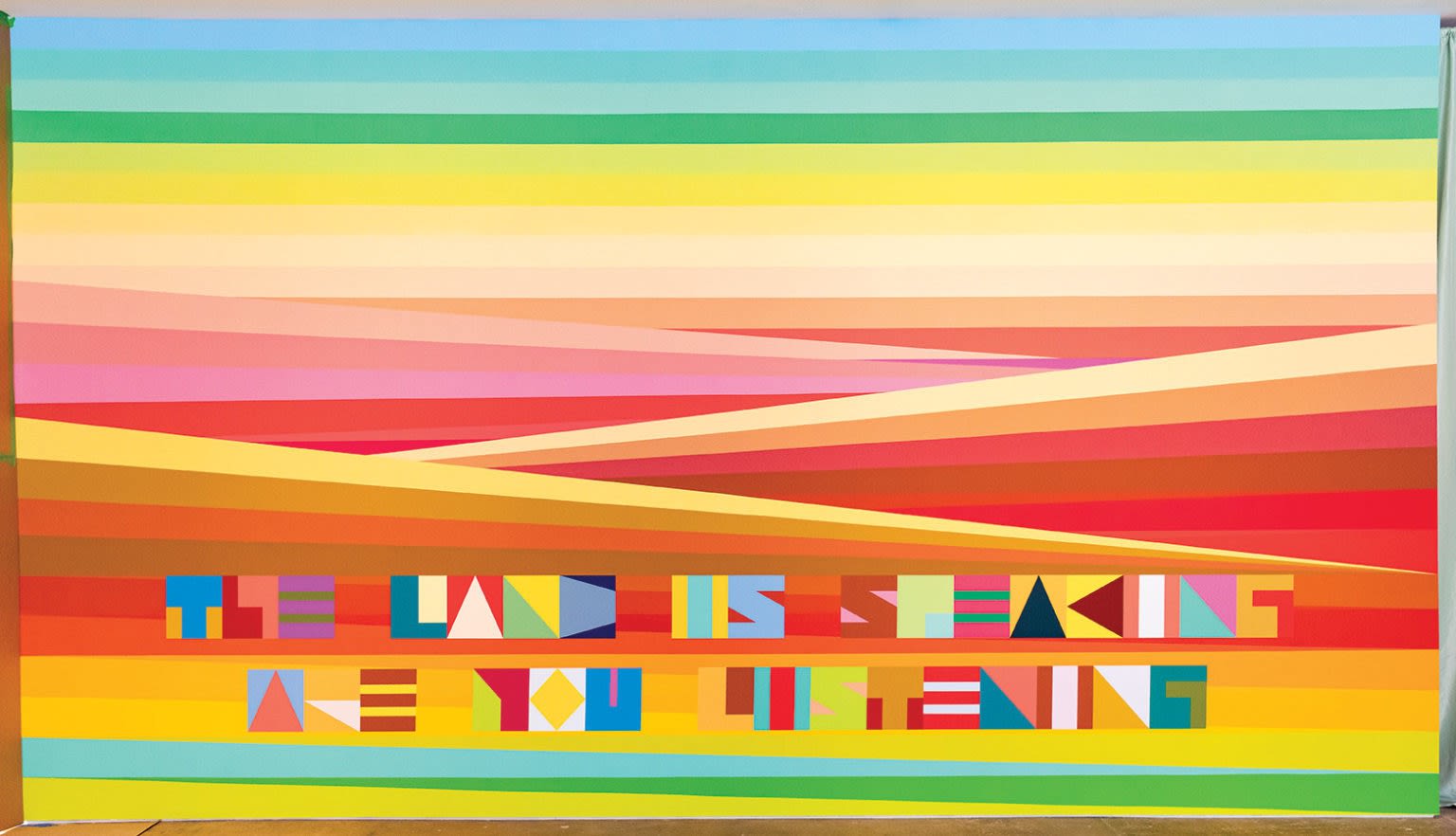 THE LAND IS SPEAKING | ARE YOU LISTENING, 2022
Painted directly on the wall, THE LAND IS SPEAKING | ARE YOU LISTENING is a newly commissioned work that depicts a landscape through graphic text. The vibrant palette is inspired by both Southwestern skies as well as the lush landscapes of the Northeast. Gibson's original text prompts us to consider how the Earth communicates with us and subtly expresses frustration with those who abuse, neglect, and exploit the Land.

---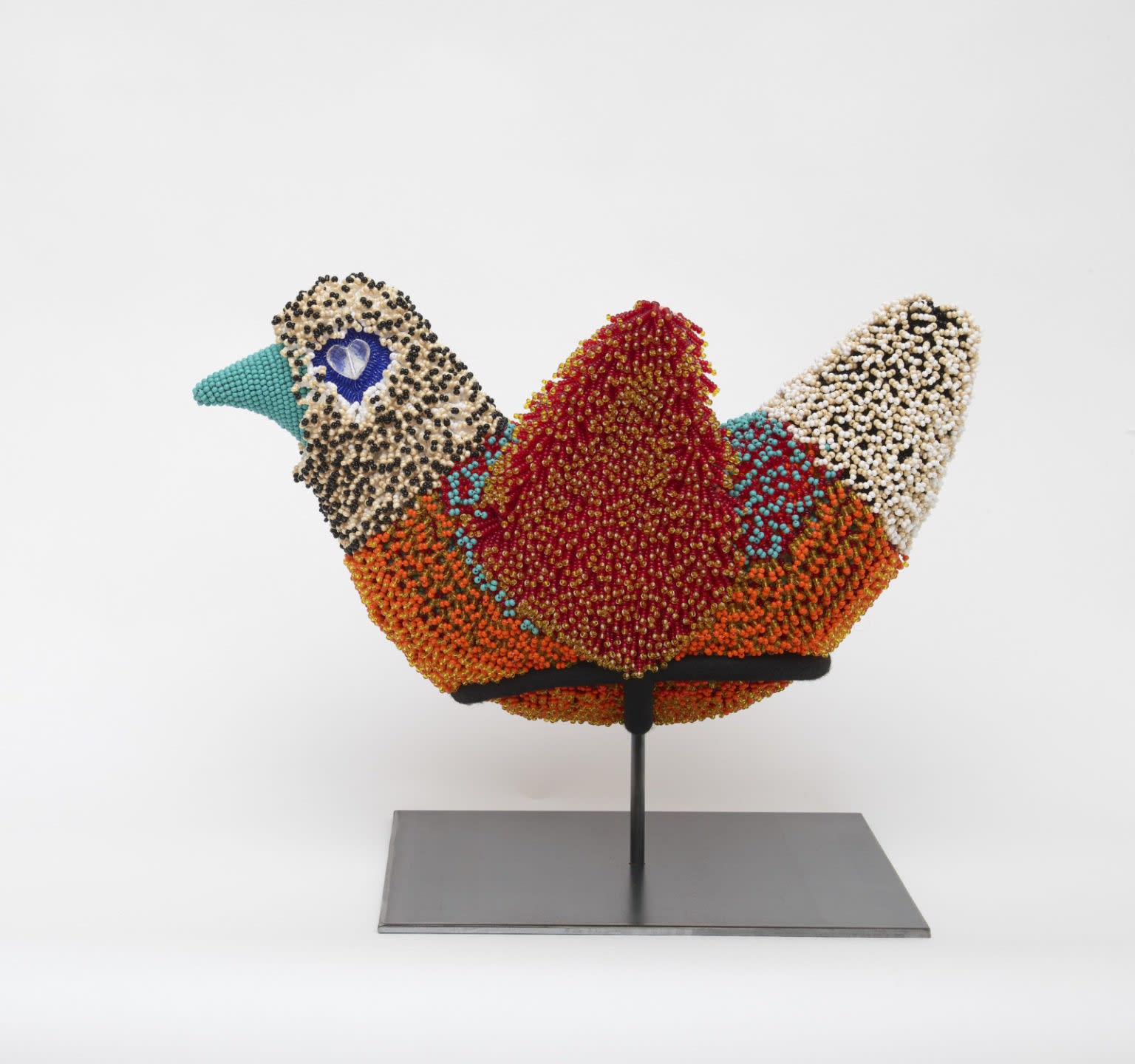 BEADED BIRD SCULPTURES, 2021
These sculptures reference turn-of-the-century "whimsies," small beaded textile objects made by Haudenosaunee peoples among others, reflecting Victorian motifs, which the artist first encountered as a Native American Graves Protection and Repatriation Act assistant at the Field Museum
in Chicago, Illinois. Not easily fitting within artistic categories or cultural identities, whimsies became most commonly known as tchotchkes sold in the Niagara Falls region, a kitsch commodity straddling two worlds without being embraced fully by either. "That's what drew me to them," says Jeffrey Gibson. "I kind of felt myself reflected in them to some degree."

---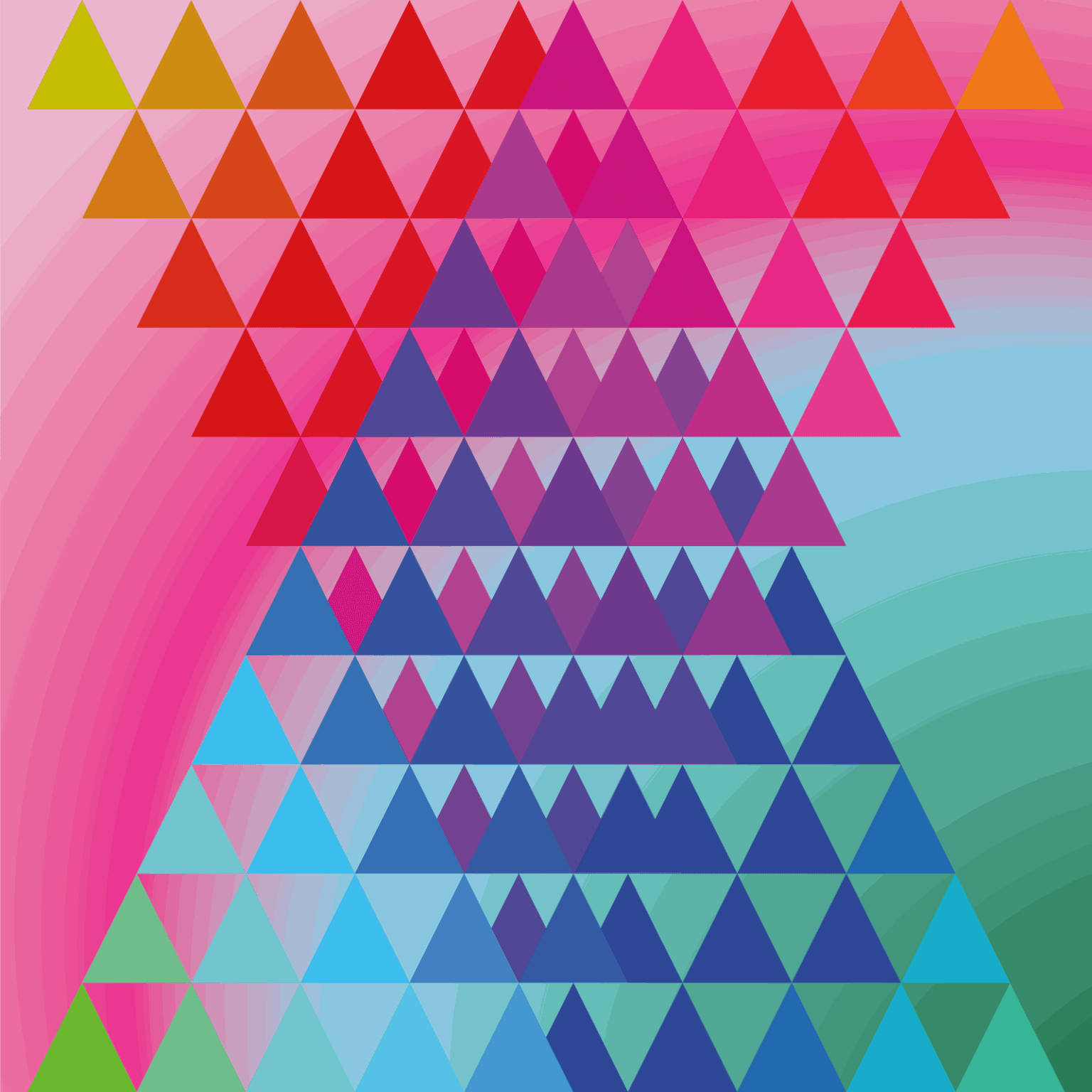 UNTITLED WALLPAPER, 2022
In contrast to the traditional "white cube" gallery space, Gibson's newly commissioned wallpaper extends the rich color and patterning present in his paintings and sculptures into the surrounding environment. Creating an immersive experience, the wallpaper shifts the context of how Gibson's works are seen and experienced from the purely visual to a full-body engagement.

---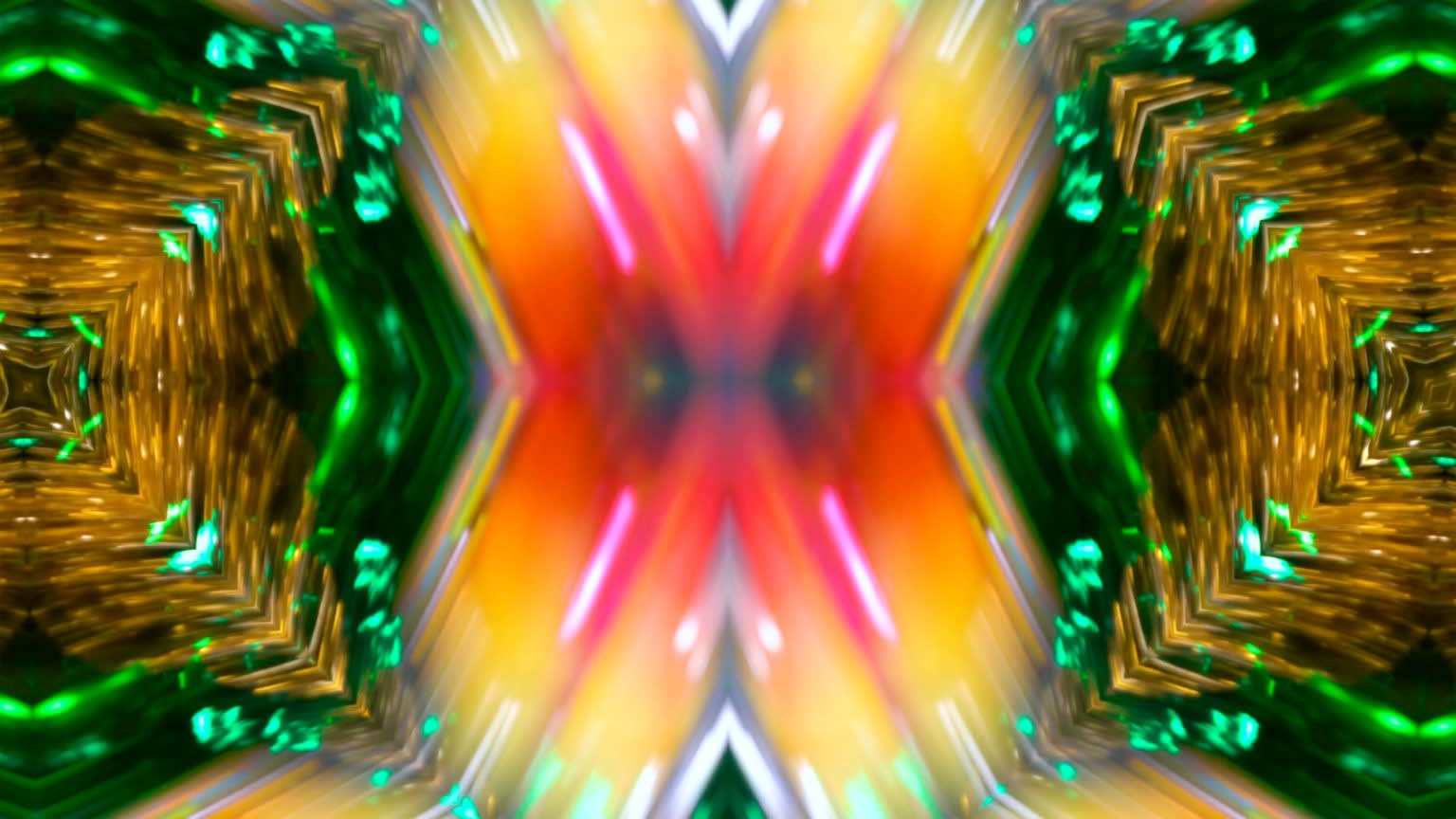 SHE NEVER DANCES ALONE, 2020
Inspired by the jingle dress dancers who gathered to defend Standing Rock Reservation from the construction of the Dakota Access Pipeline in 2016,
She Never Dances Alone reintroduces dance as a powerful tool of resistance and protection. Commissioned by Times Square Arts for their Midnight Moment Series 2019-2020, Eastern Shoshone/Northern Arapaho performer Sarah Ortegon saliently dances to "Sisters" by A Tribe Called Red across seventy massive monitors in New York City's Times Square for three minutes each night over the course of eight months. Shown at SITE Santa Fe as a nine-channel video installation, Ortegon's powerful movements connect her to a dynamic legacy of dance and dancers, reminding us that she never dances alone.

---
RED MOON, DESERT SKY, RED SUNSET, 2021
Made from nylon shawl fringe commonly found on a dancer's regalia, this series repositions fringe as a primary sculptural material, rather than simply an adornment. "There is a human quality to the fringe in movement," says Gibson, referring to the nuanced ways the material responds to its surroundings. In arranging the fringe to evoke bold, solid, monolithic forms, these sculptures contribute a dynamic and caring human touch to our vision of modernity and the future.

---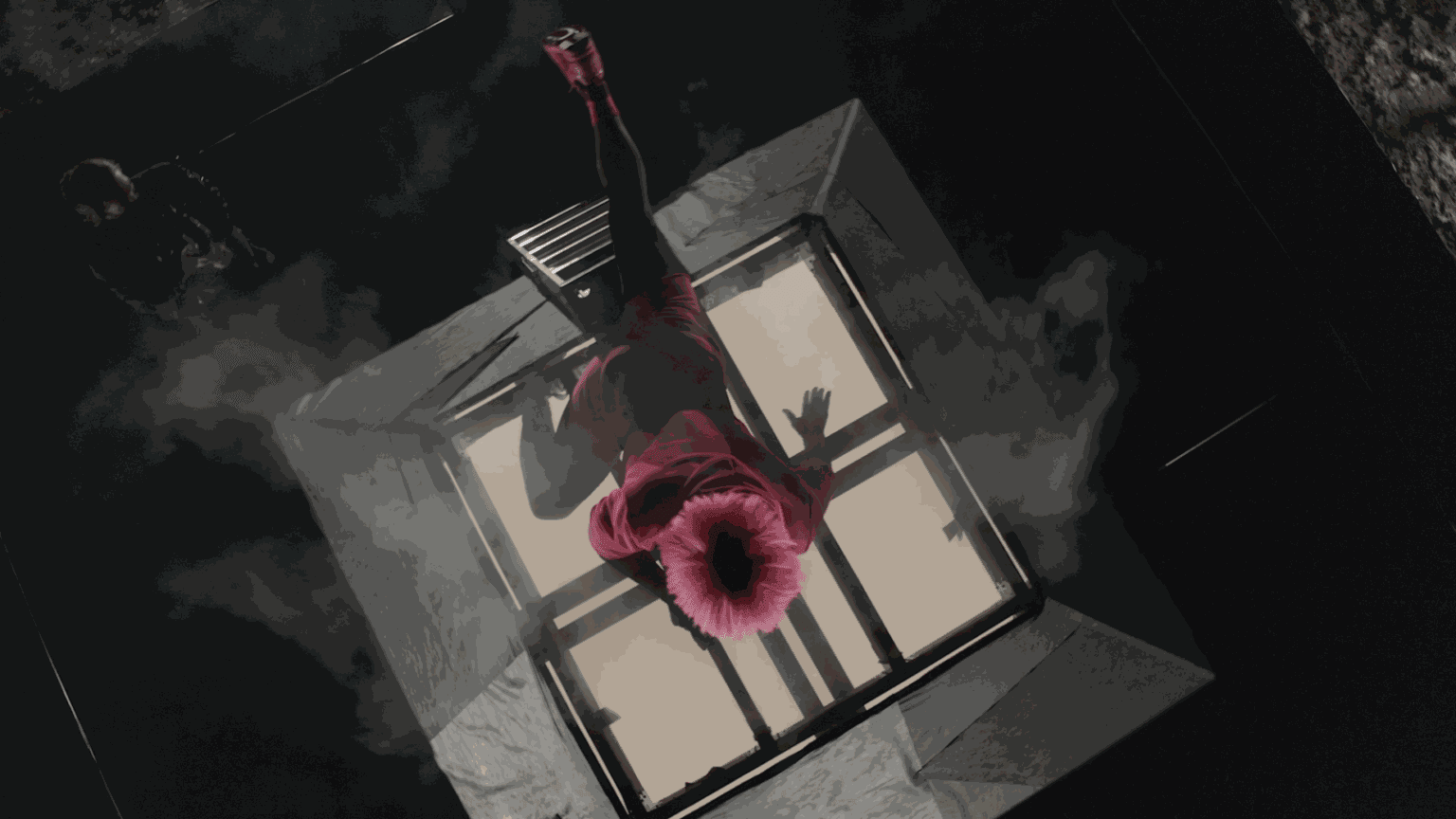 A WARM DARKNESS, 2022
A Warm Darkness, 2022 was envisioned and directed by Jeffrey Gibson, performed by Mx. Oops, and scored by sound artist Raven Chacon. Filmed throughout his ziggurat-inspired sculpture, Because Once You Enter My House It Becomes Our House 2020, this work playfully embraces darkness and the intimacy of solitude. Mx. Oops, clad in hot pink, dances to Chacon's drone beats in a solitary rave inside the sculpture. As the sun sets, a group of youths shrouds the structure in black cloth, and it disappears into the night. Embraced by a comforting and secure darkness, Mx. Oops continues dancing inside, privately and for themselves. Inspired by science fiction and Indigenous world views, the film examines the intimacy of a party for one and the role of the audience.
TO FEEL MYSELF BELOVED ON THE EARTH, 2020
Drawing its title from an excerpt of Raymond Carver's poem, "Late Fragment," Gibson poetically marks a tumultuous moment in world history and focuses on the joy of simply continuing to survive amid challenging times. Made in 2020, Gibson's video unpacks feelings of anxiety, fear, and national reckoning, as well as the grounding effect of working in nature experienced by the artist and many of his contemporaries. Obliquely referencing widespread and ongoing activism advocating for Black, Transgender, Queer, Women's, and Indigenous rights, the numerous unique individuals presented in the film are united by their brilliant red garments.

---
TO NAME AN OTHER, 2019-2022
Gibson's largest performance to date, To Name An Other explores Indigenous practices of naming based on the actions or qualities of a person through fifty short texts authored by the artist. Sparked by Dr. Christine Blasey Ford's testimony during the confirmation hearing of the now-Supreme Court Justice Brett Kavanaugh, the first of these texts came to Gibson intuitively: SHE SPEAKS UP TO TAKE THEM DOWN. Addressing the complex intersections of gender, race, and class, each series of words operates as a "name" to be embodied by participants. Performed by volunteers, Gibson first holds an empowerment workshop where participants practice using their voice to speak these powerful phrases publicly, loudly, and with purpose. During the performance, each participant dons a custom garment and drum emblazoned with their "name" and presents it to the audience.
Originally commissioned by and performed at the National Portrait Gallery in Washington, DC, To Name An Other has also been performed and exhibited at the New Museum in New York City, New York, as well as the Esker Foundation in Alberta, Canada. For SITE Santa Fe's iteration, Gibson was able to work with the largest group of Indigenous participants thus far.

---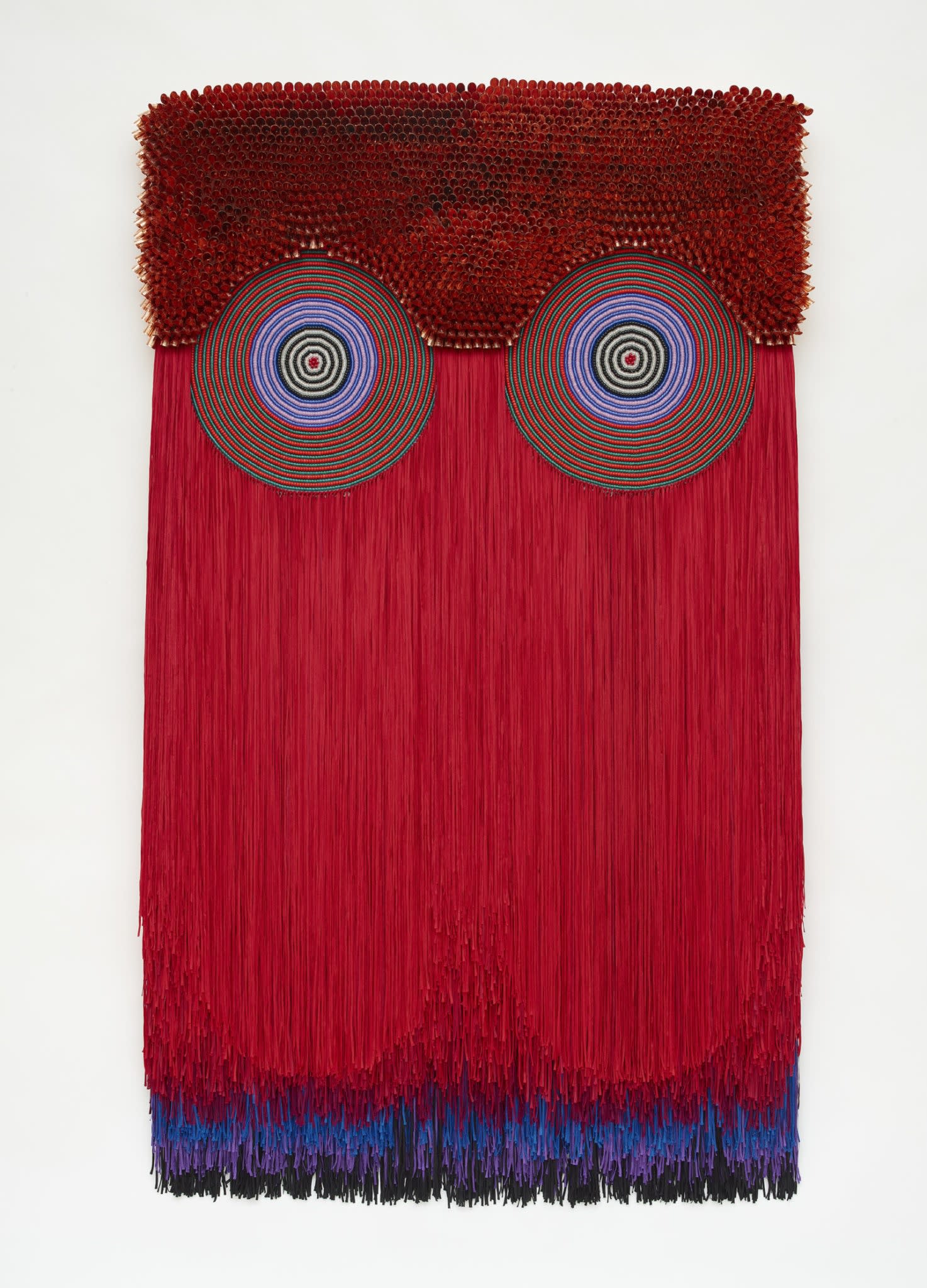 SENTINEL, 2020
After extensively exploring the mediums of beadwork and fringe, Sentinelmarks a turn in Gibson's practice when mediums that would normally take a supporting role are scaled up to become the center and subject of the piece. Launching as an exploration of material, Sentinel began as a humorous outlier that would eventually inform pieces like Red Moon, Desert Sky, and Red Sunset, 2021. An enormous, ghostly character with dramatic fringe shapes hanging from huge eyes, Sentinel's disarming gaze has a way of following viewers throughout the space. Intended as a protecting and vigilant presence, Sentineljoins a series of Gibson's artworks united by dramatic eyes, dating back over fifteen years.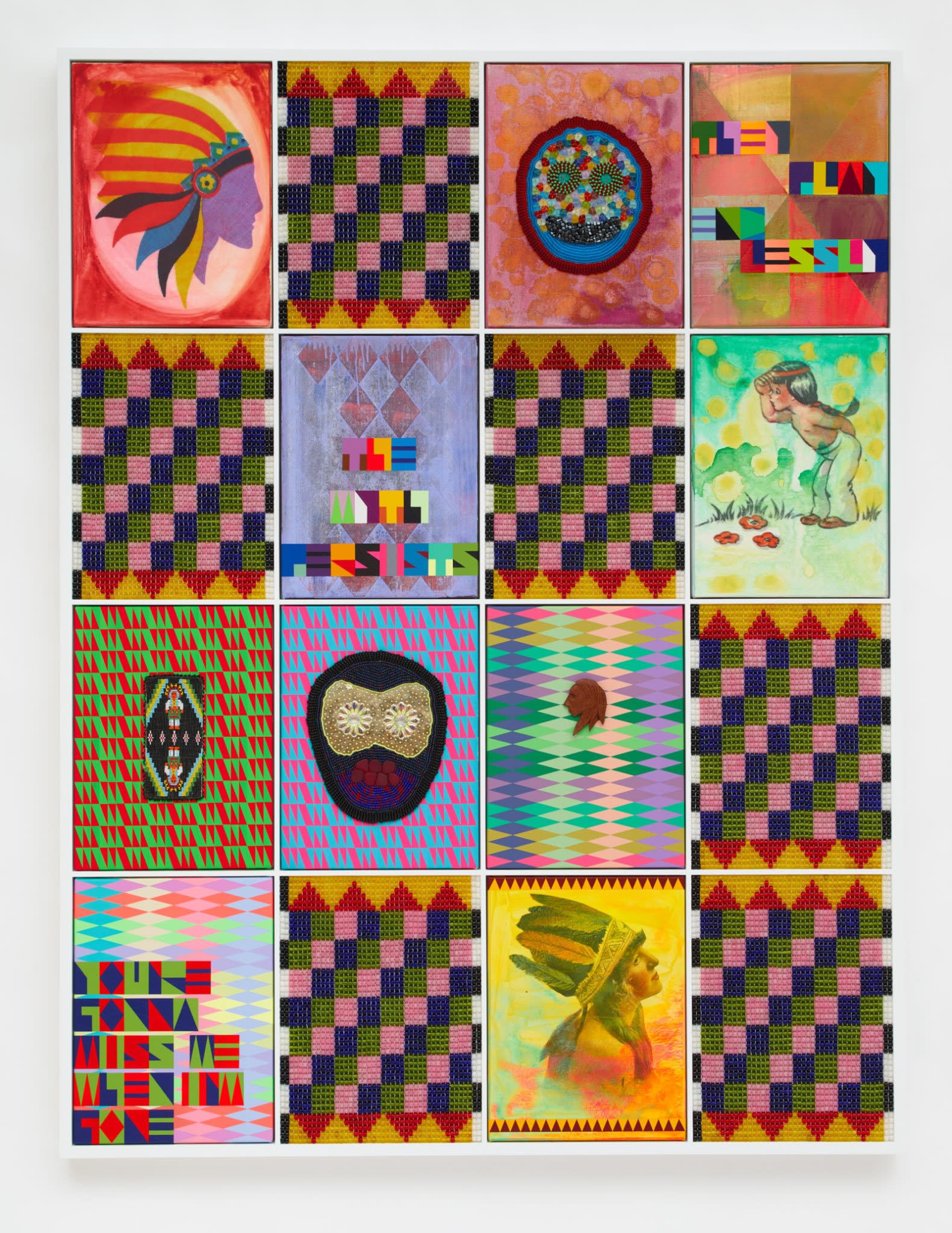 QUILT BLOCK PAINTINGS, 2021
Blossoming from the artist's personal history of making and collecting quilts, these paintings build on quilting's ability to marry otherwise disparate influences to tell a story about comparisons, histories, and gaps. In juxtaposing sixteen sections of text, image, patterning, and several distinct periods and styles of beadwork, these multifaceted artworks explore the ebb and flow of connection, dislocation, and reconnection.

---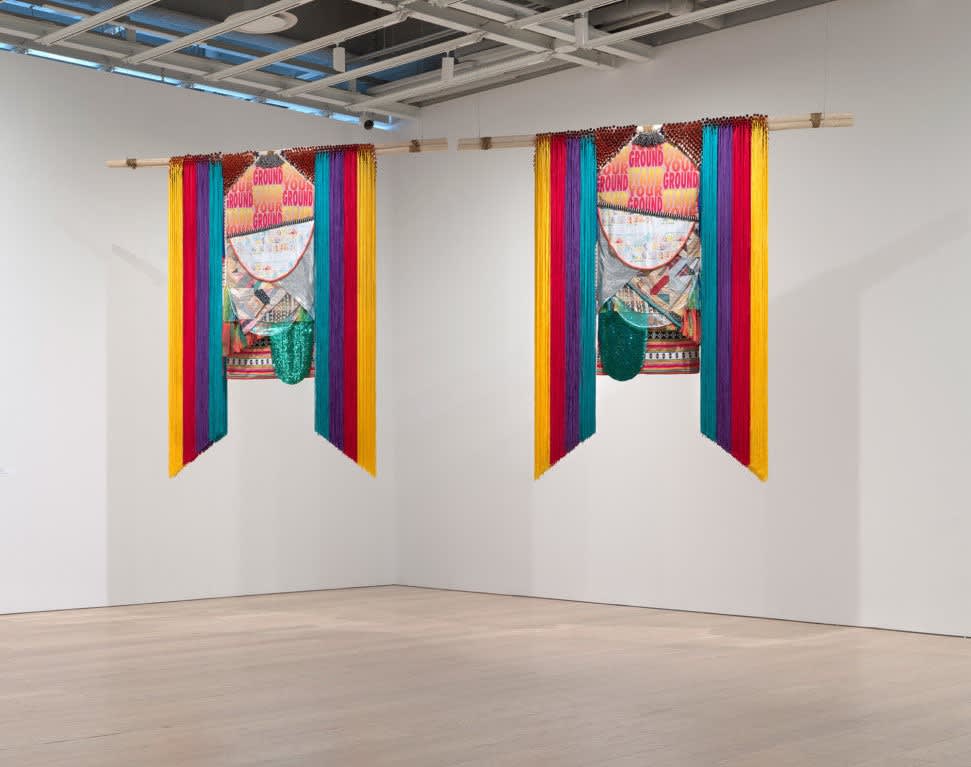 STAND YOUR GROUND, 2019
Operating simultaneously as banners, clothing, and sculpture, STAND YOUR GROUND is a diptych made during a period of heightened activism surrounding environmental justice for Indigenous communities, Murdered and Missing Indigenous Women, Black Lives Matter, among others. Exploring the balance between vibrant individualism and robust community, these paired artworks mirror each other while remaining unique, just as members of a group might signal shared values through dress.

---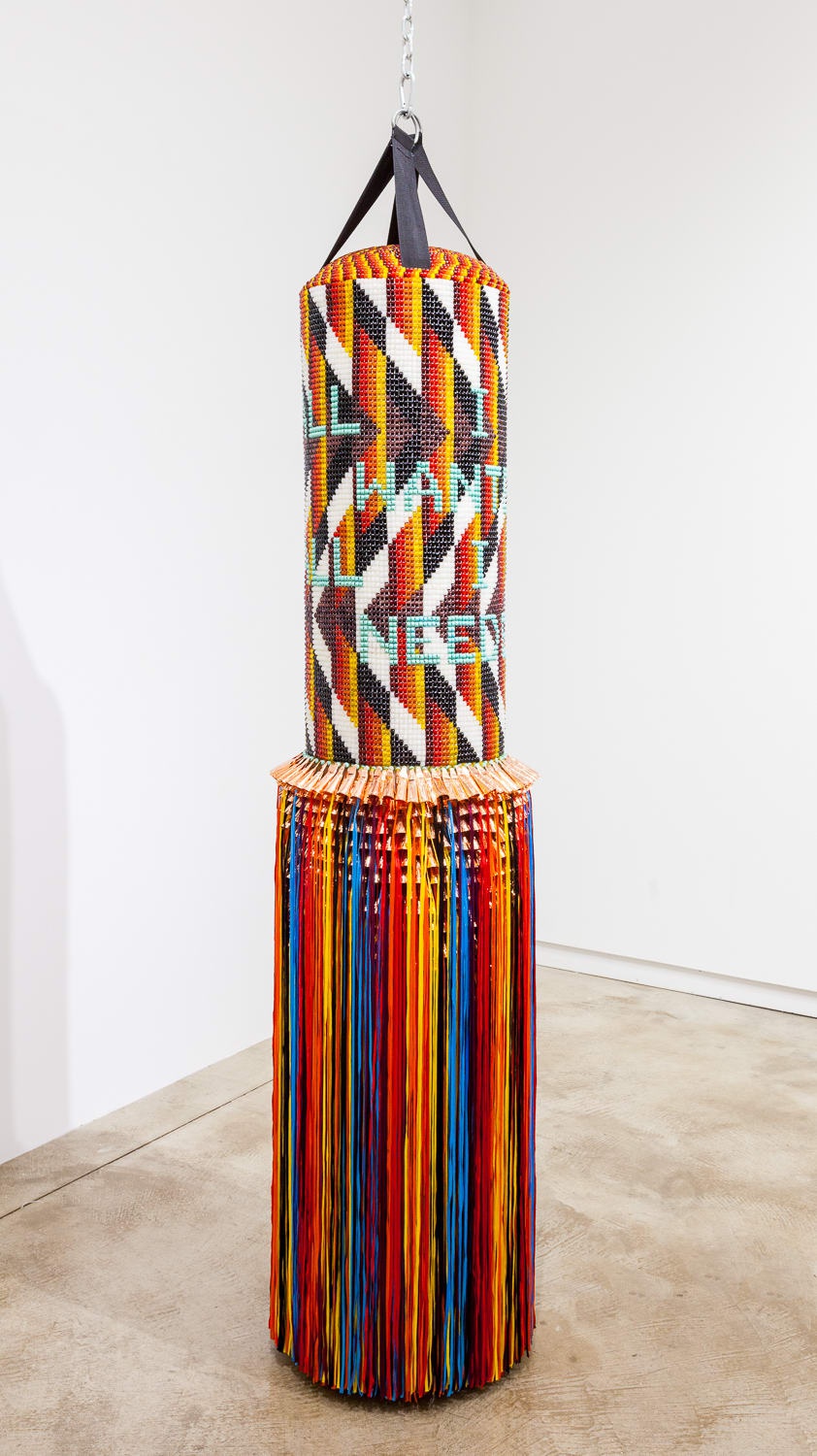 ALL I EVER WANTED ALL I EVER NEEDED, 2019
Fabricated out of found canvas punching bag, glass beads, plastic beads, artificial sinew, steel studs, acrylic paint, and steel chain, Jeffrey Gibson's Punching Bag series (2013—present) appropriates iconic Everlast punching bags as sculptural supports. Gibson transforms the bags with bead work, weaving, fringe, and other material interventions, forming abstract geometric compositions on their surfaces, interspersed with bits of text. It has been said that with the bags, Gibson "turns objectified targets for abuse into entities for admiration, conceptual symbols of beauty and complexity."