Wadsworth Jarrell and Gerald Williams, Works on Paper
:
Kavi Gupta | 219 N. Elizabeth St.
Past exhibition
Kavi Gupta presents Wadsworth Jarrell and Gerald Williams: Works on Paper, the first exhibition to center the quieter, more speculative works on paper that helped define the distinctive visual languages of these two crucial founders of AFRICOBRA.
Since their recent inclusion in such internationally acclaimed exhibitions as Soul of a Nation, AFRICOBRA 50, and AFRICOBRA: Nation Time, an official collateral exhibition of the 2019 Venice Biennale, Jarrell and Williams are known mostly for their painterly works on canvas and panel. Featuring a broad selection of drawings, prints, and paintings on paper, some never before exhibited, Works on Paper spotlights a cross-section of formal and technical innovations that the artists worked through over the decades and which came to define their individual positions. This rarely seen side of the two artists offers insights into the roots of their historic paintings, and expands upon the story of their transformation from artistic revolutionaries into contemporary legends.
This presentation's story begins before the founding of AFRICOBRA, when a young Wadsworth Jarrell was seeking to capture a snapshot of Black American life. Jarrell's paintings and drawings from this period depict jazz clubs, street markets, and neighborhood hangouts in simple but expressive honesty. Sketch for Mackin' the Game shows a busy street scene, the fashion and architecture immediately speaking to a specific time and place. Study for the Wall of Respect, meanwhile, offers a glimpse of a crucial turning point for Jarrell's development and for the history of art in Chicago. The Organization of Black American Culture (OBAC), established in 1967, worked collaboratively on the Wall of Respect mural, one of the most iconic projects of the Black Arts Movement era.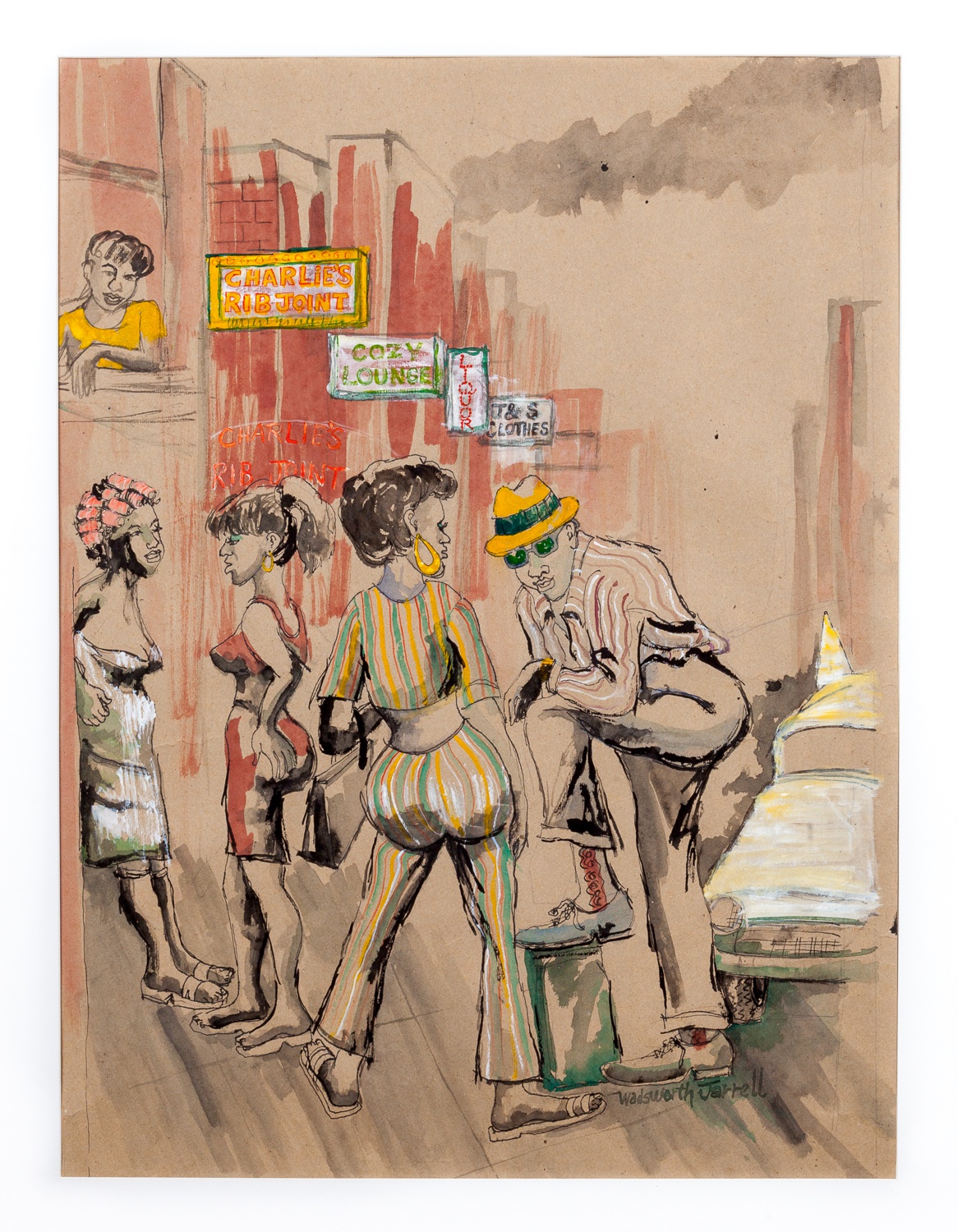 Wadsworth Jarrell, Sketch for Mackin' the Game, 1959 Water color and ink on paper, 35 x 28 in.
While the Wall of Respect proved enormously influential in its own right, the subsequent conversations started by some of the people involved would have even larger ramifications—one of the most substantial being the formation of AFRICOBRA (African Commune of Bad, Relevant Artists) in 1968. Initially an informal gathering of like-minded creatives living and working on the South Side of Chicago, the group coalesced into an artists collective with ambitions towards defining an urgent contemporary Black aesthetic for the moment in which they lived. Along with Jarrell and Williams, the other founding members of AFRICOBRA—Jeff Donaldson, Jae Jarrell, and Barbara Jones-Hogu—established a conceptual and formal framework that continues to influence contemporary art to this day.
Works on Paper also features a selection of Jarrell's large-scale drawings on craft paper. These raw, energetic studies would be used to generate some of his greatest masterpieces of the AFRICOBRA era, including the massive Homage to a Giant. The humble origins of these craft paper works are rooted in the time when Jarrell and his family briefly moved from Chicago to Connecticut in the early 1970s before settling in Washington, DC where he would teach at Howard University. Deprived temporarily of many of his painting supplies, Jarrell lined the walls of their apartment with brown craft paper, on which he drew without restraint. Few of these drawings survived; four are featured in this exhibition.
The move to Washington, DC gave Jarrell access to print facilities, and with that opportunity, he produced the iconic Revolutionary print featured in Works on Paper. In service to AFRICOBRA's key goals—a desire to make art for the people—Jarrell and the other members of AFRICOBRA produced original prints of their audiences' favorite paintings, which they made available as inexpensive entry points to collecting.
Gerald Williams made the move to Washington DC in 1974, attending Howard University as a graduate student. Experimenting further while maintaining continuity with AFRICOBRA ideals, Williams produced Emerge and Big Payback Get Ready, the two freeform, hand-block silkscreens included in Works on Paper.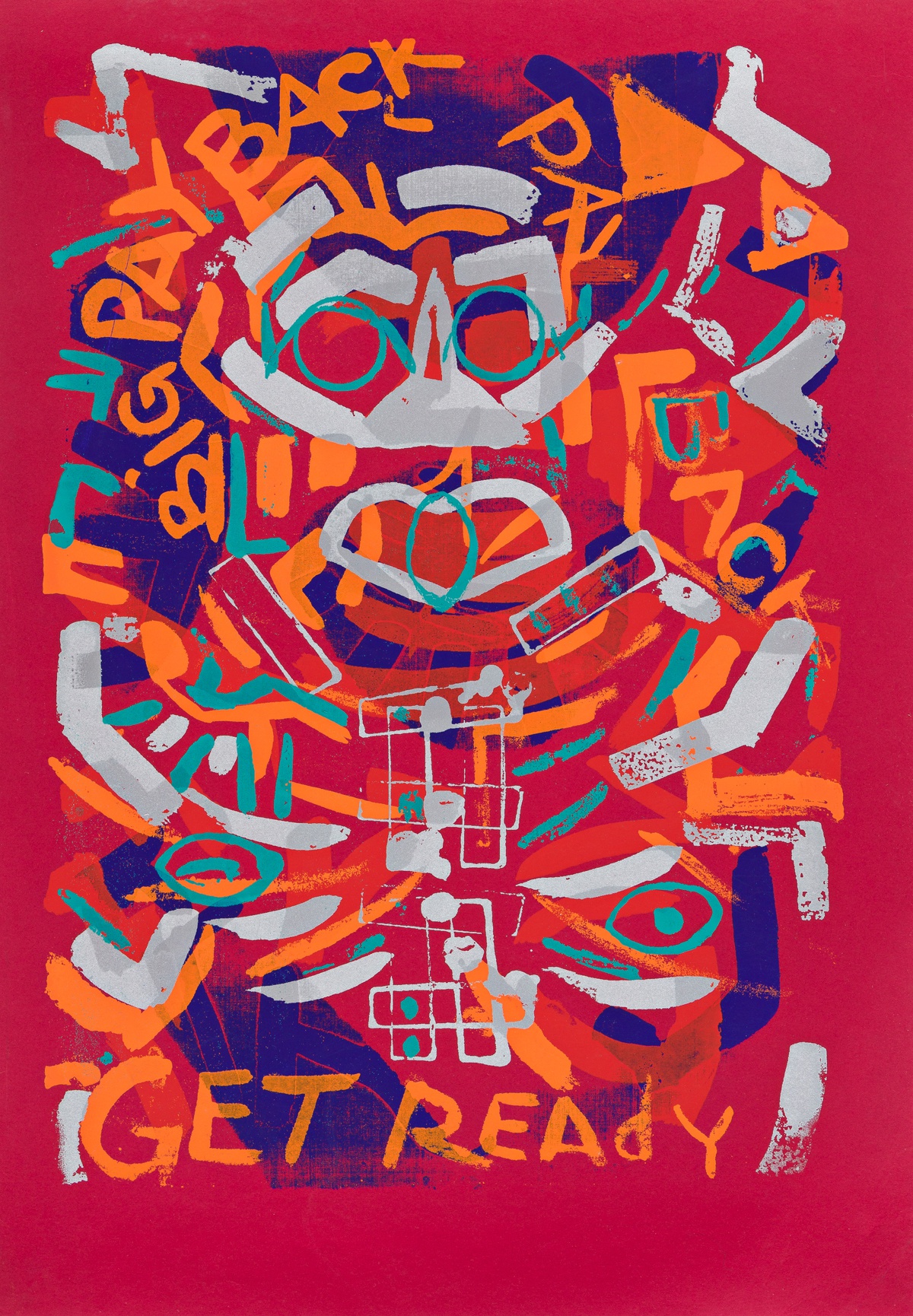 Gerald Williams Big Payback, Get Ready, 1975, Color screenprint on red wove paper, 23 x 16 in.
Williams' desire to experiment would continue to expand in subsequent years, as we can see in the numerous later works on paper exhibited here. Spanning Williams' time participating as a United States delegate to FESTAC 77, in Lagos, Nigeria, along with other members of AFRICOBRA; to his years in the Peace Corps working as Pre-vocational Director in the Jacaranda School for the Mentally Handicapped in Nairobi, Kenya; to his decades directing arts and crafts centers on American Air Force bases in Japan, Italy, South Korea, the Azores, and South Carolina; to his recent return to the South Side of Chicago; works such as Sun Ship Mode, He Granted You the Power and the Will to Prevail, and In the Realm of Dreams show Williams as an illuminating and highly conceptual force, bringing clarity to both color and form while contemplating the degree to which the whole universe is comprised of ever smaller points.
Wadsworth Jarrell and Gerald Williams: Works on Paper is on view July 10 through September 11th at Kavi Gupta, 219 N. Elizabeth St., Floor 2, in Chicago.