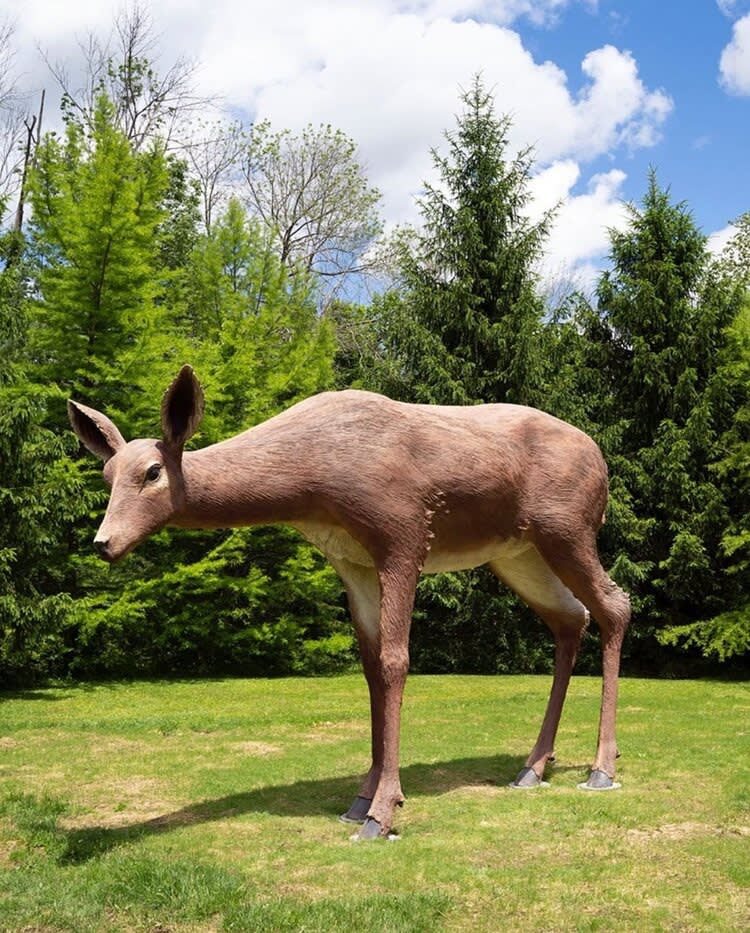 Tony Tasset's
Deer (2015)
arrived in Ridgefield, Connecticut, last week for a nine month stay on the grounds of
The Aldrich Contemporary Art Museum
. The installation was organized by Richard Klein, Exhibitions Director, and Amy Smith-Stewart, Curator at the museum. The sculpture is on loan from the collection of Gregg Rechler and Mitchell Rechler, and appears courtesy of Tasset and his gallery, Kavi Gupta in Chicago.From the museum:
"Most artists try to be original, I try to be familiar," stated Tony Tasset (b. 1960). Tasset has focused many of his recent endeavors on public art with subject matter based primarily in American vernacular visual culture. For his sculpture Deer (2015), Tasset has taken the common white-tailed deer and blown it into what can only be considered monstrous proportions. Hunted to near extinction in much of the United States, the white-tailed deer has made a spectacular comeback, much to the annoyance of both farmers and suburban gardeners. Deer will occupy a site in the Museum's Sculpture Garden.
Deer, 2015
will be on view at The Aldrich through March 15, 2020. Generous support for The Aldrich Sculpture Garden is provided by The Leir Foundation.