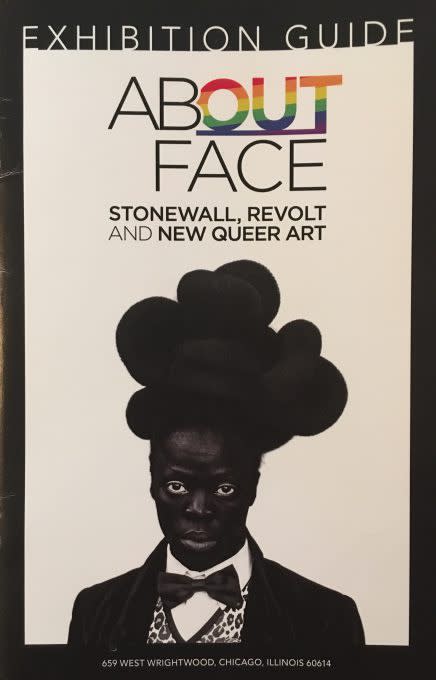 We had the pleasure last week of attending the VIP premier of the exhibition About Face: Stonewall, Revolt and New Queer Art at Wrightwood 659. We were enthralled by the artist symposium that kicked off the night, which included captivating talks by Carl Pope, Harmony Hammond, María Elena González, Del LaGrace Volcano, Keijaun Thomas, Sophia Wallace, and Leonard Suryajaya.
Curated by Jonathan David Katz, PhD, Visiting Professor of Gender, Sexuality and Women's Studies at The University of Pennsylvania and chair of the doctoral program in Visual Studies at the University at Buffalo, the exhibition features more than 450 works by more than 40 artists. Of special note to us was the selection of three paintings on view by our own Roger Brown. From the exhibition catalogue:
"Roger Brown was a leading member of the Chicago Imagists, a group of artists united not necessarily by style, but through shared beliefs, such as a rejection of Abstract Expressionism in favor of works with concrete imagery, and an interest in surrealism, comics, and advertising. Memory and experience always saturated Brown's art and, growing up, he found himself particularly influenced by Art Deco design and the aesthetics of pop culture, which he incorporated into his work, often in a humorous or satirical way. In a style that echoes comic strips, his paintings frequently employ supersaturated colors and a bright palette, sometimes functioning as multi-framed stories with symmetry, gradient backgrounds, and silhouetted figures."
We were also thrilled to see one of Nick Cave's Soundsuits prominently exhibited on the main floor of the exhibition. Again from the catalogue:
"Nick Cave is a Chicago-based visual, performance, and sculpture artist and dancer who weaves his artforms together to create pieces that are never a single, easily definable object. He is perhaps most well-known for his Soundsuits: large, often colorful sculptural costumes made from found materials, both something to be worn, but also structures that refuse simple categorization. The first one was spurred by the Rodney King riots, a series of events during which Cave confronted his own identity as a black man. Forced to think deeply about the dangers of racial profiling, he began collecting objects that had also been discarded or deemed devoid of value. He would then construct a suit out of what he found, realizing that they were meant to be worn, and that they made sound. These "secondary skins" and "suits of armor" erase the race, gender, and class of the wearer, allowing a space for appreciation without judgement. Cave continued his exploration of the adornment of a surface with his paintings, which act as bas-reliefs that protrude from walls like sculptures. This ambiguity of form is intentional for Cave, who wants viewers to wonder what they're seeing."
Congratulations from Kavi Gupta to all of the wonderful artists who are included in this groundbreaking exhibition. About Face: Stonewall, Revolt and New Queer Art is on view at Wrightwood 659 through Jul 20, 2019. The exhibition is supported by the Alphawood Foundation.