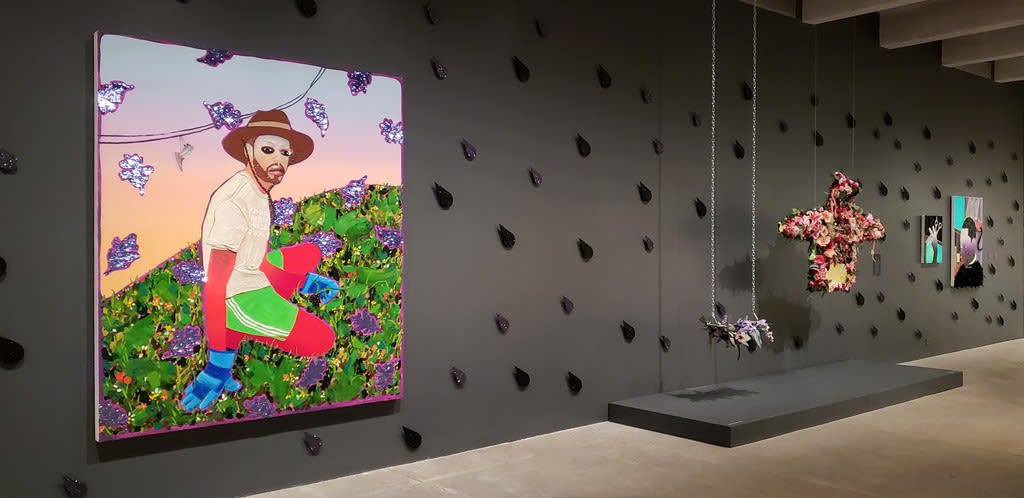 In last week's New York Times article "Pittsburgh Report: Five Places for Healing Through Art," art critic Martha Schwendener gave a heartfelt shout out to Devan Shimoyama's exhibition Cry Baby at the Andy Warhol Museum. The article mentioned the phenomenal selection of arts programming going on in Pittsburgh at the moment, and lamented the fact that instead of celebrating art, that city has unfortunately been struggling under the existential weight of its recent synagogue shooting.
Schwendener listed five current art experiences that offer a spirit-nourishing respite from these difficult times. About Shimoyama's exhibition, she wrote:
"In the mid-1970s, Andy Warhol was commissioned by an Italian art dealer to create portraits of drag stars who treated gender - altered through clothing, wigs and makeup - as a medium. "Ladies and Gentlemen" (1974-75) is paradoxically one of Warhol's largest and yet least-known series. A collaged painting made with glitter, rhinestones and jewelry by Devan Shimoyama, an art professor at Carnegie Mellon University, hangs alongside the "Ladies and Gentlemen" paintings, creating a near-perfect pairing.
On another floor in the Warhol Museum, Mr. Shimoyama presents dozens of paintings, sculptures and photographs in which he uses himself as a boundary-testing and stereotype-breaking model, often in the imagined context of the African-American barbershop, a hotbed of heteronormative masculinity. A series of photographs created by Mr. Shimoyama during a residency on Fire Island in New York, in 2015, documents private rituals he performed on the beach with driftwood. He made the photographs at a moment when violence against black Americans was, once again, headline news, and began by reading about witchcraft, queer counterculture and chaos magic, photographing his body like a shaman, in the same way Warhol's subjects performed in various genders to rise above a bleak real world."
In addition to Cry Baby, Schwendener listed the Carnegie International, 57th Edition; Artists in Residence, at the Mattress Factory; 'Paradox: The Body in the Age of AI,' at Miller ICA at Carnegie Mellon University; and 'Isabelle de Borchgrave: Fashioning Art From Paper,' at the Frick Pittsburgh.