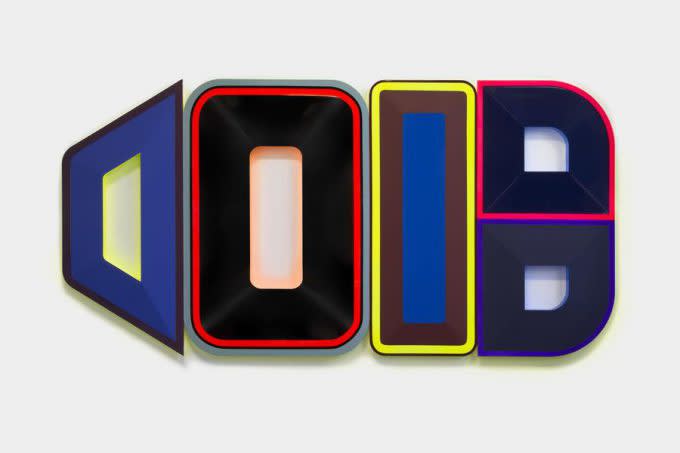 We are thrilled to congratulate Beverly Fishman on winning a 2018 Anonymous was a Woman grant!
Every year, Anonymous Was A Woman awards $250,000 to women artists over the age of 40. Ten artists receive unrestricted grants of $25,000 apiece in recognition of their work at a critical junction in their career. The name of the grant program refers to a line in Virginia Woolf's "A Room of One's Own." The award was begun in 1996 in response to the decision of the National Endowment of the Arts to cease support of individual artists. To date, Anonymous was a Woman has awarded over $5.5 million to 220 artists.
Beverly Fishman's work (left) installed in Kavi Gupta's booth at Art Basel Miami Beach 2018, pictured here with works by Manuel Mathieu (right) and Michael Joo (center).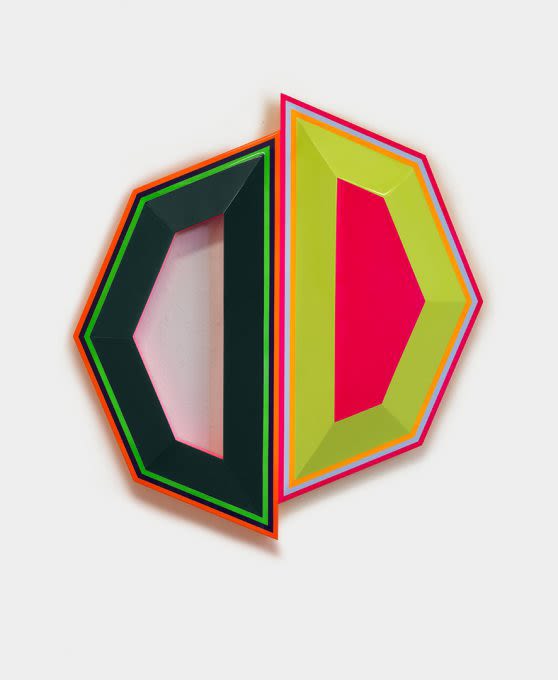 Beverly Fishman, Untitled (Digestive Problems Missing Dose), 2017. Urethane paint on wood, 42.6" x 39.25" x 2"
Beverly Fishman (b. 1955) is a multi-disciplined artist whose provocative, visually electrifying oeuvre positions her as an authoritatively contemporary aesthetic voice. Combining the handmade with the industrial, Fishman employs a variety of techniques to explore technological, scientific, and biological systems of perception and representation, instigating constructive conversations about the ways people see their bodies and minds, and construct their identities. Her most illustrious bodies of work engage with the visual language of the medical industrial complex. For example, her highly-polished Pill reliefs utilize iconic pharmaceutical forms as the basis for seemingly abstract compositions that radiate with color. Her brilliantly complex Dividose paintings appropriate the unsettling, multilayered, linear aesthetic of medical imaging technologies such as EEG and EKG machines, provoking levels of optical fascination capable of eliciting physiological responses from viewers.
Fishman has relentlessly sought out new materials and processes in order to realize her evolving vision. Her materials list has included traditional supports such as wood, paper, blown glass and aluminum, as well as more unconventional elements like cast resin, mirrored Plexiglass, powder-coat-ed metal and phosphorescent pigments. She also frequently uses mediums like chrome and urethane automotive paint that speak in conversation with the legacy of the Detroit area, where she has lived and worked as the Artist-in-Residence and Head of the Painting Department of the Cranbrook Academy of Art since 1992.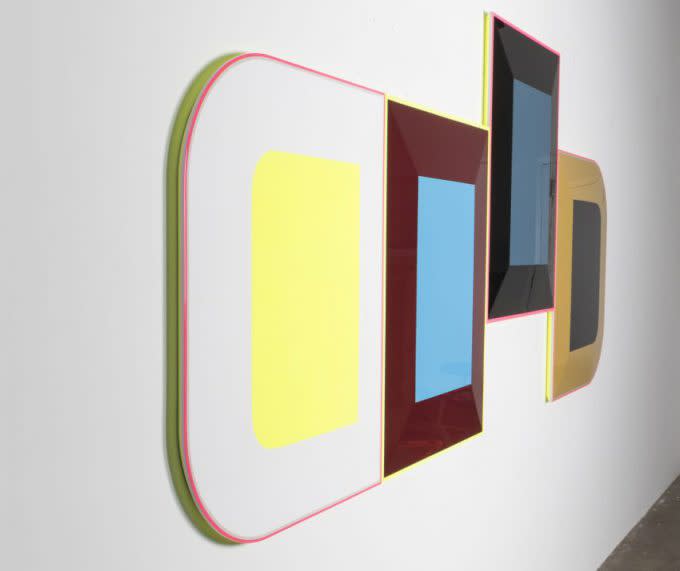 Beverly Fishman, Untitled (Anxiety), 2017. Urethane paint on wood, 56″ x 126″ x 2