The New York-based artist's latest works are a study in harmony.
For Kennedy Yanko, it all started in 2018. Not her art career, but a new chapter—the real chapter, the one she'd been searching for. After nearly a decade of creating sculptured marbled paint skins intertwined with found objects or shaped using rubber, the artist was left wanting. So, in 2018, she poured her first monotone paint skin, almost identical to the version she's gliding her hand over now, asking me to feel. It's an intimate invitation from an artist. Frankly, I'm hoping to not offend by noting the general sensuality of the medium.
Instead, she looks up at me and says: "It completely is. It's beautiful, soft, responsive, and directing. Sensuality is this experience of life; it is how you feel your senses, and it's not just about this," she says while gesticulating the paint skin, "it's about the whole process of creating." By tuning in to her body and letting it guide her newfound color palette, the artist admits: she'd finally tapped in.
Yanko, 33, has had meteoric success since 2019, joining the DeWoody, Espacio Tacuari, and Art Bunker permanent private collections, and showcasing at Art Basel Miami Beach as one of the Rubell Museum's Artists-in-Residence. In Soho, she's stopped on the street by service employees, who proclaim that one day they will own a piece of her work, while BMW and Louis Vuitton have tapped her for collaborations. Rarely do abstractionist sculptors—especially female abstractionist sculptors—garner such critical and public acclaim; even more rarely are they recognized at downtown restaurants like Sant Ambroeus. Yanko defies such norms, leading to arguably one of her most auspicious projects to date: a reactive joint exhibition with the mother of abstract art, Hilma af Klint. An "audacious ask" proposed by Yanko, and one she's approaching with the utmost reverence.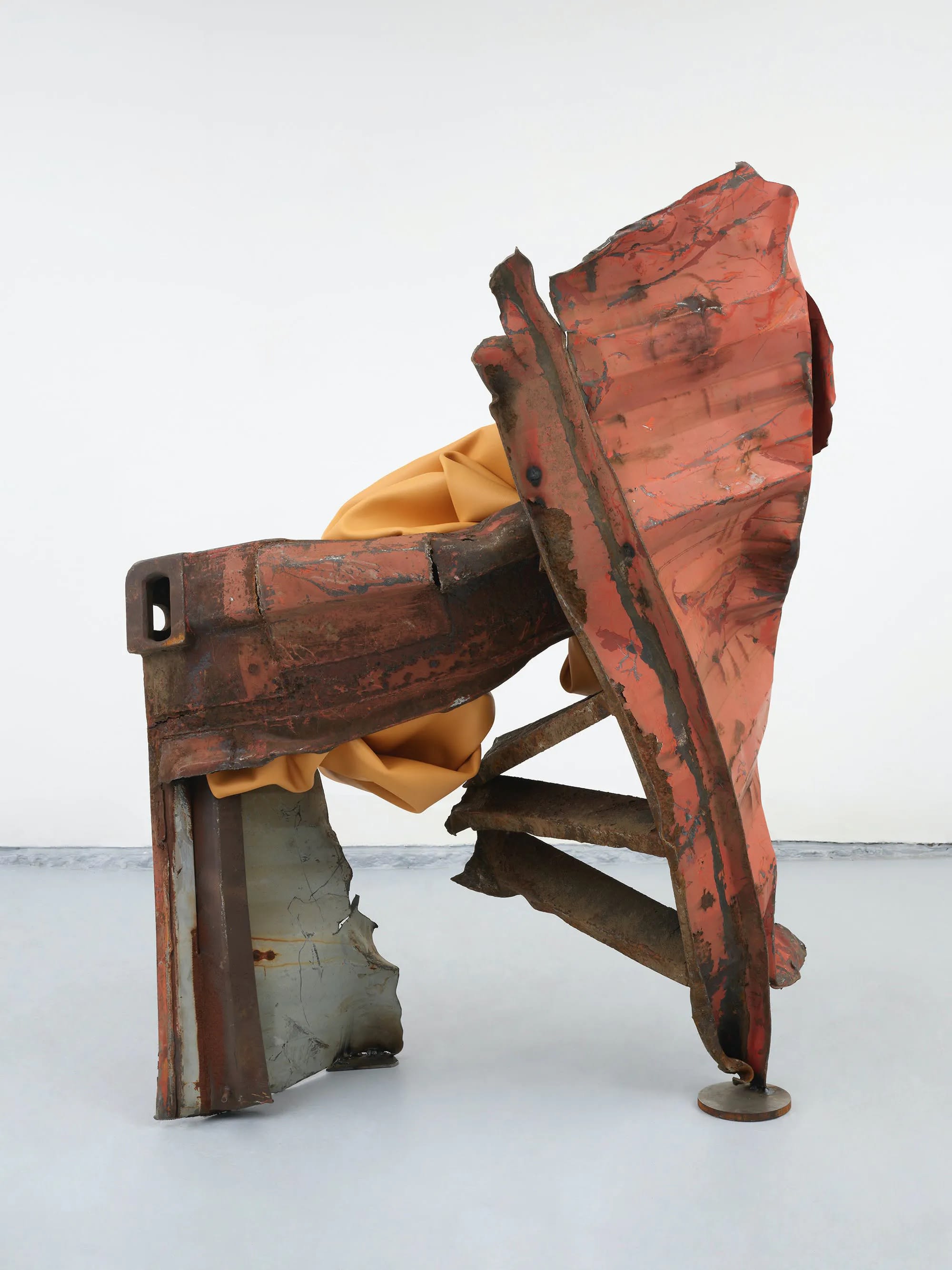 Courtesy of the artist and CFHILL Stockholm.
In 1911, Wassily Kandinsky proudly presented the world's first piece of abstract art—one he'd photograph to mark the canon's momentous genesis. Little did humanity know, a Swedish aristocratic psychic named Hilma af Klint had beaten him to the punch five years prior. In 1920, abstractionist Paul Klee would find critical acclaim for his paintings' childlike whimsicality—af Klint's "Group IV, The Ten Largest, No. 1, Childhood" got there in 1907. Bauhaus icon Josef Alber's legendary 1959 "Homage to the Square: Apparition" is, in fact, a derivative of af Klint's 1916 golden square. And Cy Twombly's squiggles, which fetch $69.5 million at auction? A near carbon copy of af Klint's 1896 doodles. It's an uncomfortable revelation for most art historians, and the disruptive footnote has been problematic, with even the MoMA refusing to edit their 2012 exhibition Inventing Abstraction 1910-1925. (The museum's website inaccurately demarks the abstract's inaugural year as 1911.) Still, af Klint's unearthing has offered an exciting opportunity to rewrite history—with or without the MoMA—while creating space, understanding, and public demand for intuitive abstractionists: enter Kennedy Yanko.
On a plane back from Stockholm in 2019, Yanko sent a psychic communication through time-space asking if the late af Klint would agree to a joint show. Energetically speaking, "I just got a 'no,'" Yanko says. But after a year's work, she reassessed: "I feel she might have changed her mind. The way that I'm moving through the work, the way that I'm accepting her drawings, how I'm processing her writings, and the information that I'm getting doesn't feel blocked in any way. It feels fluid and effortless. Like everything's happening."
Everything, in this context, is some of Yanko's best work to date. Pared-back in scale from her Rubell Museum exhibition, the pieces are palpably magnetic, vibrating with an energy that can unsettle a viewer. There is a notable harmoniousness to the pieces, which elicits baring emotion. And, for the dead-inside apathetics of the world, the work can almost be confrontational—daring you to address your salubrity. The show's title, Moving Weight, takes on this self-examination. You want to feel whole: a monumental task as the busyness of modern day disassociates us from our body's needs.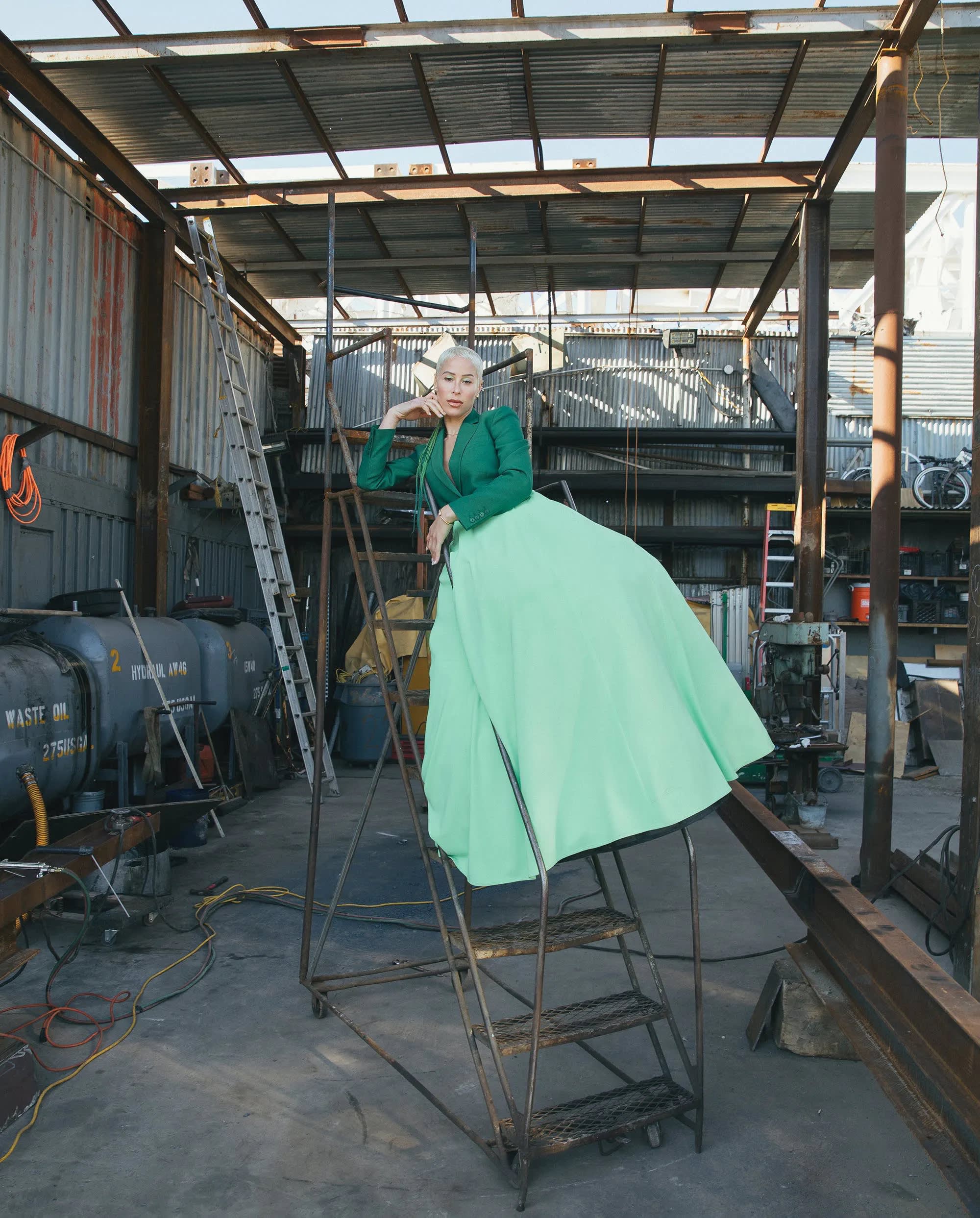 Jacket VALENTINO Skirt HEAD OF STATE Earrings, bracelet, and ring BULGARI
We do not, academically speaking, know where consciousness physically derives—a debate Yanko is eager to dive into. Although some scientists believe it begins and ends in the brain, others postulate it extends to the body. But Yanko, like many intuitives, thinks differently. "I have no scientific proof, but I'd say it starts in the body," Yanko says. "I can feel it in my stomach; I can feel it right here," she says, tapping her knees. (Only later do I realize this is the Zu San Li acupressure point, believed to have the power to rejuvenate in perpetuum.) From her head, shoulders, knees, and toes, Yanko builds her work—waiting for moments of expansion and contraction to guide her hands. It's why she identifies so strongly with af Klint, who attributed her paintings to "outside forces" channeling through her body and directing her paint strokes. "When I read about af Klint, it was the first time in my life as a self-taught artist that I'd ever heard of anyone with thought processing that was adjacent to mine—using the body as a vessel, connecting with physical austerity," Yanko says. "It's so confirming to hear of another artist who worked similarly. Although I don't channel since I'm not psychic, I do have different forms of collecting information and different sensibilities in my body that help me to work."
Yanko's body is telling her it wants steak. After stopping by Rashaad Newsome's multidisciplinary exhibition at the Park Avenue Armory, we hop into her Mercedes, gabbing about the effects of the patriarchy, Silicon Valley's bug-eyed salamanders, and reality television—namely, Keeping Up with the Kardashians. As we zoom downtown, she's enigmatic, contemplating the complexities of having both an image to portray and a personal existence to navigate. Where is the line between person and persona? And how do you avoid falling into the latter? Yanko finally has a moment of stillness after a whirlwind of comeuppance and celebrity. "For years, I have been functioning in an out-worldly existence because that's what I needed to do to make this happen. I had to be in it, I had to be present, and now I'm getting to enter into a softer space. I'm starting to feel again; starting to feel like I haven't felt in a long time," she admits.
"I'm fascinated by this moment that happens in the heart when there is harmony."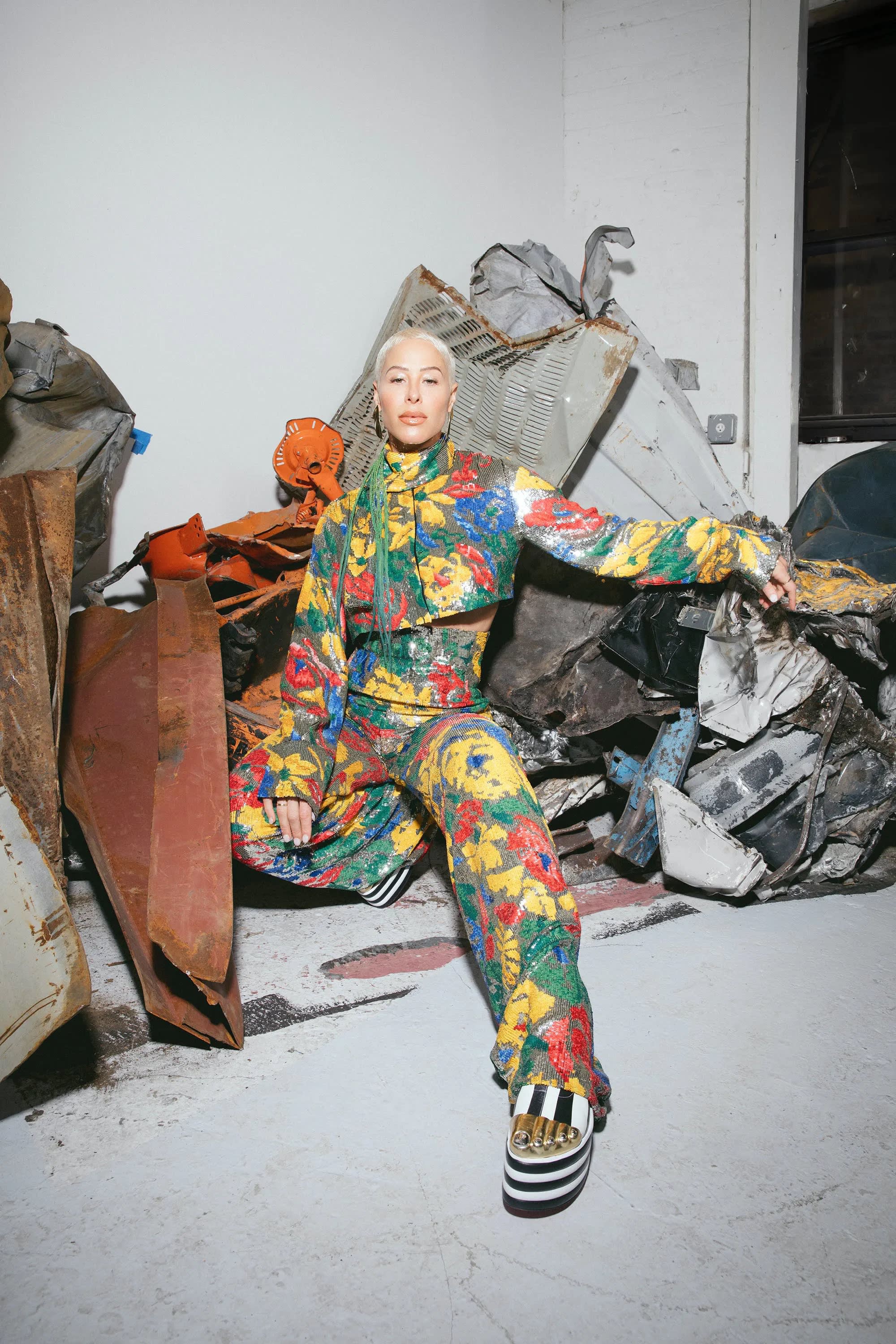 Jacket, top, pants, and shoes SCHIAPARELLI Earrings TIFFANY & CO.
Yanko's press coverage is dotted with the word "duality" as art critics wrangle with her work's materials. To be respectfully candid, they're wrong to do so. Her iron and paint material choices act as protons and electrons, ionically bonding to create a single atomic structure—working together, not against one another as "duality" suggests. "Why do our brains decide to focus on the polarities?" Yanko asks. "I'm fascinated by this moment that happens in the heart when there is harmony. What happens when we recognize the darkness and lightness of the mind and the necessity for both—how they're inseparable." There's a distinct purposefulness in her process, a metaphysician's dogma where intention and production exist in a linear continuance. "I'm thinking about the atomic quality of the work at all times. I'm transmitting my intention onto the piece, creating that moment of atomization, that moment where both things come together." Seeking to connect with Neoplatonism's ineffable "One," not the dual—the point is intrinsic to understanding her work. And, possibly one more reason Yanko and af Klint maintain a bond: they've been waiting to set the story straight.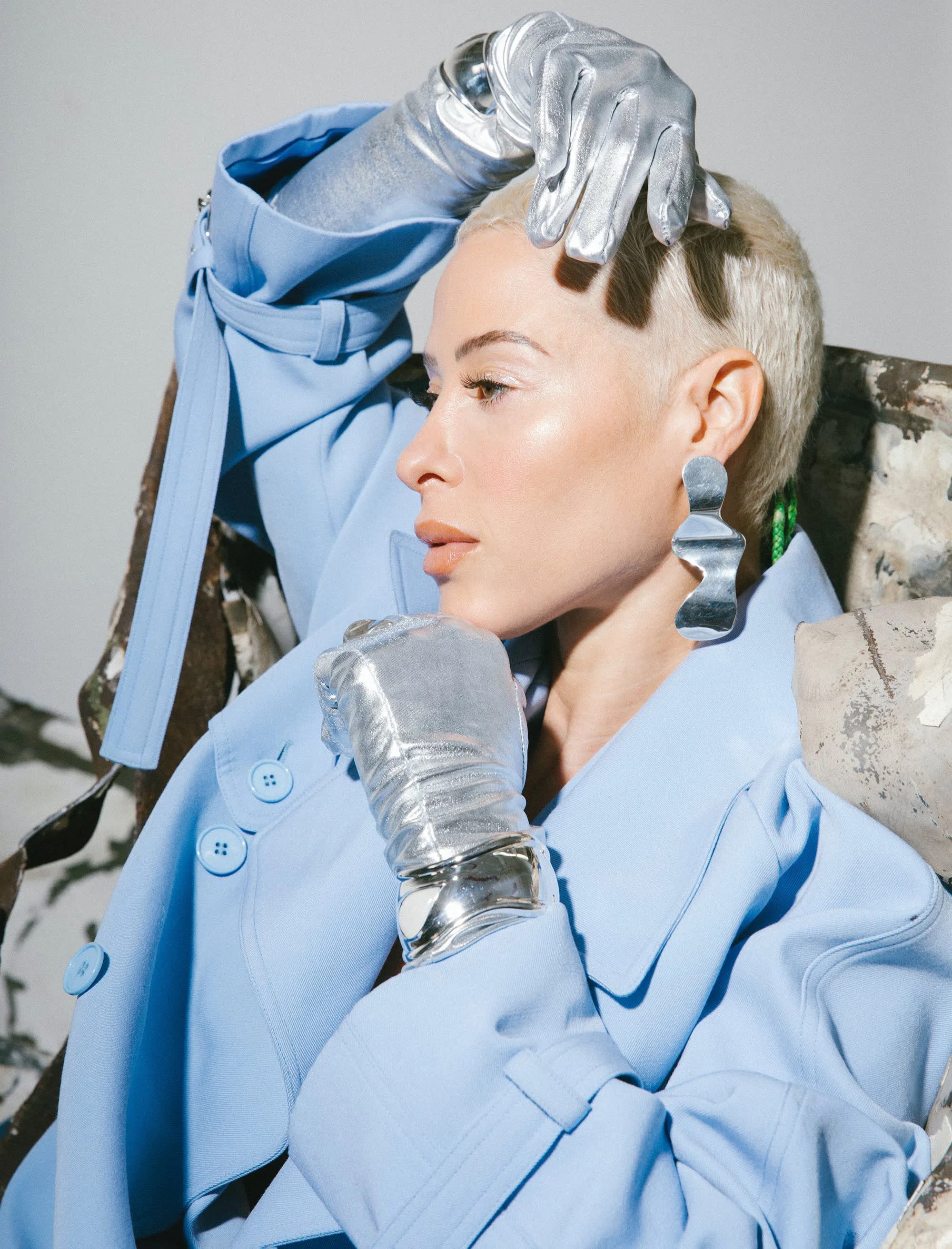 Jacket and gloves MICHAEL KORS COLLECTION Bracelets TIFFANY & CO.Earrings DINOSAUR DESIGNS
In her last will, af Klint requested her work not be exhibited until 20 years after her death—it took 75. Until the Solomon R. Guggenheim Museum's 2018 Hilma af Klint: Paintings for the Future exhibition, the breadth of af Klint's contribution to art history was unknown. By the show's end, it would be the most viewed exhibition in The Guggenheim's history, with more than 600,000 visitors taking in the 165 works. It was a cultural reset, shifting the paradigm of abstraction and instigating a hunt for like-minded artists. The reckoning was loud—and yet, eight miles away, the 2018 version of Kennedy Yanko quietly watched her first monotone paint skins dry, unaware of the future attunement she'd soon feel and the doors that would open. "Throughout this process, I've asked: Do you have clarity on your concrete opinions? And you're clear? Are you aware and constantly in touch with your vibrational state to be able to react as it changes? And am I there?" She smiles, "Yeah, I'm honestly really there."