"I realized I could create worlds with my art when I was 15," says artist Kennedy Yanko. Those worlds consist of dreamy sculptures and installations made out of paint skins (thick layers of dried paint) and repurposed metals which she finds in scrap yards up and down the East Coast. "I like to explore how our relationship to our experiences—to our thoughts and sensations—can reveal truths about ourselves and our worlds," says Yanko. The St. Louis-born, Brooklyn-based artist recently completed a residency at Miami's Rubell museum, where she focused on making her paint skin work "bigger and more luscious," she says. "I had the space and support to work at a scale that my heart's always wanted to, which gave me the confidence to go big going forward." Her works can stretch 15 feet wide and 20 feet tall.
For most of the year, six days a week, Yanko can be found working in her beloved Bushwick studio. The space is a home away from home, equipped with a living room and kitchen. "A lot of my creative practice is about self-care," she says, "relaxing and having a space where I feel at home and I feel like my body can rest, it really allows information to come to me and through me." This tranquil ambiance is enhanced by the works she hangs in her space; in particular a piece she created called "Palette," a representation of her favorite muted, cool tones. "They create this kind of blurriness in your eyes when you look at them," she says. "There's almost this inability to focus on any one color, which somehow animates them all." Yanko has occupied this studio space for the past ten years. She calls it a dream come true: "What could be more inspiring than an empty room where I can do whatever I want to do, whenever I want to do it?"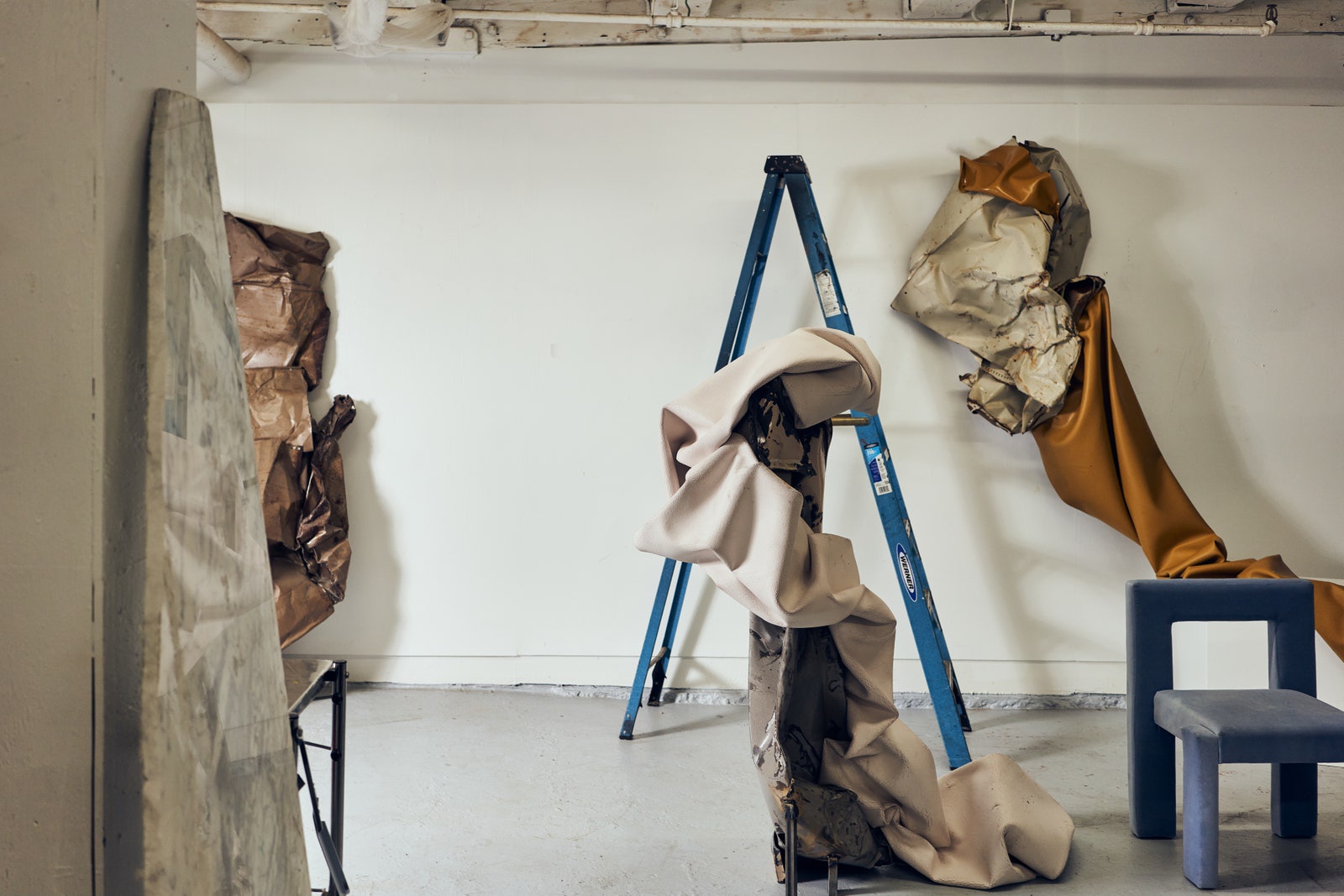 "When I first started painting, I painted on canvas, but I was always seeking a different kind of support that could offer more dimension. Eventually, I graduated to painting on rubber sheets, which allowed me to manipulate the canvas's shape more easily when mounting it on the wall. But it wasn't until I finally took paint off of the canvas, that I realized its full potential. I think I'll be refining paint skins for the rest of my life, and translating them into other material...like marble."

Yanko has seized opportunities for creative expansion, making her acting debut in Spike Lee's TV series She's Gotta Have It, and more recently walking in Pyer Moss's inaugural couture show. "I'm so honored to be able to watch my friend's creative vision," she says. "We're seeing Black aesthetics and creativity unfiltered in a new arena. I'm most excited to witness the winds of change." At the historic Villa Lewaro estate, Yanko could be seen on the runway in a black, white and red structural number, designed to represent a fire extinguisher. "I love that the brand is true to itself and I love that the brand moves with its own regard," she says of the excitement she had about walking in the show. "I'm not at all interested in modeling, but I'm open to partnerships and collaborations with those who align with me and my art."
In April, Yanko finished an NFT alongside the musician Masego, which will be released July 28th. Harnessing his synesthesia, Masego created a score to go with Yanko's 2018 black, white and gray marbleized paint skin and metal piece, "Purity." The project was inspired partially by a VR/AR project she dreamed up in 2015, in which guests would visit a landscape "defined by the fractals of a paint skin." Yanko intended it to be a virtual space of tranquility and reflection, and her goal is the same with the NFT. Experimenting with new digital art forms and technology seems, to Yanko, like a new way for artists to find meaningful support and patronage.
Whether she's pursuing her art career or tapping into new realms, Yanko lives by a forward-moving mantra. "Do not wait for someone to present an opportunity for you to share your brilliant ideas. Just do it and worry about everything once it's done. Don't get caught up in the fantasy of what you think needs to be done," she says. Her studio is a mirror of her everyday approach: "Take care of yourself and protect your work."