In celebration of Art Basel Miami Beach 2018, the Museum of Contemporary Art North Miami (MOCA) will present a groundbreaking exhibition celebrating the Chicago-based AfriCOBRA collective, in conjunction with the group's 50th anniversary. AfriCOBRA will be on display at MOCA from Nov. 27, 2018 – April 7, 2019. Art Basel Miami Beach 2018 will take place from Dec. 6 – 9, 2018.
In 1968, artists Jeff Donaldson, Jae Jarrell, Wadsworth Jarrell, Barbara Jones-Hogu, and Gerald Williams founded AfriCOBRA, which stands for African Commune of Bad Relevant Artists. AfriCOBRA's visual language is defined by the use of text, bright "Coolade " colors, dynamic, gestural markings, and raw, emotive, celebratory images of confident black figures. The vision these artists created went on to define the aesthetic of the Black Arts Movement. This historic exhibition will explore the founders' individual careers and the artists who exhibited with them between 1968-1973 as well as how AfriCOBRA's philosophy manifested into their works as a group.
The confirmed exhibiting artists include Gerald Williams, Jae Jarrell, Barbara Jones-Hogu, Wadsworth Jarrell, Nelson Stevens, Napoleon Jones-Henderson, Omar Lama, Sherman Beck and Carolyn Lawrence. The AfriCOBRA artists incorporate processes such as painting, printmaking, textile design, dress designs, photography and sculpting with visual elements such as bright colors, the human figure, the lost and found line, lettering, and images which identifies the social, economic and political conditions of this ethnic group.
MOCA's hosting of AfriCOBRA reflects a new era at the museum under new Executive Director Chana Budgazad Sheldon. Presenting her first exhibition during Art Basel Miami Beach at MOCA, Sheldon's focus is to facilitate cultural engagement and foster connection between artists, the local community, and the global dialogue in contemporary art about the issues of the present day.
MOCA is situated in the heart of North Miami, which is being revitalized in part through the efforts of the North Miami Community Redevelopment Agency. In conjunction with MOCA's monthly jazz night, North Miami recently broke ground on renovations for MOCA plaza, a beautified performance and gathering space, slated to be ready in time for Art Basel.
"I am honored to play a role in the revitalization of North Miami and MOCA," said Sheldon. "'AfriCOBRA: Messages to the People' represents the museum's mission to reflect cultural diversity with globally relevant contemporary art exhibitions. This artistic movement was a complement to the Black Power Movement that centered the liberation of Black people, taking up and extending the arms of the Civil Rights Movement. The founders, like many artists of the 1960s and 1970s, understood that their artistic voices could contribute to the liberation and continue unifying the Black community as a whole. MOCA is proud to bring this conversation to North Miami, especially during Art Basel Miami Beach when the eyes of the global art world are focused here."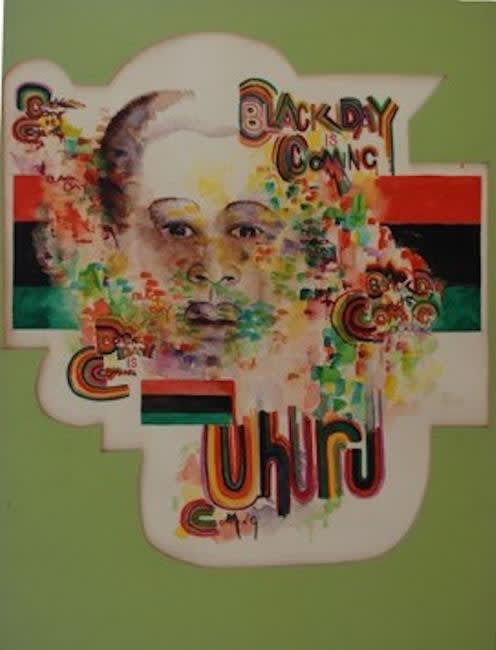 Gerald Williams, Black Day Coming, Uhuru, 1972. Courtesy of the artist.
AfriCOBRA Curator Jeffreen M. Hayes earned a Ph.D. in American studies from the College of William and Mary, a Master of Arts in art history from Howard University, and a Bachelor of Arts in humanities from Florida International University. She is currently executive director of Threewalls in Chicago, and has previously worked at the Birmingham Museum of Art, Hampton University Art Museum, the Library of Congress and the National Gallery of Art. Her curatorial projects include "Intimate Interiors" (2012), "Etched in Collective History" (2013), "SILOS" (2016), "Augusta Savage: Renaissance Woman" (2018), and "Process" (2019). She is a guest curator for Artpace San Antonio's International Artist in Residence Program from May–August.
"AfriCOBRA raises conversation about the struggle for liberation and equality within the Black community," said Hayes. "AfriCOBRA is more than a collection of art, it speaks to the social and political Black people still face today. Black art is significant to American culture and I am proud to bring this important topic to the forefront through the exhibition at MOCA."
An artist reception will take place on Thursday, Dec. 6, from 8– 11 p.m. with an admission cost of $30 to the general public, free to Art Basel Miami Beach VIP ticket holders, MOCA members and North Miami residents.