In 2018, artists and curators across the United States have been crafting brilliant exhibitions across the US, exploring themes of identity and community in innovative ways. Ebony G. Patterson made a maximalist tribute to victims of violence in her home country of Jamaica, while Joel Otterson crafted work recalling his parents' professions as a seamstress and plumber. Indigenous artists took the stage at the Anchorage Museum's Unsettled and Jeffrey Gibson's This is the Day at the Wellin Museum. The enthralling official Obama portraits, painted by Kehinde Wiley and Amy Sherald, were revealed at the National Gallery in DC, putting Black fine artists into the national consciousness. This list is an insight into the tastes of our US writers and the shows that moved them.
---
2. Jeffrey Gibson: This is the Day at the Wellin Museum
Installation view of Jeffrey Gibson: This Is the Day at the Ruth and Elmer Wellin Museum of Art at Hamilton College, Clinton, NY. Image by Seph Rodney, couretsy of the Wellin Museum.
As Tracy Adler, the curator of Jeffrey Gibson's This Is the Day exhibition at the Wellin Museum said to me, Gibson could go on continuing to make his famous heavy bag pieces for the next umpteen years and his admirers would still value his practice. But clearly, Gibson wouldn't be satisfied with becoming an artist who behaves like a glib mini-factory producing pleasing objects. His show at the Wellin showcases his breadth and depth of making, with larger-than-life-size sewn tunics (decorated with what he likes to call "powwow regalia"), extravagantly decorated masks, ceramic pots, paintings made of exquisitely patterned thread, capes, tapestries, and figures — even a short video. This is the Day feels like a very big and searching exhibition, as it is genuinely an exploration of ethnic heritage and all the ways it might be refracted by personal experience.
—Seph Rodney
20. AfriCoBra: Messages to the People at the
Museum of Contemporary Art, North Miami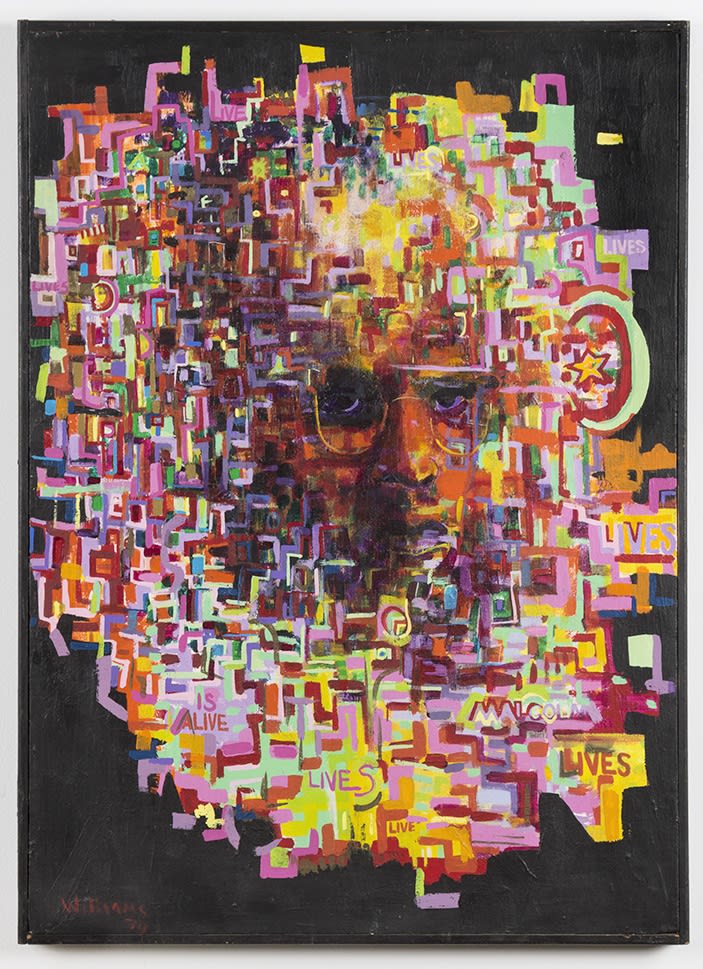 Gerald Williams, Malcolm, 1970. Acrylic on canvas, 35 × 27 × 2 in.
In 1968, five artists — Jeff Donaldson, Jae Jarrell, Wadsworth Jarrell, Barbara Jones-Hogu, and Gerald Williams — founded the collective African Commune of Bad Relevant Artists, or AfriCoBra. The group developed a striking visual complement to the Black Power Movement, including the use of what the artists describe as "coolade colors." In a brilliant curatorial move by Jeffreen M. Hayes, PhD, these bright hues replace expectedly white museum walls in the exhibition AfriCoBra: Messages to the People, organized on the occasion of AfriCobra's 50th anniversary. The exhibition pulls together not only the work of the founders, but also that of a few of the group's early members: Sherman Beck, Napoleon Jones-Henderson, Omar Lama, and Carolyn Lawrence. It also includes both early and contemporary works of the artists. In addition, a special section devoted to photography from the Black Archives of the HistoryMiami Museum ensures the exhibition retains a specific connection to Miami.
—Alpesh Patel