Launched with a bang in the form of a highly Instagrammable celebrity dinner party, followed by an exhibition opening ceremony, as they call it, "SKIN + MASKS: Decolonizing Art Beyond the Politics of Visibility" is not your regular gallery experience. First of all, it is curated by multihyphenate Vic Mensa, a Grammy-nominated rapper, author, singer, visual artist, activist, NAACP Image Awards nominee. Mensa is also founder of SaveMoneySaveLife, a Chicago-based nonprofit operating at the intersection of art, entertainment and sustainable social change that advocates for violence prevention and supports youth arts programs in response to community needs. "As long as I can remember, I've been an artist—drawing, singing, painting, rapping, you name it," he says. "It's my lifestyle, my method of self-expression." Mensa's father is from Ghana, his mother an American, and he grew up in Chicago's Hyde Park neighborhood. It was there that he realized the social and racial disparities that would inform his perspective, critical thinking and future work. Which brings us here today.


Informed by a seminal text by author Frantz Fanon, a French West Indian psychiatrist and political philosopher from the French colony of Martinique, that he uses as a foundation, Mensa focused his curatorial debut on decolonizing Black art beyond the politics of visibility. He brings together nearly thirty emerging and established artists, from Chicago to Los Angeles to Cape Town, and to his native Ghana, which he believes to be the hub of fine art in West Africa right now, to do just that.

Foster Sakyiamah encapsulates the spirit of a stylish Ghanian woman through curvilinear patterns in shades of pink. Troy Scat's self-portrait prominently features the artist's wide smile, revealing a gold tooth and gold septum rings, complete with an unexpected dash of royalty: an Elizabethan ruffle collar. Elsewhere, Nikko Washington's painting "Swing on 'Em" portrays three Black men in boxing gloves fighting one another blindfolded—a nod to a common racist spectacle in the South. Andrea Coleman's digital paintings bring together past, present and future through an otherworldly combination of color and form. In "A Lady from Roatán Always Fixes Her Dinner Last," Mia Lee lets the viewer in on traditions, dreams and memories she carries from her childhood and upbringing. Erol Scott Harris is literally part of "Piel 11.11″—he created the work by dipping his body in pigment then pressing his flesh against strips of vinyl and linoleum flooring, a process that included lowering himself repeatedly onto the painted surfaces via ropes and pulleys suspended from the ceiling of his studio. Thelonious Stokes paints a post-mortem portrait of Emmett and Louis Till: fourteen-year-old Emmett was lynched by white men who said he'd flirted with a white woman in the summer of 1955. About a decade prior, Louis was court-martialed on two counts of rape and one count of murder in Italy in 1945 while serving in the U.S. Army and was executed by hanging.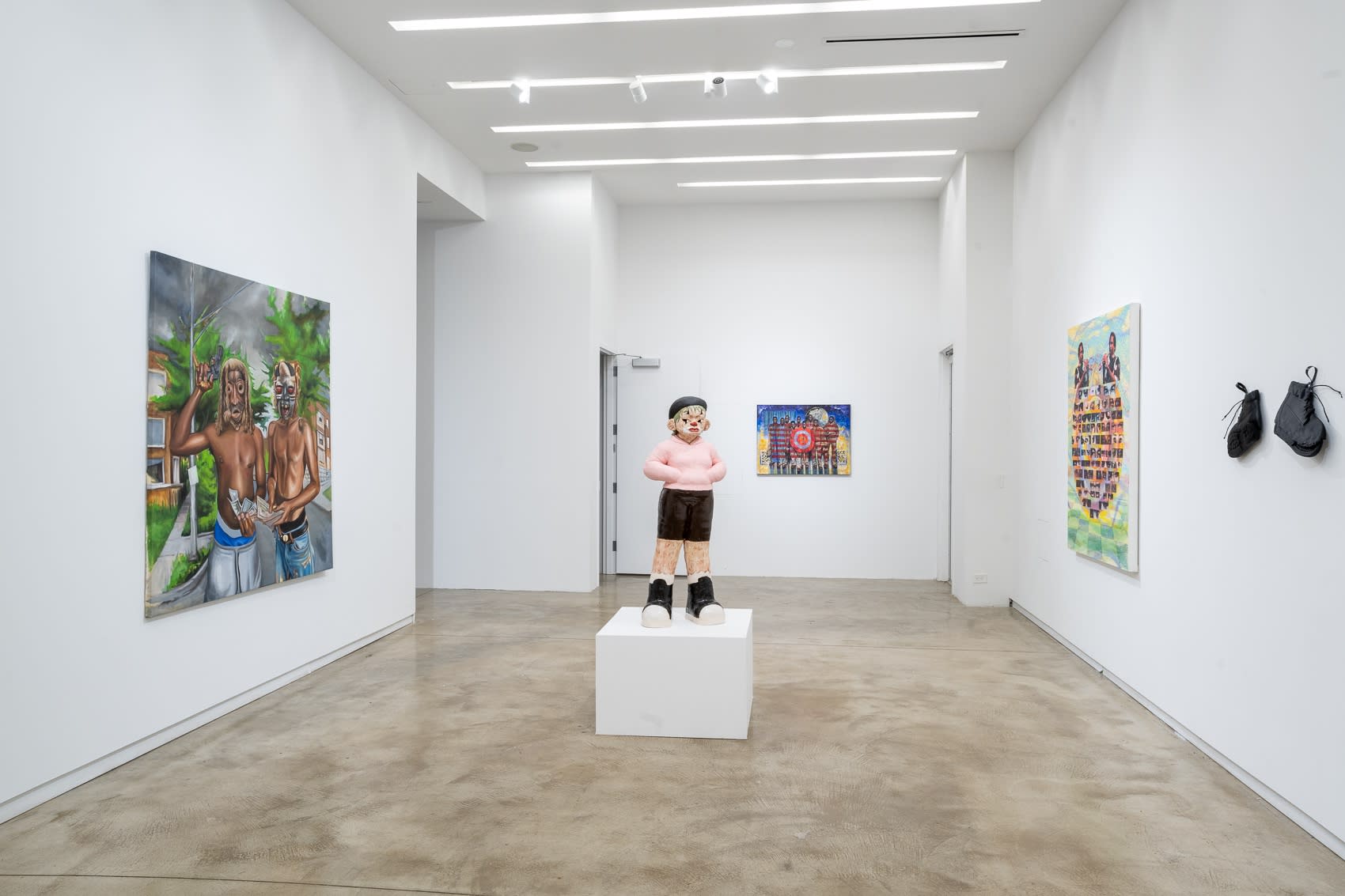 Installation view, SKIN + MASKS, 2022 at Kavi Gupta Gallery


The stories dive into painful history, memory and the racial underpinnings of our reality—past and present. Darryl Westly's 3-D printed sculpture, a torn-up pair of boots, invites the viewer to consider the path of someone who has struggled—maybe a houseless individual, a migrant worker or a refugee. Josie Love Roebuck uses mixed media including fabric, oil pastel, screenprint, acrylic, yarn, dowel rod and buttons to create vignettes of her life. Some of her textile works even include the hair bows she used to wear as a child. Elizabeth Sekyiamah's bright-colored abstract figurative images capture the daily rituals of her life in Ghana. And Sydnie Jimenez's life-sized head sculpture stands fierce—wearing clown makeup it almost gives a mocking look at the world. "I want to bring joy to an American society that's founded on white supremacy, and so everywhere you go there's nothing for you. I want these sculptures to be a place where we can find joy," she says.

The gallery is filled with color, the performance element is abundant—from sonic experience designer Nova Zaii to AFRICOBRA's Gerald Williams—and the exhibition, an intriguing mix of visual elements, serves its purpose: to make one see, read and think. "The White man is sealed in his whiteness. The Black man in his blackness," Fanon writes in "Black Skin, White Masks," which serves as a critique of the effects of racism, dehumanization and colonialism on the human psyche. The two, inevitably, go hand-in-hand, but it doesn't have to be this way. Through "SKIN + MASKS," Mensa, alongside Fanon, makes it perfectly clear: the Black identity and experience have to break away from the vantage point of the white gaze. Instead it must be looked at from the perspective of individual realities. It is only then and there that barriers to Black progress begin to dismantle, and racial equality and prospects for change begin to appear more achievable. (Vasia Rigou)

SKIN + MASKS: Decolonizing Art Beyond the Politics of Visibility will be on view at Kavi Gupta Gallery, 219 North Elizabeth, through August 13.