Jeffrey Gibson, They Come From Fire
:
Portland Art Museum, Portland, OR
Past exhibition
An immersive, site-responsive installation by multimedia artist Jeffrey Gibson, They Come From Fire will transform the exterior windows on the facade of the museum's main building as well as its two-story interior Schnitzer Sculpture Court. This dynamic work will celebrate Portland's Indigenous history, presence and vitality through the use of suspended glass panels, text, and photographic imagery created with Indigenous, BIPOC, LGBTQ+ artists, and other community members on and around the empty monument pedestals in the Park blocks in front of the museum. Coinciding with a survey of Dakota modernist Oscar Howe, the installation will serve as a bridge between the museum's contemporary and Native American art collections.
Gibson, a member of the Mississippi Band of Choctaw Indians and of Cherokee descent, is forging a multifarious practice that redresses the exclusion and erasure of Indigenous art traditions from the history of Western art as it explores the complexity and fluidity of identity. His artworks foreground affinities between patterns, colors, and materials long used in Native American art and those characteristic of contemporary Western and global art traditions.
As a fundraiser to support the production of Jeffrey Gibson's multimedia installation, the artist produced a limited edition print with Mullowney Printing Company in Portland. The edition of 50 prints, titled They Come From Fire, is a multilayered offset relief print on several layers of handmade Japanese colored gampi paper. The final layer is screen printed gold ink flocked with metallic mica to add shimmer to the text.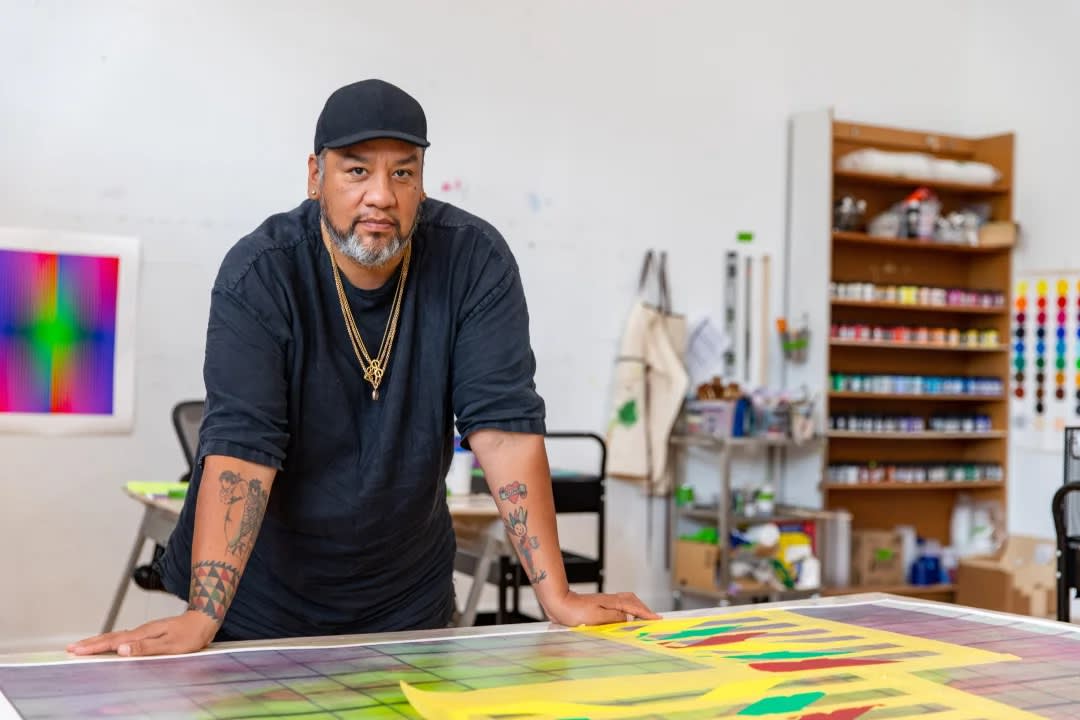 Jeffrey Gibson, photo by Brian Barlow.