Tomokazu Matsuyama's Dancer | Armory Off-Site
:
Flatiron Plaza, New York, NY
Current and Forthcoming exhibition

In conjunction with The Armory Show's renowned public art program, Armory Off-Site, Kavi Gupta is proud to debut Tomokazu Matsuyama's ambitious public sculpture Dancer, premiering during the fair in Manhattan's iconic Flatiron Plaza. Dancer's sinuous, mirrored-steel limbs undulate in joyous abandonment while reflecting a glittering jungle of whirling colors and forms. The sculpture by long-time New York-based artist Tomokazu Matsuyama ("Matsu" to friends) freezes an enraptured figure in a moment of radical freedom familiar to anyone who has ever cut loose and boogied, sambaed, waltzed, tangoed, Geta'd, rhumbaed, fancy-danced, kwassa kwassa'd or hustled. Matsu's artworks express the "global us," a multitudinous reality reflective of today's nomadic diaspora. He hopes we will all recognize ourselves in his uncanny visual language, if not from our memories then from our aspirations or dreams.
Dancer will be displayed outside the Flatiron Building in New York, NY, beginning September 7th, 2022 as part of The Armory Show.
Matsuyama received his MFA in Communications Design from the Pratt Institute, New York. Recent exhibitions include Realms of Refuge, Kavi Gupta, Chicago, IL; Tomokazu Matsuyama: Accountable Nature, Long Museum West Bund, Shanghai, China; Tomokazu Matsuyama: No Place Like Home, Zidoun-Bossuyt Gallery, Luxembourg; Tomokazu Matsuyama: Oh Magic Night, Hong Kong Contemporary Art (HOCA) Foundation, Repulse Bay, Hong Kong; Edo Pop: The Graphic Impact of Japanese Prints, Japan Society, New York, NY, USA; Tomokazu Matsuyama: Palimpsest, Harvard University, Cambridge, MA, USA; Thousand Regards, Katzen Arts Center at American University Museum, Washington, DC, USA; and Made in 17 hours, Museum of Contemporary Art Museum, Sydney, Australia, among others.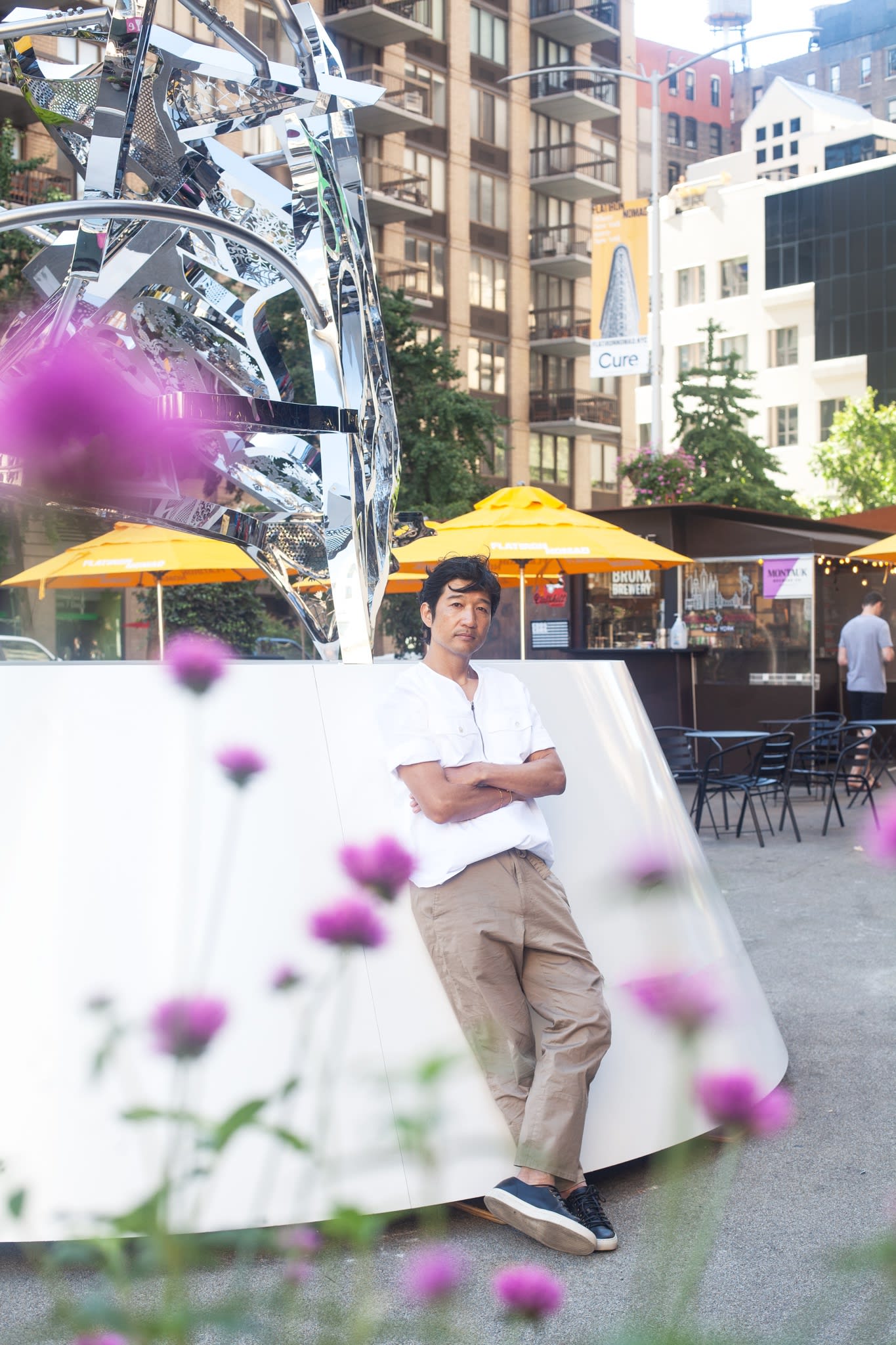 Public displays of Matsuyama's work include a monumental, permanent sculptural installation, activating Shinjuku Station East Square, Tokyo, Japan, one of the busiest urban train stations in the world, as well as acclaimed, large-scale public commissions in Beverly Hills, CA, and in the Bowery neighborhood of Manhattan, mobilizing Matsuyama's signature examinations of bi-cultralism and pop culture.
Matsuyama's works are in the permanent collections of the Long Museum, Shanghai, China; Powerlong Art Museum, Shanghai, China; Los Angeles County Museum of Art (LACMA), Los Angeles, CA, USA; Asian Art Museum, San Francisco, CA, USA; the Royal Family of Dubai; Dean Collection (Swizz Beatz and Alicia Keys), USA; the institutional collections of Microsoft, Toyota Automobile, Bank of Sharjah, NIKE Japan, and Levi'sStrauss and Co. Japan; the Asian Art Museum of San Francisco, CA, USA; Pt. Leo Estate Sculpture Park, Melbourne, Australia; the Crystal Bridges Museum of American Art, Bentonville, AR; and Xiao Museum, Suzhou, China; among others.