Jeffrey Gibson in re: collections, Six Decades at the Rose Art Museum
:
Rose Art Museum, Waltham, MA
Current and Forthcoming exhibition

"I don't want to wallow in art history," wrote Jack Whitten. "I want to use art history as a catapult." As an artist, Whitten recognized the past as both foundation and launching pad by which to reach as yet uncharted realms. Organized in celebration of the Rose's 60th anniversary, the exhibition re: collections, Six Decades at the Rose Art Museum casts a critical eye in these two directions: highlighting the radical roots from which the museum grew, while showcasing the potential for future transformations. re: collections challenges the conventions of art historical narrative by uncovering new connections, charting alternative genealogies, and inviting innovative interpretations of modern and contemporary art.

Displaying well-known, iconic pieces from the Rose's permanent collection alongside artworks created by emerging and historically underrepresented artists, this major, museum-wide exhibition recontextualizes the familiar while introducing the new. The show features a multigenerational, international cadre of stellar artists, among them:

Radcliffe Bailey, Matthew Barney, Mark Bradford, Sarah Charlesworth, Robert Colescott, Renee Cox, Jamal Cyrus, Christine Sun Kim, Käthe Kollwitz, Willem de Kooning, Beauford Delaney, Jim Dine, Mark Dion, Melvin Edwards, Ellen Gallagher, Sam Gilliam, Marsden Hartley, Grace Hartigan, Robert Indiana, Jennie C. Jones, Ellsworth Kelly, Yayoi Kusama, Roy Lichtenstein, Al Loving, Danny Lyon, Marisol, Noé Martínez, James (Ari) Montford, Robert Motherwell, Senga Nengudi, Louise Nevelson, Yoko Ono, Robert Rauschenberg, Elle Pérez, Pablo Picasso, Howardena Pindell, Betye Saar, Lorna Simpson, Cindy Sherman, Andy Warhol, Fred Wilson, Jack Whitten, Dahn Vo, Jeffrey Gibson, and others.

re: collections, Six Decades at the Rose Art Museum is curated by Dr. Gannit Ankori, Henry and Lois Foster Director and Chief Curator, Dr. Elyan J. Hill, Guest Curator of African and African Diaspora Art, and Caitlin Julia Rubin, Associate Curator and Director of Programs, and designed by Isometric Studio, Brooklyn, New York.
---
JEFFREY GIBSON (b. 1972, Colorado)
BY ANY MEANS NECESSARY, 2021
Jeffrey Gibson's vibrantly patterned work refers to his Indigenous heritage and queer identity and the aesthetics and biases associated with those identity markers. He draws on Indigenous processes and materials and queer histories that use camp aesthetics as a critical strategy to deny any romanticizing of Indigenous cultures.
Jeffrey Gibson, BY ANY MEANS NECESSARY, 2021 (detail).
This work belongs to a series of Quilt Block Paintings Jeffrey Gibson debuted in 2021 in his solo exhibition Beyond the Horizon at Kavi Gupta in Chicago. The series marks a critical turning point in Gibson's practice, where he is for the first time overtly deploying appropriated figurative imagery in his work. For these works, he incorporates images of Indigenous people and Native American culture created by non-Indigenous people, such as Elbridge Ayer Burbank (1858-1949), who famously painted the portraits of more than a thousand Indigenous people. These images flatten and oversimplify Indigenous people, diminishing their complex humanity while simultaneously idealizing them as caricatures. They reflect the image many Americans still have today of Indigenous people as proud and brave, yet primitive and vanishing.

The pastiche appearance of Gibson's ambitious Quilt Block Paintings is a material reflection of the intertextual narratives within. Says Gibson, "My grandmothers made quilts, and I collect quilts. I'm drawn to their patchwork quality. If you know where the fabrics are coming from, there's a story that can be played out through material culture."

Ranging from the cartoonish, to the melodramatic, to the profane, the appropriated images in the works draw attention to inherent biases within intercultural visual narratives, such as the tendency of non-Indigenous artists to attribute dark skin tones to their perceived foes and light skin to individuals, such as Pocahontas, whom they wish to convey as friendly to colonial concerns. The works deftly interrogate differences between how Native Americans represent themselves and how they are represented by others.

Also interwoven into many of the panels are delicate, beaded objects dating from the mid-19th to mid-20th centuries. Taken from Gibson's private collection, these items were often made for personal reasons by their intended users, and other times made as "whimseys," so-called because of their value to tourists as objects of wonder and amusement. Incorporating traditional and global materials, these beaded objects elucidate a crucial turning point more than a century and a half ago, when sudden access to global trade allowed Native American artists to expand their visual and material lexicon. Such moments amplify awareness of Modernism not as a one-time Western phenomenon, but a continuous and manifold spectrum.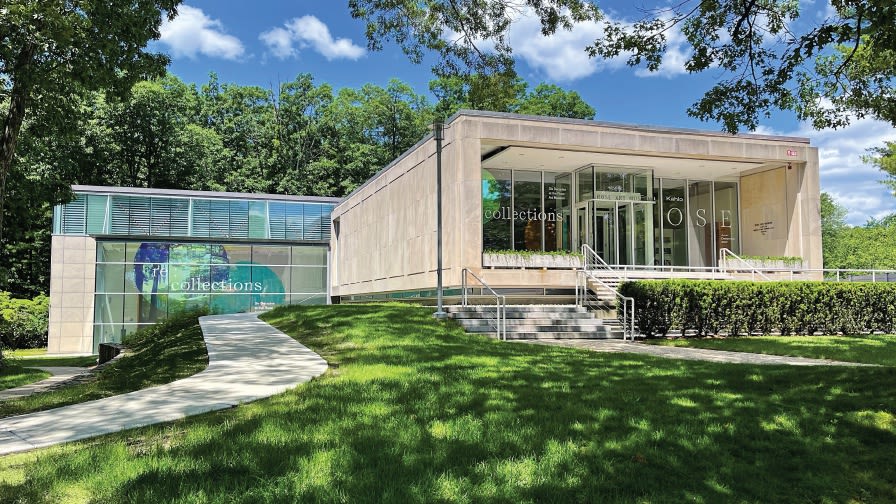 Courtesy of The Rose Art Museum.
About the Rose Art Museum
Founded in 1961, the Rose Art Museum is one of the nation's preeminent university art museums. Through its exceptional collection, support of emerging artists, and innovative programming, the museum serves as a nexus for communities, art, and social justice for Brandeis University and beyond.