With a Whitney Biennial feature and newfound commercial representation, painter James Little's commitment to abstraction
The artist has been making work for nearly 40 years and lately achieved several career milestones such as his inclusion in the 2022 Whitney Biennial and an upcoming solo show at Kavi Gupta gallery.
Over the past four decades, the abstract artist James Little has made everything from monochromatic black paintings rendered with straight lines to colourful canvases replete with repeating rectangles and white surfaces adorned with multicoloured circles. Though Little's paintings can't be defined by a particular genre, they are all enthralling abstract works that transport the viewer into a field of colour.
"If I put together a painting, I have geometry," Little says. "I may have a luminosity. I have all those things that are formal, but not representative. It's not me painting a tree, a bowl, a human figure or anything like that. [My practice] relies a whole lot on imagination and feeling, vision and skill."
Now, Little's virtuosity is finally gaining more widespread recognition. The Memphis-born painter's canvases figure prominently in the 2022 Whitney Biennial, Quiet as It's Kept (until 5 September). One work in the exhibition, Stars and Stripes (2019), shows a pattern of intersecting black lines when seen from up close and, from a distance, reveals a complicated arrangement of rhombuses and triangles. These shapes seem sacred, meditative somehow, and looking at this canvas makes the viewer feel like they are stepping into the inky black pool of someone's subconscious.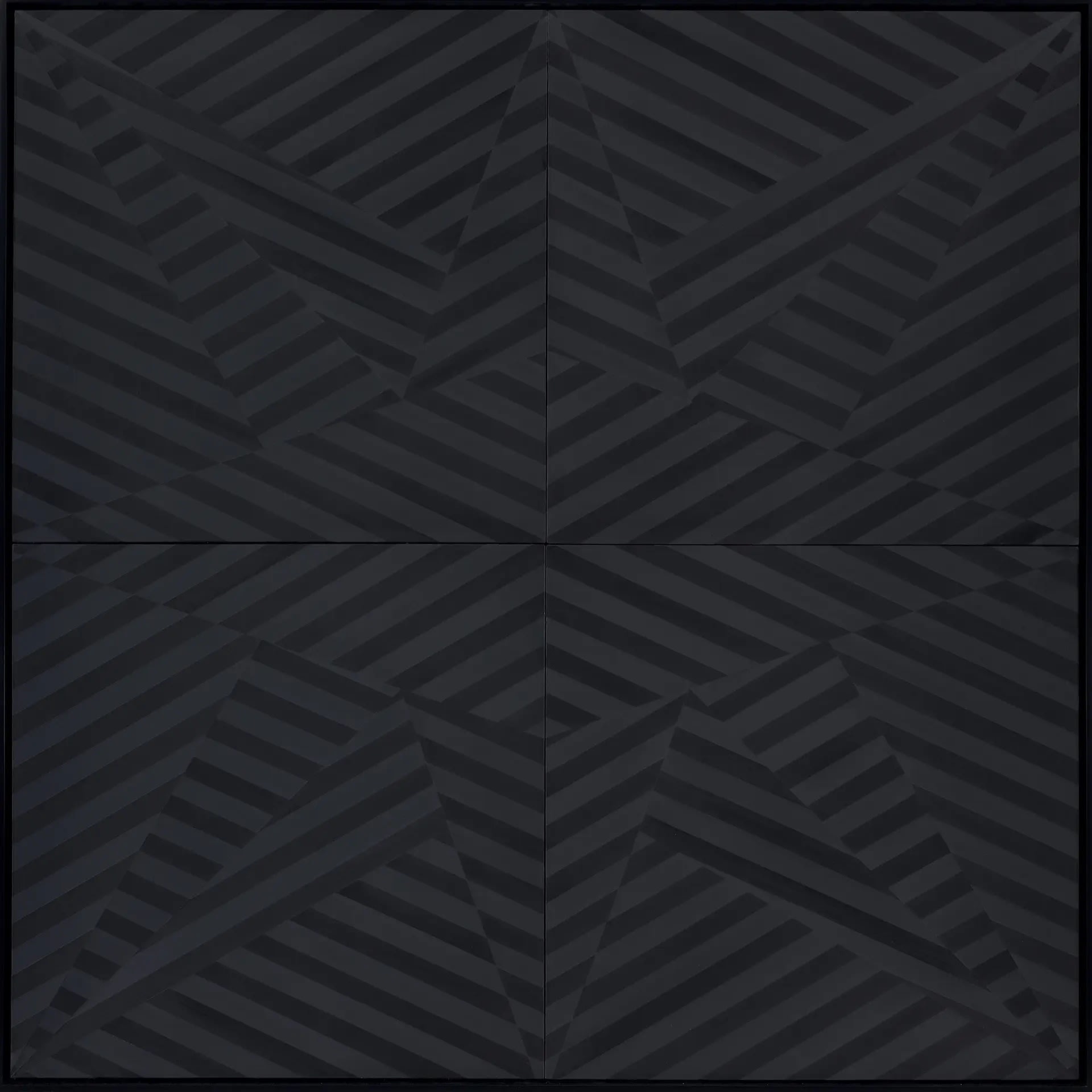 James Little, Stars and Stripes, 2021. Courtesy the artist. Photograph by Ron Amstutz.
"There are a lot of different meanings behind these paintings," Little says. "The Black Star [works] reflect the way we look upon ourselves, and [have] astrological connotations. I'm sure that there will be people who walk in and tie some sort of sociological meaning to it, which is OK, but I also have other objectives. I like to just raise the questions and allow the paintings to have some sort of contemplation."
Another piece on view, Big Shot (2021), similarly employs black brushstrokes to create a shape that resembles a six-pointed star. This painting is punctuated by lines that converge on a singular point and encrusted textures that speak to the subtleties of Little's sacred geometries. He achieves these granular surfaces by using encaustic paint, which requires the artist to carefully apply layers of wax and pigment to a flat surface, a meticulous process that can take months to complete.
"I was drawn to the paintings," says Chicago-based dealer Kavi Gupta. "I was drawn to their physicality. He's mixing varnishes, encaustics and pigments, which almost no one does." Gupta adds, "He must be so consistent. It's hard to get the level of pigment that he has achieved because he needs to get these huge swathes of colour."
Little recently joined the roster at Gupta's gallery, where he will have a solo exhibition in November. It will feature new works building on the artist's interests in surface, texture and colour.
The relationship between surfaces and materials in Little's work is informed by his humble beginnings. Born in 1952 in Memphis, Tennessee, the artist came of age at a time when the American South was still deeply segregated. Most of his mother's family had migrated from Mississippi, whereas his father's family had Native American, Irish and Black ancestry.
"My work comes from necessity," Little says. "My mother was a cook. My father was a construction worker. My grandmother was a seamstress, and she made quilts out of her kids' clothes. They were from Mississippi, and they were dirt poor and figured out a way to advance and fly, and that's the story of a lot of Black folks in this country, especially from the South."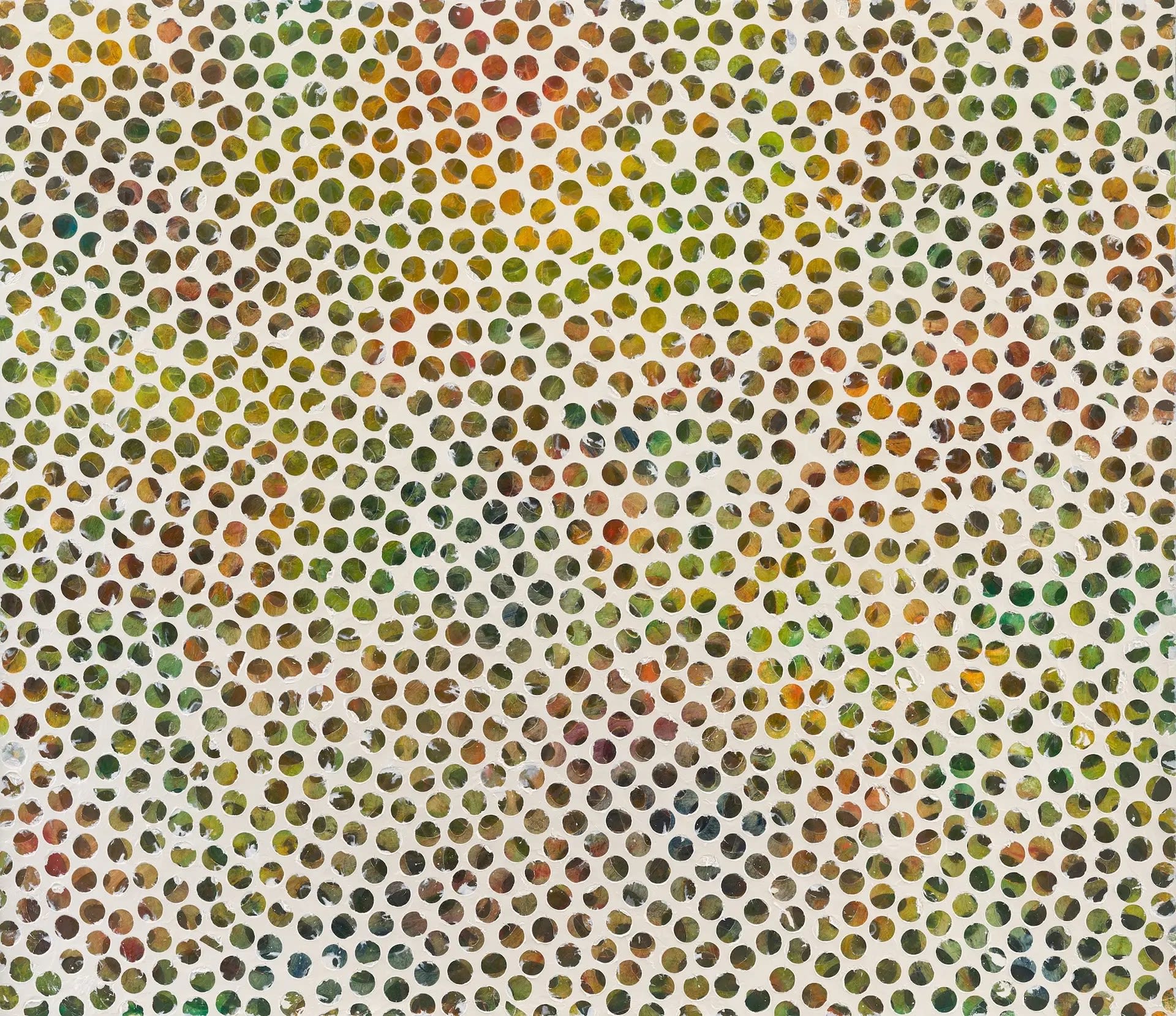 James Little, Borrowed Times, 2021. Collection of the artist; courtesy the artist and Kavi Gupta Gallery, Chicago. Photograph by Ron Amstutz.
Many of these early experiences and family stories had a profound impact on the painter and one vivid memory still inspires him to this day, as he recounted in a 2009 interview with Benjamin La Rocco for the Brooklyn Rail. When Little was a child, his father and grandfather took him to a construction site where they were working. When Little arrived, he saw workers mixing and pouring cement, a process that mesmerised him.
"That had a strange influence on my sensibility towards surface, even to this day," Little told La Rocco. "I just like the idea of taking this medium, this material, and transforming it—making it do something other than what it wanted to do."
As he entered adolescence, Little remained fascinated by materials and continued to hone his practice, making work with readily available supplies and copying Old Master paintings by Thomas Eakins from Encyclopedia Britannica, according to a 2011 ARTnews article by Celia McGee. Once he graduated high school, Little decided to study these interests formally, enrolling at the Memphis Academy of Art, where he earned his BFA in 1974. He received his MFA from Syracuse University in 1976.
When Little started his career, racial tensions were always present in the background. The artist's teenage years coincided with the height of the Civil Rights movement and there weren't many other Black artists exhibiting in mainstream museums and galleries at the time.
"I was 21 years old before I paid any attention to any Black artists because it wasn't available," Little says. "It wasn't taught in the schools. We didn't see it. It wasn't in the museum, there was no representation. In a way, this allowed me to develop my own ideas about art. But at the same time, I felt cheated because I was just immersed in Western painting."
This lack of representation didn't deter Little from honing his practice, and over the years he became a true painter's painter, committed to abstraction even as external events and prevailing trends sought to impose figurative readings on his work.
James Little, El-Shabazz (B), 1985. Courtesy the artist.
Some of Little's earlier works speak to the artist's interest in colour and craft. El-Shabazz (C) (1985), for instance, depicts four pastel-coloured triangles that intersect at a single point. The lines in this painting are crisp and clean; they demonstrate a diligence that undergirds his entire oeuvre. Eventually, others took note of Little's attention to detail and commitment to his singular brand of abstraction. He started showing with New York's June Kelly Gallery in 1988 and has works in the permanent collections of the Saint Louis Art Museum, the Studio Museum in Harlem and the Menil Collection in Houston.
Little's meticulous approach remains a cornerstone of his practice, and he continues to use his workmanship to evoke emotions with his materials.
"I like rhythm in my work," Little said in a 2017 BOMB magazine interview. "Music and dance. Speed and colour. And those are the things that I see that are just as important as what we say or how we act."