Time is one of the themes of your artistic research and the signs it leaves behind in its flow and passing become poetry of forms and contents in your artworks. What is time for you and how does it turn into your works of art?
My home and city Mumbai is the inspiration for me, the house where I got my jute material to work, the city as a daily visual inspiration, I am interested to look and see carefully being how things turn and edges over time and practice how to bring and show these avoidances/stressors in my work in a simple way, for example documenting blank billboards, discarded Metal corrugated sheets from demolished slums, used clothing, daily newspapers, discarded cardboard boxes, old books, these materials edging to use in my work represent the special times we are going through.
Jute and fabrics are among the materials you use – or, better, re-use: working with materials that already have their own history, already used, experienced, has more to do with experimenting with the possibilities of the material itself or precisely with the meaning that that history gives to it?
I trained as a painter, in 2000 when I was in my last year of art school I started using Jute fabric as a surface to paint, I didn't know at that time That jute fabric has a colonial history, I use just because my father was running business into packing and other fabric materials, so these samples are available daily at home before me, so it came very naturally to me, On the other hand, Jute finds use in Asia from time to time as an industrial material sack bag not only for daily life for home but also for grocery store and construction facade etc. It has been 20 years since I have been mainly using Jute fabric as the material for my work, I tried to explore many unknown areas, because I can still feel a lot of possibilities. Now jute is more than a material to me.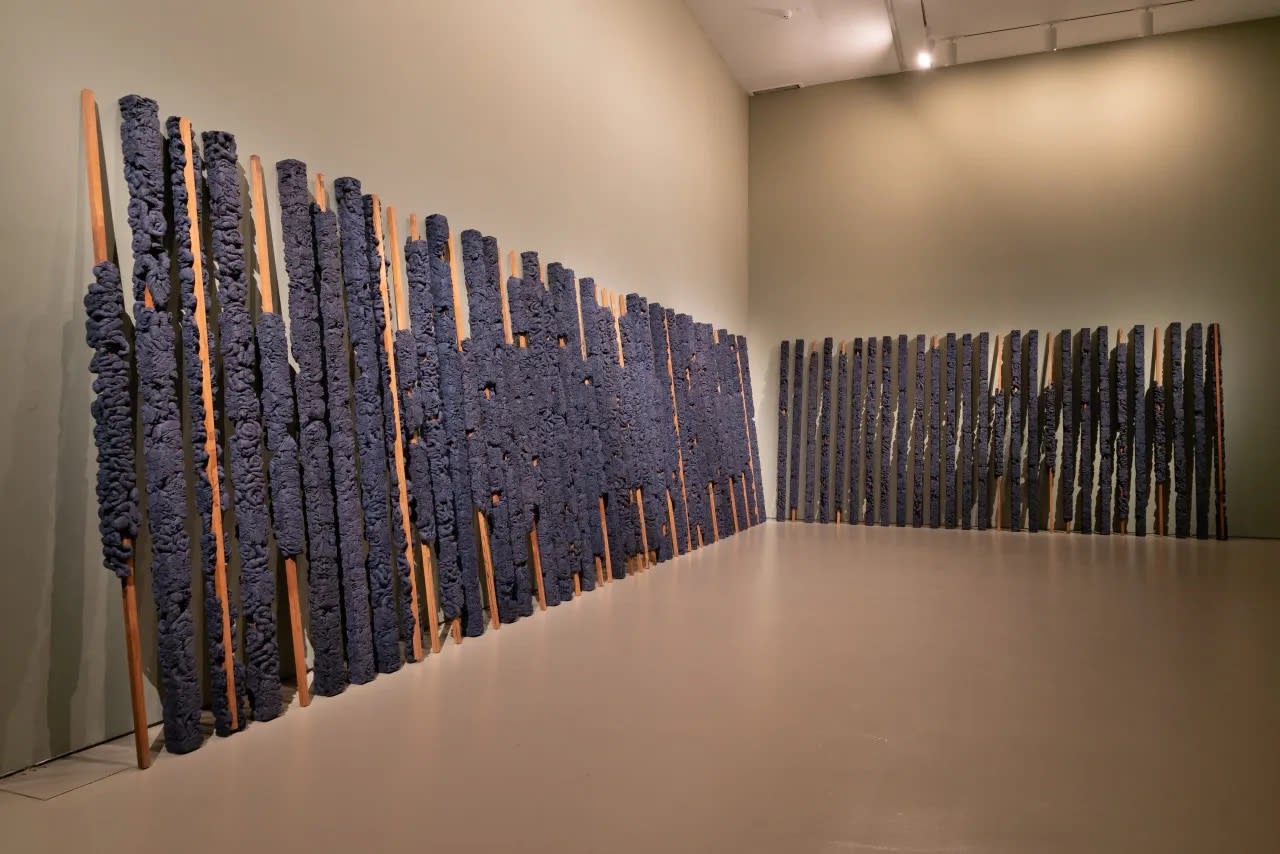 Manish Nai, Untitled, 2018. Compressed indigo jute cloths and wood, 203.2 x 7.62 x 7.62 cm (each), set of 99. Installation dimensions variable. Image courtesy of the artist and Kavi Gupta Gallery, Chicago.
Time is intimately linked to memory. What is memory for you and how and to what extent does it enter your art?
For example the blank billboards that I started documenting in the recession because advertising agencies badly affected many of them without advertising, I have documented panels that we rarely see behind advertising, which are hand painted plain colours and they are dismantled and reassembled as per the requirement of the hoarding size, to document this painted and rusted result ready collage or painting for me in this time. Still in India we enjoy dailies with breakfast, and every day we see them in over 70 languages. I have started collecting these newspapers and used by compression method with water and because it is simple paper and ink it is washed off while the compression process rest is my work or I see my work through my work language is the process of making. Similarly, at home my mother has tendency of re use things so she was to collecting Used clothe to get new Vessels its old tradition in India, so again I found my new material at home, I have started my work with my family old clothes and than I made work with my relatives Used clothes and later also I discovered there is big secondary market for Old and Used clothes, For me it is a unique way of cooperation, these clothes not only represents the family life of the middle class but it also shows the collective picture of the society we are going in at the moment and consumerism.
Manish Nai, Untitled, 2015, Jute thread on pillar, 84 x 18 x 18 in. Image courtesy of Kavi Gupta Gallery.
How are your works born and developed?
I try to look around things and if anything visibly I try to put them into my work without over thinking it through and that helps me transform the material into something else and by experimenting lasts a long time and I try to bring this exercise into my studio routine and then I don't see any other option for it.
Some of your artworks made with fabrics are three-dimensional or large installations, almost immersive. What relationship do you establish between the work and the space that hosts it?
Used clothes fabric or other Jute fabric sticks are still new to my practice terms of display, so it's some point collaboration with display experts, However, I see a lot of potential to bring visuals with some display level and I think this is a unique opportunity for an artist to practice how to use the space.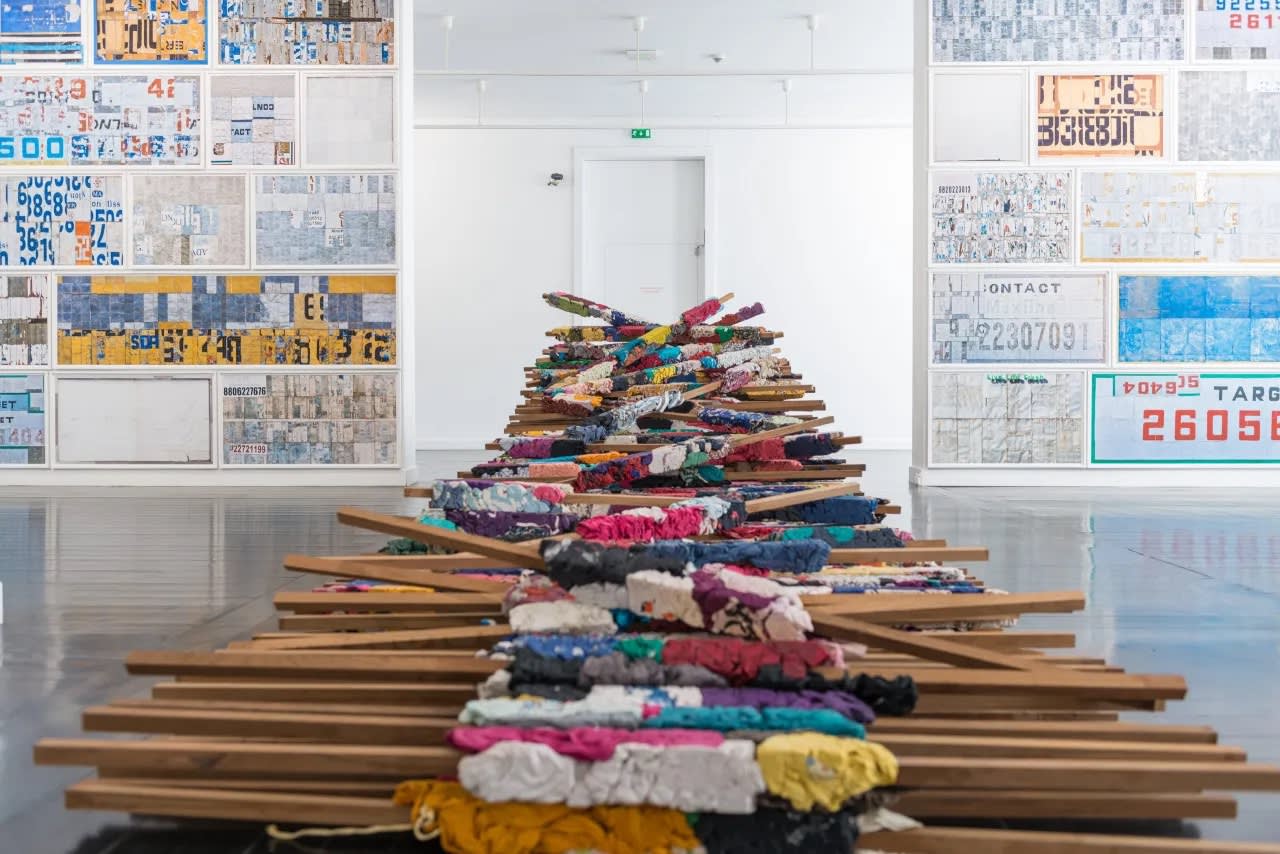 Manish Nai, Digits - Billboard series, 2016. Lucia pigment on Hahnemuhle paper, dimensions variable Set of 65, Ed. of 3; Manish Nai, Untitled, 2017. Used clothes and wood, 60 × 3 × 3 in (each), set of 400. Image courtesy of Foundation Ferenet Branca.
Your works are a synthesis between the variety of shapes, materials and colors of the found objects and the essential geometry of minimalism. How do these different elements come together? Is it a transformation of chaos into a legible order?
Mumbai is a congested city, everything is heavy and high and it forces me to go completely minimal and simple reverse. Initially I was using Jute as my painting surface and I continued this process for few years, Once I realized I could take out the threads from woven Jute fabric and make my own patterns and with that I started straight dyed Jute and thrown yarn which I use to store thinking that I will use some point in the work, once I see that the thread has taken a box shape and the negative of my painting becomes the positive of my sculpture.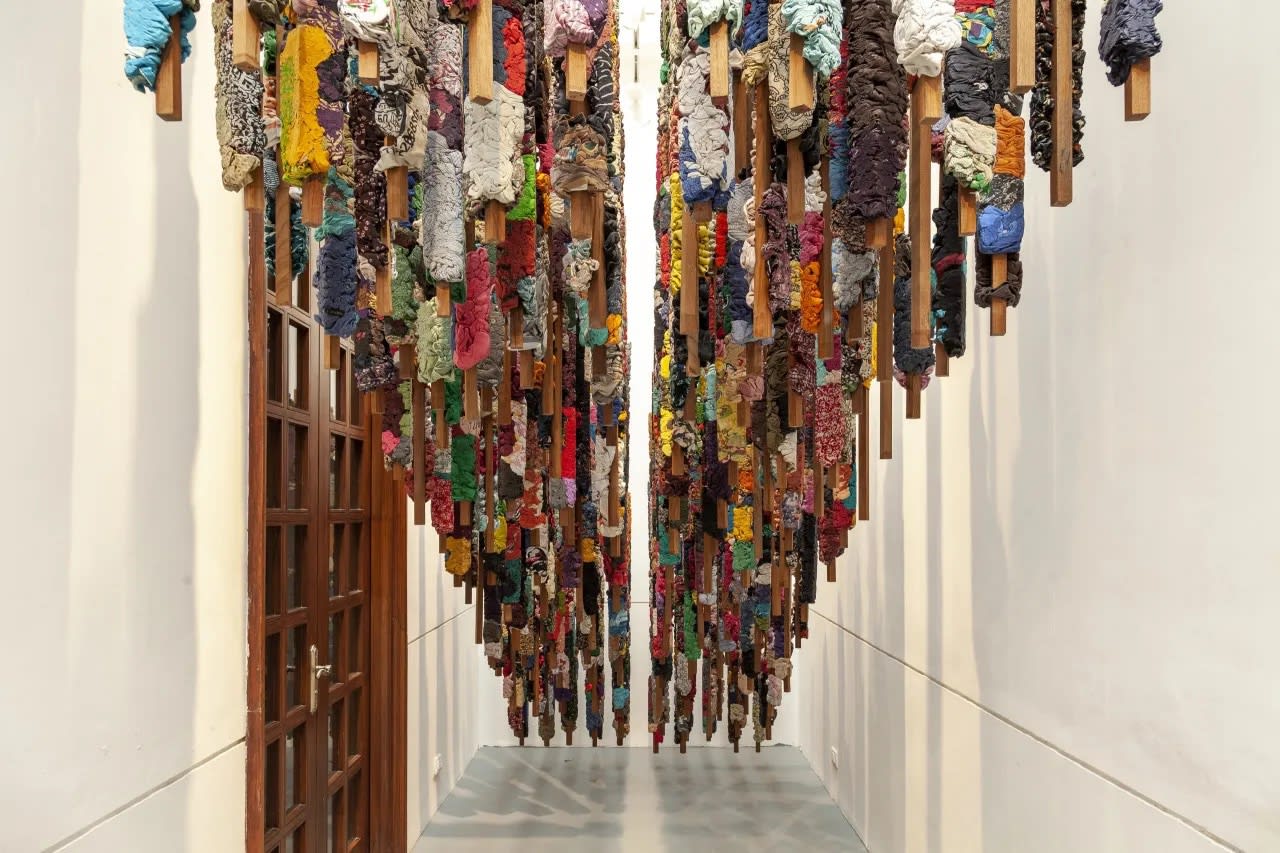 Manish Nai, Untitled, 2017. Used clothes and wood, 60 × 3 × 3 in (each), set of 400. Image courtesy of Gallery Nature Morte, Photo credit: Jeetin Jagdish Sharma.
What is the aspect of your artistic work that most involves you – emotionally, intellectually, spiritually?
I see that curiosity is the main aspect to artistic practice, although I am open to all aspects of life for audiences to engage with my work.
What is art for, in your opinion?
The joy of exploring unknown territories in the work practice and bringing to our audience common scenes that we overlook in daily life.
Manish Nai, Untitled, 2017. Natural and dyed jute cloth, gateway tracing paper and paint on canvas, 132.5 x 236 in, 10 panels. Image courtesy of Karsten Greve Paris.