The Rose Art Museum announced the acquisition of four significant works that will enter the museum's permanent collection. Purchased with funds from the museum's endowment, the most recent acquisitions include Jeffrey Gibson's BY ANY MEANS NECESSARY (2021), Barkley L. Hendricks's photograph Self Portrait with Black Hat (1980–2013), Peter Sacks's mix-media work Without Name (2020), and Marie Watt's Forerunner(2020). These important artworks add further depth to the Rose's outstanding contemporary and modern art collection and join new and major pieces by Radcliffe Bailey, Jamal Cyrus, Jennie C. Jones, Whitfield Lovell, Noé Martínez, and Fred Wilson.
This summer, the newly acquired works by Gibson, Sacks, and Watts will be shown in the museum's 60th anniversary collection show, re: collections, Six Decades at the Rose Art Museum, as part of an upcoming rotation. re: collections, Six Decades at the Rose Art Museum is on view through June 16, 2024. Hendricks's self-portrait is already on view in the exhibition "My Mechanical Sketchbook"—Barkley L. Hendricks & Photography, open through July 24, 2022.
Commenting on the recent acquisitions, Gannit Ankori, Henry and Lois Foster Director and Chief Curator, stated: "We are thrilled to welcome the exceptional work of Jeffrey Gibson, Barkley L. Hendricks, Peter Sacks, and Marie Watts into the Rose collection. We are always looking for work that helps fill in the lacunae, making our collection more reflective of and responsive to our complex world. These pieces offer new perspectives, ideas, experiences, and voices, deepening our already stellar permanent collection."
JEFFREY GIBSON (b. 1972, Colorado)
BY ANY MEANS NECESSARY, 2021
Jeffrey Gibson's vibrantly patterned work refers to his Indigenous heritage and queer identity and the aesthetics and biases associated with those identity markers. He draws on Indigenous processes and materials and queer histories that use camp aesthetics as a critical strategy to deny any romanticizing of Indigenous cultures.
Jeffrey Gibson, BY ANY MEANS NECESSARY, 2021 (detail).
This work belongs to a series of Quilt Block Paintings Jeffrey Gibson debuted in 2021 in his solo exhibition Beyond the Horizon at Kavi Gupta in Chicago. The series marks a critical turning point in Gibson's practice, where he is for the first time overtly deploying appropriated figurative imagery in his work. For these works, he incorporates images of Indigenous people and Native American culture created by non-Indigenous people, such as Elbridge Ayer Burbank (1858-1949), who famously painted the portraits of more than a thousand Indigenous people. These images flatten and oversimplify Indigenous people, diminishing their complex humanity while simultaneously idealizing them as caricatures. They reflect the image many Americans still have today of Indigenous people as proud and brave, yet primitive and vanishing.

The pastiche appearance of Gibson's ambitious Quilt Block Paintings is a material reflection of the intertextual narratives within. Says Gibson, "My grandmothers made quilts, and I collect quilts. I'm drawn to their patchwork quality. If you know where the fabrics are coming from, there's a story that can be played out through material culture."

Ranging from the cartoonish, to the melodramatic, to the profane, the appropriated images in the works draw attention to inherent biases within intercultural visual narratives, such as the tendency of non-Indigenous artists to attribute dark skin tones to their perceived foes and light skin to individuals, such as Pocahontas, whom they wish to convey as friendly to colonial concerns. The works deftly interrogate differences between how Native Americans represent themselves and how they are represented by others.

Also interwoven into many of the panels are delicate, beaded objects dating from the mid-19th to mid-20th centuries. Taken from Gibson's private collection, these items were often made for personal reasons by their intended users, and other times made as "whimseys," so-called because of their value to tourists as objects of wonder and amusement. Incorporating traditional and global materials, these beaded objects elucidate a crucial turning point more than a century and a half ago, when sudden access to global trade allowed Native American artists to expand their visual and material lexicon. Such moments amplify awareness of Modernism not as a one-time Western phenomenon, but a continuous and manifold spectrum.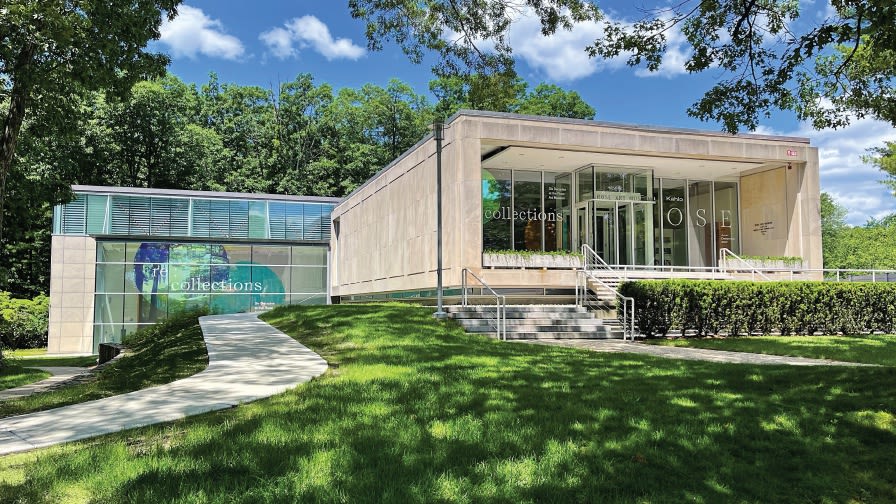 Courtesy of The Rose Art Museum.
About the Rose Art Museum
Founded in 1961, the Rose Art Museum is one of the nation's preeminent university art museums. Through its exceptional collection, support of emerging artists, and innovative programming, the museum serves as a nexus for communities, art, and social justice for Brandeis University and beyond.