Shimoyama's Work Shines - litterally and figureatively - when he applies what might be considered the "feminine," playful and dazeling accessories found in a dressmaker's drawer.
The sunlight pours into the wide windows of the second-floor studio at the Brew House artist lofts. It gives a shimmer to artist Devan Shimoyama's tools of the trade. On one shelf, a rainbow of glitter in sapphire, lime, yellow. On another shelf, baubles and faux jewelry glow like precious metals. Bright sequins and artificial flowers are all around.
On the walls, larger-than-life-paintings — each containing elements of self-portraiture — reflect his vision of queerness, beauty and humanity.
"Sedusa" is an intense figure in red, a painting that adds African elements to the mythological Medusa, while referencing Shimoyama's migraines and his love of cartoons. Another painting is an admiration of Shimoyama with his hair braided. As someone who typically wears his hair in an Afro or closely cropped, he mused, "I felt like a stranger to myself looking at myself. And so, I used that moment in creating the painting."
There is also the image of the figure of death from a tarot card; the skeleton is near a shimmering body of blue-sequined water. Shimoyama, who has lived in Pittsburgh for eight years, winked that he could have been musing on a separation from a longtime partner.
"When I paint," Shimoyama says, "it can come out of somewhere deeply personal or from something I'm beginning to be curious about."
For instance, Shimoyama grew up in a Baptist household without tarot cards or other types of mysticism present. But when he began to explore alternative healing practices, it stoked an affinity for the tarot.
Shimoyama's work shines — literally and figuratively — when he applies what might be considered the "feminine," playful and dazzling accessories found in a dressmaker's drawer, "things that you might see more on a drag queen, or perhaps a Black lady at church," he says.
But his work, he says, also evokes a connection to African American culture, offering "a visual syntax" of faux luxury and glitz and glamour that is relatable to a lot of Black people. It's the clothes they wear to feel good about moving through an oppressive society.
Although Shimoyama, 32, creates much of his work as a "cathartic personal healing" to cope with the larger toxic pressures of being Black and queer in America, he considers himself more artist than activist. There's no doubt, however, that when elements from his own culture and identity — much like the ever-present glitter he uses — are sprinkled onto his creations, he activates dialogue across identity, race and belonging.
For his public, that glitz is a draw, bringing them closer to the work, and helping them engage and interrogate queerness and masculinity without shame. In recent years, he's gained international recognition.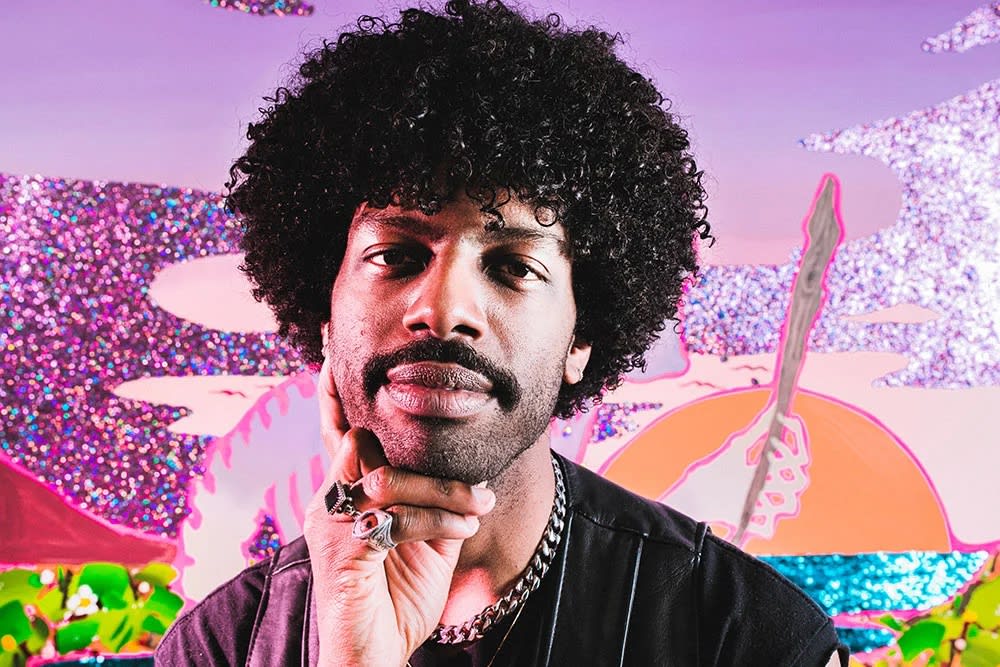 In November, he premiered "The Grove," an art installation commissioned by the Smithsonian Museum to help reopen its Art & Industries Building as part of the exhibition "FUTURES." The exhibition is on view through July 6.
"FUTURES" curator Ashley Molese, impressed after seeing Shimoyama's work in another gallery, thought his age and lived experience would offer a unique perspective on issues related to health, the economy and social justice. He was invited to craft a future memorial to the year 2020 that recognizes the collective trauma of the pandemic, political division and the persistence of racial violence.
Inspired by the impromptu urban memorials he saw in Philadelphia and Pittsburgh, Shimoyama turned a typical somber altar into something bright and meditative, where glittering utility poles share space with bejeweled sneakers dangling from power lines. Artificial flowers and butterflies, Molese says, invite visitors to a place that "feels welcoming and uplifting."
For Shimoyama, it's an enchanted forest, where a space of pain can become a space of healing.
"Seeing so many Black-identifying people dying from police brutality or being violated in so many different ways or seeing friends of mine who are trans undergo so many horrible, horrible injustices regularly," Shimoyama says, "my work becomes a way for me to process that without depicting Black bodies in pain."
The abundance of those types of images can make them feel normal, he says. But, consequently, they trigger only more pain and hurt.
In 2018, Shimoyama had his debut solo show, "Cry, Baby," at The Andy Warhol Museum. Largely through self-portraits, pulling from images of himself, his mom's lips and his grandmother's clothing, he explored the hyper-masculine setting of barbershops, homophobia and racial stigma.
Jessica Beck, who is the Milton Fine curator of art for the Warhol, became acquainted with Shimoyama about a year after the artist came to Pittsburgh, where he teaches painting at Carnegie Mellon University and inspires students to think about how to get materiality into their work.
Beck says she loved Shimoyama's sense of "fabricating fantasy worlds" to comment on contemporary issues. He was also able "to reclaim" the barbershop as a space of warmth, not as a place of alienation, she adds. "Cry, Baby" featured a hoodie that referenced the slaying of Trayvon Martin in a gated community in Florida, and a swing — a child's toy — to reference the police killing of 12-year-old Tamir Rice in a playground in Cleveland.
The exhibition also coincided with the June 18, 2018, fatal police shooting in East Pittsburgh of Antwon Rose, the 17-year-old African American from Rankin. The show was so timely and relevant, Beck says, "it resonated with the public."
Shimoyama grew up in Germantown and Northeast Philadelphia in the 1990s, where his grandparents collected sculptures and crafts from their travels to the Caribbean and beyond. R&B and the music of the Baptist church filled the house. Shimoyama noticed the bright clothing his grandmother wore to Sunday worship. For a while, his mother studied fashion design in college.
Of Japanese and Trinidadian heritage, Shimoyama's last name made him feel like an outsider as a youngster. He found refuge in the violin and spent much of his time watching cartoons and drawing. A friend of his mother's gave Shimoyama his first art lessons, and he took weekend classes at local colleges. He still remembers hand-painting his family's nativity figurines, giving the holy family brown faces.
Despite such exposure to art in his home, Shimoyama, like many Black youngsters, believed that art was only "what you saw in museums by dead white artists or cultural remnants from ancient times."
Because an aunt had gone to college to become a nurse, he too embarked on a science-related path. He enrolled in Pennsylvania State University to study biology, hoping to perhaps become an anatomy illustrator.
In his sophomore year, he woke up one morning, and thought, "I can't do this anymore."
He pulled together a portfolio and was accepted into the university's School of Visual Arts, where he focused on drawing and painting. It was a leap of faith. The new art student didn't know how artists did what they do, but Shimoyama says he was determined to learn.
Very quickly, Shimoyama immersed himself in classes in oil painting, sculpture, ceramics, printmaking and figure drawing, which he loved. Many times, he stayed in his studio until 2 a.m., experimenting with techniques and teaching himself.
Penn State professor and visual artist Brian Alfred recognized Shimoyama's dedication and encouraged his student. His class on contemporary artists introduced Shimoyama to creators such as Basquiat, Mickalene Thomas, Howardena Pindell and others. Beyond technique, Shimoyama learned how artists integrate identity, passion and perspective into their work.
Following their lead, Shimoyama began to cultivate and explore "visual language" — using luster and glitz — that would help him convey the ideas that mattered most to him.
As Shimoyama continued to discover his style, he arrived at Yale graduate school in 2012. He had a break-through moment there, just before his first portfolio critique, which included a self-portrait of him hugging himself.
At the last minute, he decided to cover the entire background in silver glitter, which he had never done before. "Oh, my God, I just ruined this whole painting," he thought.
When a dean's critique called this particular work one of the most exciting, intense pieces in the portfolio, it freed Shimoyama to move toward the techniques that have become a part of his signature.
"I learned in grad school to not sit in comfort with what felt safe or familiar and allow myself to take risks and that feedback was not something to be scared of," he says.
Those risks have led to Shimoyama's work being collected by celebrities such as musician Alicia Keys and her husband, producer Swizz Beatz.
Many of them are drawn to the hip-hop references that are embedded in his art. He has used signifiers such as Timberland boots, pop singer Rihanna's hand, lyrics from a Toni Braxton song. Some of his work is scheduled to be part of an upcoming exhibition on hip-hop culture at the Baltimore Museum of Art.
But the hoodie, as evidenced in the Warhol exhibition, remains one strong element.
Shimoyama adorns his hoodies with sparkles and colorful flowers, asking viewers to reimagine their symbolism.
The hoodie "has become so emblematic of Black masculinity in a lot of dark and sad ways," he says. When he encrusts the clothing with brooches and rhinestones and roses, he says, "it's a way for me to subvert that kind of thinking."