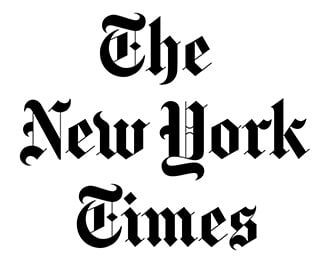 "In [James Little's] all-black, oil-and-wax "Stars and Stripes" (2021), it's hard to say whether the bars that make up its geometric pattern are converging or colliding."
After three years of soul-rattling history, this year's survey at the Whitney Museum of American Art is reflective and adult-thinking. It opens to the public April 6.
After a year's Covid delay, the latest Whitney Biennial has pulled into town, and it's a welcome sight. Other recent editions — this is the 80th such roundup — have tended to be buzzy, jumpy, youthquake affairs. This one, even with many young artists among its 60-plus participants, most represented by brand-new, lockdown-made work, doesn't read that way. It's a notably somber, adult-thinking show, one freighted with three years of soul-rattling history marked by social divisiveness, racist violence and relentless mortality.
Organized by two seasoned Whitney curators, David Breslin and Adrienne Edwards, the Biennial's title, "Quiet as It's Kept" — a colloquial phrase, sourced from Toni Morrison, indicating dark realities unspoken of — suggests the show's keyed-down tone. Its very look gives a clue to its mood: Its main installation, on the 5th and 6th floors of the Whitney Museum of American Art, is literally split between shadow and light.
For the occasion, the museum has removed nearly all the dividing walls on its fifth floor, opening its Manhattan space from end to end — from Hudson River to High Line — and spread out art in island-like units throughout. The arrangement isn't beautiful; it has a jumbled, salesroom look. But it called to mind, for me, a quietly utopian art-world moment.
In 2009, a local nonprofit entity called X Initiative, made up of artists, dealers and curators, staged an event in Chelsea, not far from the present Whitney, called "No Soul for Sale: A Festival of Independents." It brought together dozens of alternative galleries and organizations under one roof and used exactly this boundary-less format — one that did away with art fair-style booths and V.I.P. lounges, not to mention admission fees — and let art and its audiences mingle freely, sharing common air and light. (The city's Independent Art Fair originally adopted the no-walls model but soon dropped it.)
As the curators have emphasized in statements about the show, the idea of boundaries, and getting rid of them, were important to their thinking about this biennial, starting with questions (also addressed by the 2019 edition) of how to break down the geopolitical borders that have traditionally defined and delimited the Whitney's version of "American art."
Painters of an older generation, James Little and Denyse Thomasos (1964-2012), whose work appears to fall into a Modernist tradition of "pure" abstraction on which the Whitney itself was built, illustrate this dynamic. Two spectacular pictures by the Trinidad-born Thomasos are all about painterly gesture, but they're also all about the history of Black captivity, past and present, as their titles — "Displaced Burial/Burial at Goree" and "Jail"— reveal.
Little also lets titles tell a tale. In his magisterial, all-black, oil-and-wax "Stars and Stripes" (2021), it's hard to say whether the bars that make up its geometric pattern are converging or colliding.