It's safe to say Willie Cole has a shoe fetish. With the closure of museums and galleries, income and exposure was in short supply for artists during the global pandemic. Like many, Cole turned to Instagram, and with headpieces for Comme des Garçons, sculptures, self-portraits, installations, furnishings, and masks all dynamically exploding with repurposed shoes—among other reclaimed materials—his following grew. "The global pandemic encouraged independence," he says. "When you start out as a young artist, it almost feels like you work for the gallery, but the fact is, the gallery works for you."
Most recently, Cole presented Artcycling, a collection of furnishings and sculpture produced in collaboration with luxury Italian shoe brand Tod's. Showcased last September at the Salone del Mobile furniture fair in Milan and in December at art and design event Art Basel Miami Beach, Artcycling is made of materials discarded during Tod's production process. Interior Design sat down with Cole to hear more about Artcycling, as well as the first high heel that caught his eye, the piano that became sculptures, and the unexpected hazard of too many shoes on a headpiece.
Interior Design: It is fair to say you have a thing for shoes!
Willie Cole: It all started with a prison art project. I was offered an opportunity to show at Eastern State Penitentiary, a prison in Philadelphia that's been closed for many years. I was living in Newark a the time, and there, like in probably every major city, a pair of sneakers hanging over a telephone wire means a location to buy drugs.
I know that drugs are all over prisons, so I wanted to make a big globe out of sneakers to hang in the middle of the huge prison yard. But I only had seven or eight pairs of sneakers that my son had given me. So I went to my local thrift store, and immediately a high-heeled shoe caught my eye—I forgot all about sneakers and began to collect high heels and then did something completely different for that project. Afterwards, I started discovering large quantities of high heels donated by stores to thrift shops. These became my muse for many sculptural manifestations. Now my shoe masks and large-scale shoe pieces have been cast in bronze and installed in cities including San Antonio, Atlanta, and Newark.
ID: How did Artcycling, your collection of shoe sculptures for Tod's come about?
WC: Instagram. Over the past two years, my Instagram connections have really been coming together. Tod's art director saw my work and approached me for a collaboration leading into the Salone del Mobile furniture fair in Milan, with the idea to upcycle leather from their handmade shoe collections. This inspired a custom collection of tables, seating, and sculptures that I created in their studio, and also featured at the Tod's location in the Miami Design District, coinciding with Art Basel Miami Beach. These pieces are now part of the Tod's art collection, which is extensive.
In tandem, Tod's debuted Mosaic, a collection of handbags inspired by Italian shopping bags. They are made from different kinds and colors of leather scraps. Together we 'artcycled' lots of leather—hence the name—while conceptually underscoring the upcycling idea of using salvage or culled materials.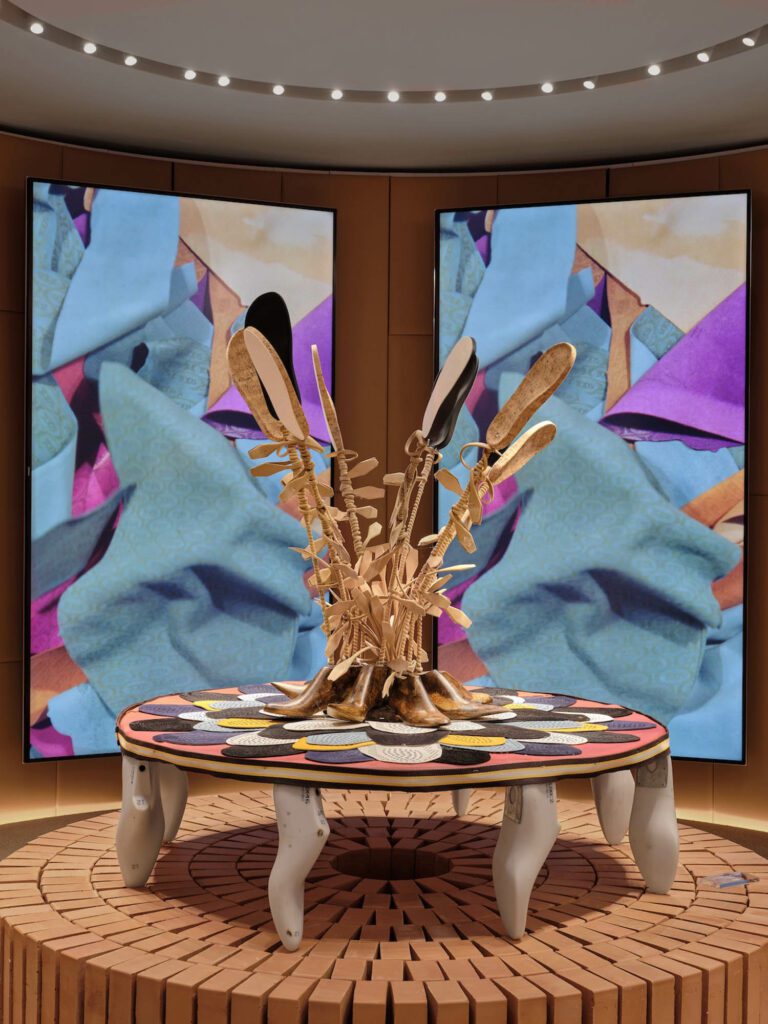 Flowers on my Feet, a sculpture in Willie Cole's Artcycling collection for Tod's. Photography courtesy of Tod's.
ID: Can you describe a few of your pieces in the Artcycling collection?
WC: ︎Tod's has big bins of handbags, shoe parts and buckles, and all kinds of things that didn't quite come out the way they wanted them to. It's basically a 'cull' bin of rejected parts. As I was working right in the factory, if I needed something, I could just call, and they would bring it down. The Flowers on My Feet table is made from parts of moccasins—flattened leather sections—arranged in a mandala or a rose window pattern and attached to plywood, which is mounted on shoe forms. ︎The Gommino chair, with a straight back wooden chair at its core, is made from approximately 100 incomplete white Gommino moccasins.

ID: What else have you completed recently?
WC: I collaborated with Rei Kawakubo on her Homme Plus Fall 2021 Menswear collection for fashion label Comme des Garçons. I began by making headpieces for the models on the runway show, then photographed myself each day wearing that day's creation, submitting the photos to Rei for approval. Then I turned these photos into a series of watercolor self-portraits. From their side, Comme des Garçons sent their ideas for textile design patterns to me for approval.
I had been making things out of shoes for a while, and I've made masks and standing figures…but I had never made headdresses. So when they asked me to make headpieces, I used 20 or 30 shoes and didn't think that much about the models. They were too big and too heavy to wear—so they asked me to use fewer shoes. I started out much more elaborate— more sculpture than fashion. In the end, the largest headpiece had just six shoes.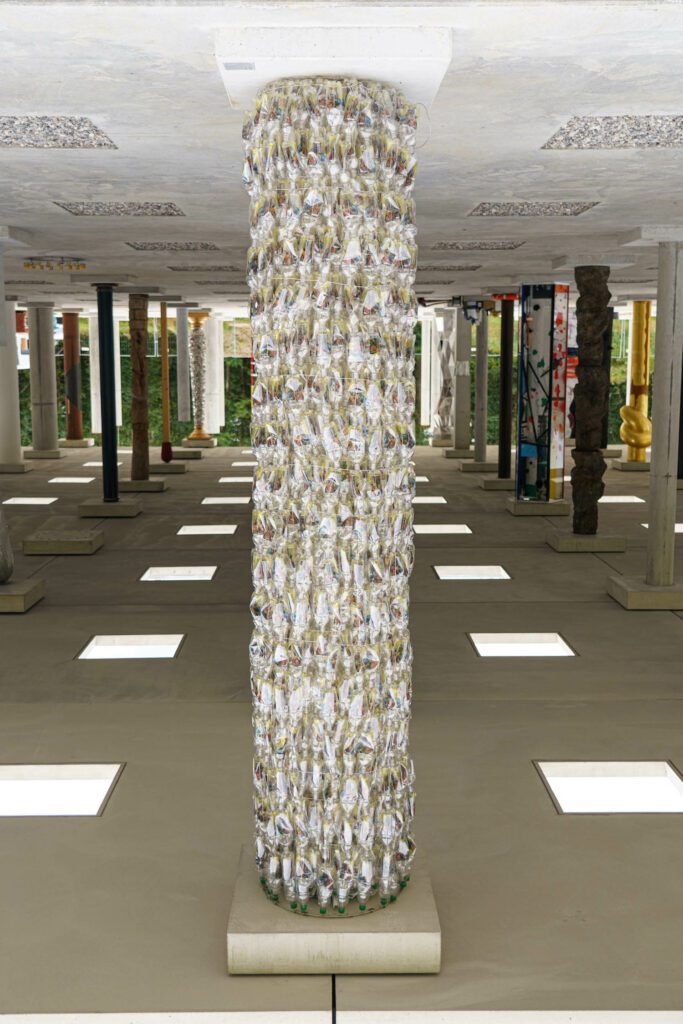 Willie Cole's installation for STOA169. Photography courtesy of Willie Cole.
I have a shipping container filled with bottles that I collected years ago, and one private commission I enjoyed early on in the pandemic period was a chandelier from recycled plastic bottles for the home of musician Jon Batiste and writer Suleika Jaouad. I also created a column out of recycled water bottles as part of STOA169 in Polling, Germany. The pandemic prevented me from traveling there, so the crew collected bottles, produced, and installed my piece based on my written and video instructions.
Another shoe project I did during the pandemic was a reception desk out of high heel shoes for the feminist-themed Hotel Zena in Washington, D.C.Black Art Matters is a collection of objects including clothing, mugs, and masks for museum shops that I did in collaboration with Museum Nerd and Popcorn Custom Products.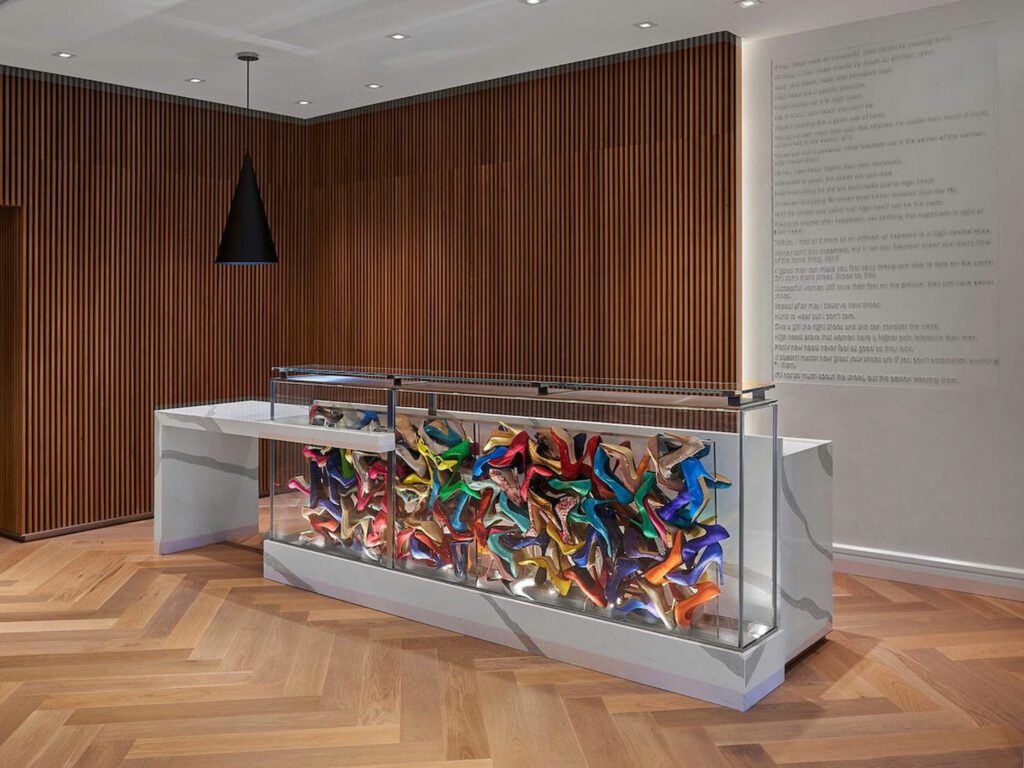 A reception desk by Willie Cole for the Hotel Zena in Washington, D.C. Photography copyright Hotel Zena.
Black Art Matters is a collection of objects including clothing, mugs, and masks for museum shops that I did in collaboration with Museum Nerd and Popcorn Custom Products.

ID: What's upcoming for you?
WC: The Metropolitan Museum of Art in New York will feature my scorch on paper work—using steam irons—in its lobby entry area, as part of a dedicated installation for Black History Month.
For the ︎Kansas City Airport, I have a public commission for suspended aerial sculptures featuring multiple birds. These are inspired by Charlie Parker, who was born there and whose nickname is 'Bird.'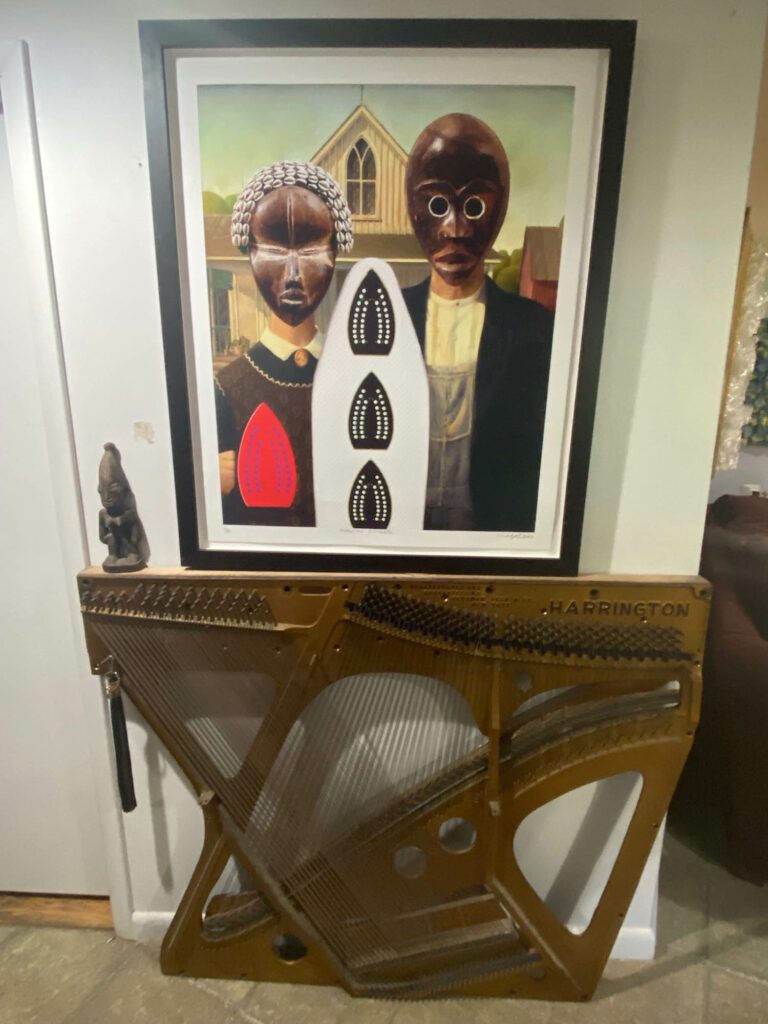 A sculpture by Willie Cole made from the harp of a piano. Photography courtesy of Willie Cole.
ID: In what kind of home do you live?
WC: ︎My home is my studio, and therefore completely full of art. It's located on two acres in a rural New Jersey mountain community about an hour from the George Washington Bridge. We call it a house for tax reasons but I don't know what it is now, maybe some type of indoor junkyard!
One piece of furniture I am very attached to is the stringboard or what you'd call the harp of the old upright piano played by my daughter when she was a child. Ten years ago, I dismantled the piano, which has lots of memories for me, and turned the keys and the legs into a bird sculpture. I preserved the harp—the heart and soul of the piano—and it currently stands on end, mounted on brass and wood, as a kind of 'soundplace' in my living room as opposed to a fireplace. I use that as my mantle.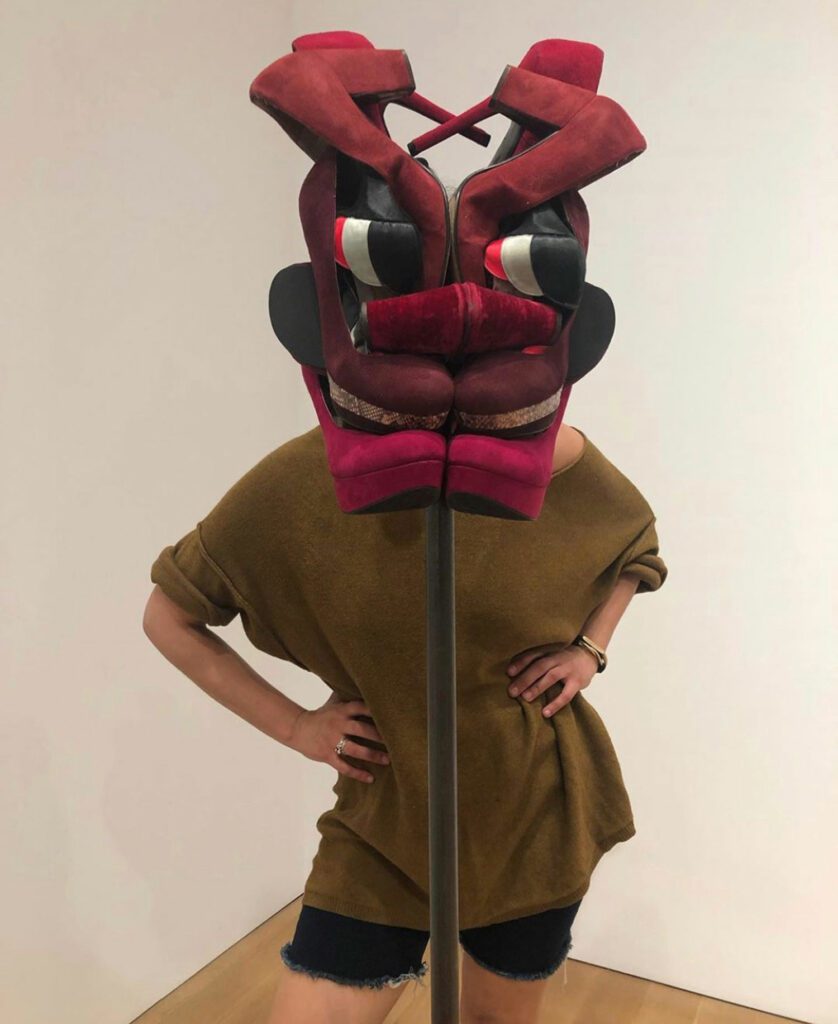 A mask made of shoes by Willie Cole. Photography by Caridad Cole.
ID: How do you think your childhood or formative years influenced your artistic thinking?
WC: ︎I was big into puzzling and that lent to the way I look at everything—including my sculptures—in four dimensions. We always had an active puzzle in our house, mostly landscapes but they could also be of Leonardo da Vinci's Last Supper or Martin Luther King Jr. Puzzling was something that my mother enjoyed and she passed it on to everybody after her.
︎African hand-carved sculptures continue to inspire me. The Newark Museum of Art had an extensive collection of African art, and I went there often when I was young. As a kid during the 1960s, it became critical to have a sense of self and cultural awareness in the Black community. As I got older, I had a good friend who was an African art dealer in New York, and he had a lot of African art in his loft. At that time I was primarily a painter, but through interaction with him and his collection, I transitioned to sculpture.
ID: Who in the art or design industry do you particularly admire?
WC: Picasso—to me, every artist, especially from the Modern art era, is a disciple of the tribal aesthetic which I see to be timeless and at the root of all that is modern and contemporary. When I say tribal aesthetic, I am referring to the actual tribes, from places such as Cameroon or Mali.

ID: What are you reading?
WC: "Breaking The Habit of Being Yourself: How to Lose Your Mind and Create a New One" by Joe Dispenza. It is helping me unlock personal power and see myself as a part of the universe as opposed to seeing myself as someone living in the universe.
A self-portrait by Willie Cole. Photography courtesy of Willie Cole.
ID: Do you have a secret you can share?
WC: I've been a vegan for the last five decades—and I've never had a cup of coffee in my life. In Italy, one of the Tod's crew members was amazed by the fact that I start my day without coffee. 'How do you do it?' he asked me.
The secret is that I consume powdered vitamin supplements in juice twice a day. In the summertime, I have watermelon juice because it's high in antioxidants and economical—one watermelon gives me maybe two and a half gallons of juice. However, this morning I had pineapple juice with fresh spinach. With my vitamin powders, that carries me through to dinner around 6:30pm. Digestion requires blood. So the more you eat, the less blood you have working in your brain. I minimize my consumption during the day because it makes me more alert.
House Pet, a sculpture made of shoes by Willie Cole. Photography courtesy of Willie Cole.