Colourful canvases that merge Japanese manga with European paintings, enlarged stainless-steel deer antlers with Cadillac wheels, sculptures inspired by Buddha and fashion magazines... Welcome to the world of Japanese-American artist Tomokazu Matsuyama.
Born in Japan in 1976, Matsuyama finished his studies in Tokyo before moving to New York where at the age of 25 he began thinking seriously about being an artist. His multicultural background helps explain a lot of what you'll see in Accountable Nature, his first solo exhibition in mainland China on show at Long Museum West Bund until this Sunday (January 24). As the exhibition's curator Yuji Akimoto highlights, it's packed with a melting pot of elements drawn from artistic styles spanning East and West through the ages – from ornamental to conceptual art, from traditional to contemporary consumerism.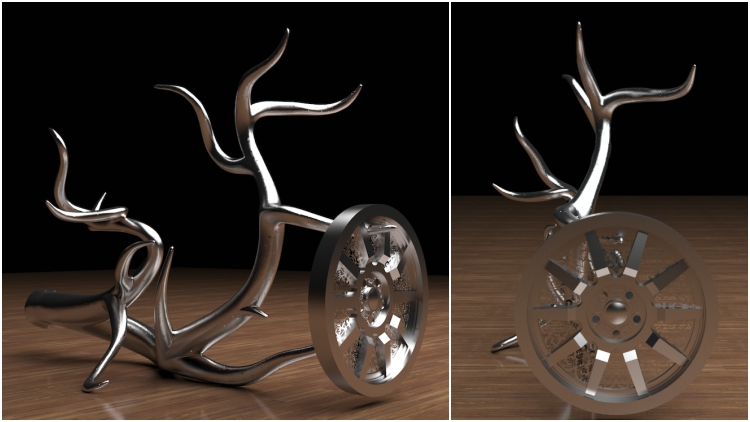 Wheels of Fourtune, 2020, Approx. 250 x 400 x 128cm, 316L Stainless Steel
Entering the space, we're greeted by two large-scale stainless-steel sculptures modelled after enlarged deer antlers and Cadillac wheels representing the duality between the spiritual part of our being and the physical things we aspire to own. Is it a coincidence that the antlers are substantially bigger than the Cadillac wheels? A small turn to the left graces us with a big exhibition room housing a dozen large canvases created in recent years. Here we see the idiosyncratic Matsuyama that we are drawn to and love – androgynous figures in colourful attire, clusters of blooming flowers and cute animals, intricate patterns that remind us of traditional Asian decorative art.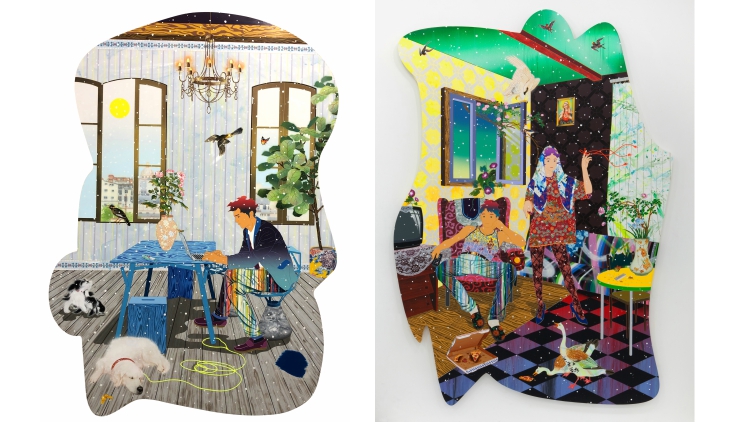 Deskop Utopia, 2020, 261.6 x 190.5cm, Acrylic and mixed media on canvas (left); Wanderlust Innocence, 2019, 262 x 185cm, Acrylic and mixed media on canvas (right)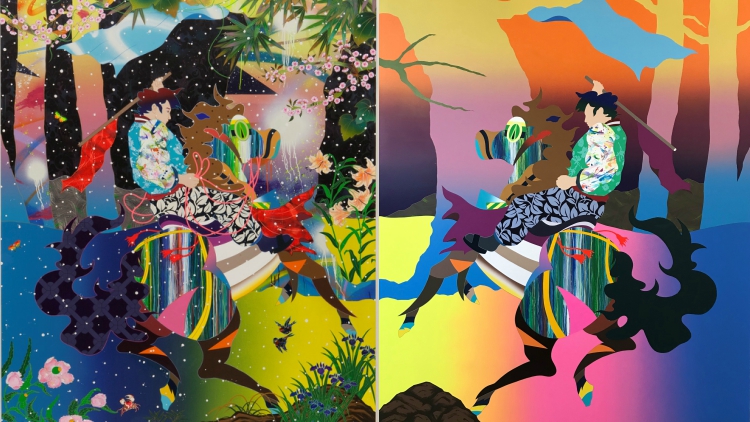 Hanabi He Said I Said, 2019, 178 x 213cm, Acrylic and mixed media on canvas (left); Us Rise Sun Rise, 2020, 178 x 213cm, Acrylic and mixed media on canvas (right)
Exiting the room, bathed in sunlight from the window wall, is a sculpture of a pink-haired model in a seated position that, according to Matsuyama, is a reference to Buddhist sculptures. What's the relation between Buddha and a fashion model? 'Probably nothing at all,' says the artist.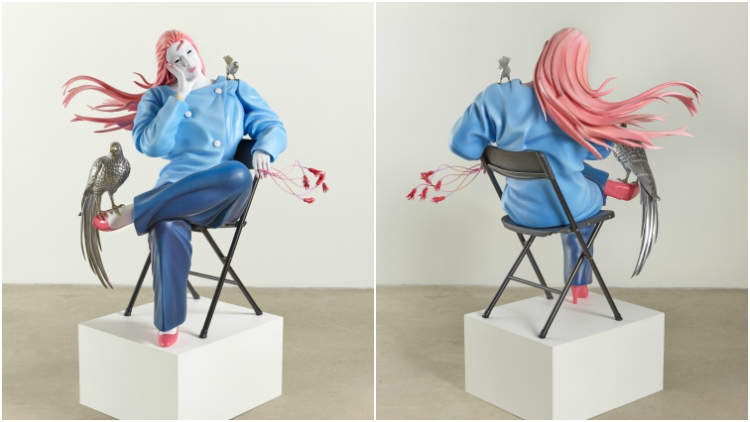 This is What It Feels Like, 2018, Body: 78.7 x 119.3 x 83.8 cm, Base: 34.9 x 64.8 x 57.2cm, FPR, wood, polyurethane and acrylic paint
Slowly making our way into the exhibition's last room, we're greeted by a vast space where a set of paintings hangs in the front. From the collection, 'Cluster 2020' stands out. An impressive piece comprised of 33 small panels depicting origami cranes in abstract forms peeping through a jungle bustling with flowers and leaves – a symbol of good fortune and hope, perhaps? Matsuyama started the work when he was in lockdown in Tokyo and his team were facing a more severe situation in New York. Rather than resignation, he reminds us of how resilient humanity is through his art.

Cluster 2020, 2020, 60 x 60cm x 33, Acrylic and mixed media on canvas
As we walk out of the exhibition, we feel at peace. Accountable Nature is like Matsuyama's own nirvana – he pulls little broken pieces from all over the world together to make a whole.