AN UNLIKELY COLLABORATION has produced artworks, exhibitions, and a new documentary distilling the life, legacy, and broader meaning and implications of a single political act by track and field athlete Tommie Smith. In 1968, Smith won the Olympic gold medal in the 200 meter sprint and when he raised a black-gloved fist on the medal stand in Mexico City, it drew more international attention than his athletic accomplishments on the field.
The gesture of protest was meant to raise awareness about global human rights abuses and the fight for civil rights in the United States. Smith was a 24-year-old student at San Jose State University in California. When he returned home, he was ostracized and his employment prospects were diminished. He said the experience destroyed what he loved: running and his family.
Half a century later, a historic figure with contemporary influence, Smith has found creative ways to tell his story, including a feature length documentary. "With Drawn Arms" debuts this evening on STARZ.
"In 1968, Black athletes were expected to perform and shut up," Smith said in the film. "We were dealing with racism. We were dealing with not having a voice. Running became my voice. I knew something had to be done. My next move would be immortalized in history."
Perform and shut up. It's a refrain all too familiar today. The same sentiment has been directed at LeBron James who is outspoken about social justice issues. Smith's experiences parallel former NFL quarterback Colin Kaepernick's.
Directed by Glenn Kaino and Afshin Shahidi, "With Drawn Arms" counts John Legend among its executive producers. For eight years, Smith has been collaborating with Kaino, a conceptual artist who works across disciplines, from sculpture and painting to installations and filmmaking.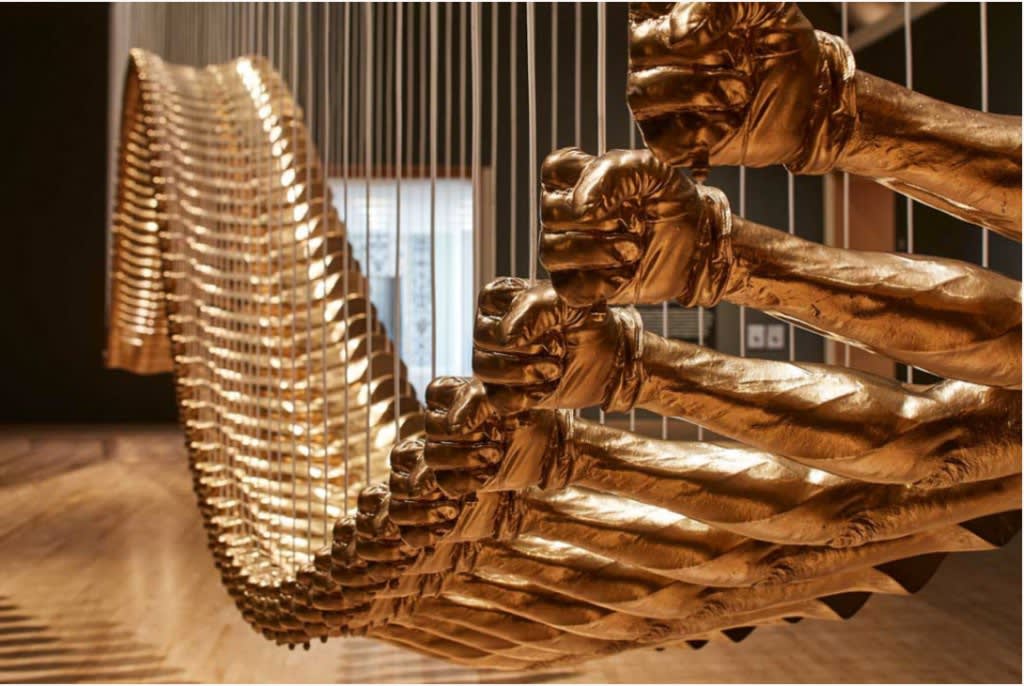 Installation view of GLENN KAINO, "Bridge," 2013 (fiberglass, steel, wire, gold paint, dimensions variable), High Museum of Art, Atlanta, 2018. | © Glenn Kaino
In 2018, the pair used the same title for an exhibition at the High Museum of Art in Atlanta. "With Drawn Arms: Glenn Kaino and Tommie Smith" presented sculptures by Kaino, drawings by the artist and the athlete, and materials from the Tommie Smith Archives. "Bridge" (2013), a 100-foot-long sculpture, anchored the exhibition. The work is composed of 150 suspended forearms with clenched fists, cast in fiberglass from Smith's arm and painted gold.
The monumental work was the first collaboration between the two. "Bridge" was on view in 2014 at the Studio Museum in Harlem and in Washington, D.C., as part of The 5 x 5 Project, a public art initiative presented by the D.C. Commission on the Arts and Humanities. Earlier this year, the "With Drawn Arms" exhibition was presented at the San Jose Museum of Art.
In the documentary, Kaino speaks to his connection with Smith. "Somehow a Japanese American artist became one of the captains of Tommie Smith's legacy team," the Los Angeles-based artist said. "Tommie's salute made such an impact on me that I had to collaborate on a project with him. …My projects with Tommie allow you to be a witness of this rich history the salute created."
The documentary features civil rights legend and Georgia Congressman John Lewis (1940-2020), Smithsonian Secretary Lonnie G. Bunch III, sports journalist Jemele Hill, cultural critic Nelson George, actor Jesse Williams, and Kaepernick, among others.
For his part, Smith finally makes clear what his raised fist meant. "For 50 years, people have been putting words in my mouth," he said. "That fist meant pride. It meant strength. It means togetherness, one as a nation." CT
TOP IMAGE: From "With Drawn Arms" film, Communicating Rooks
READ MORE about the U.S. Olympic Committee response after gold medalist Tommie Smith and bronze medalist John Carlos, both students at San Jose State University, raised their fists on the medal stand in Mexico City
FIND MORE about the appearance of the clenched fist in contemporary art on Culture Type