In one of the light-flooded, seaside galleries that make up Miami's
Pérez Art Museum
is an exhibition that no one should miss. "
Bloodlines
," the first solo museum show of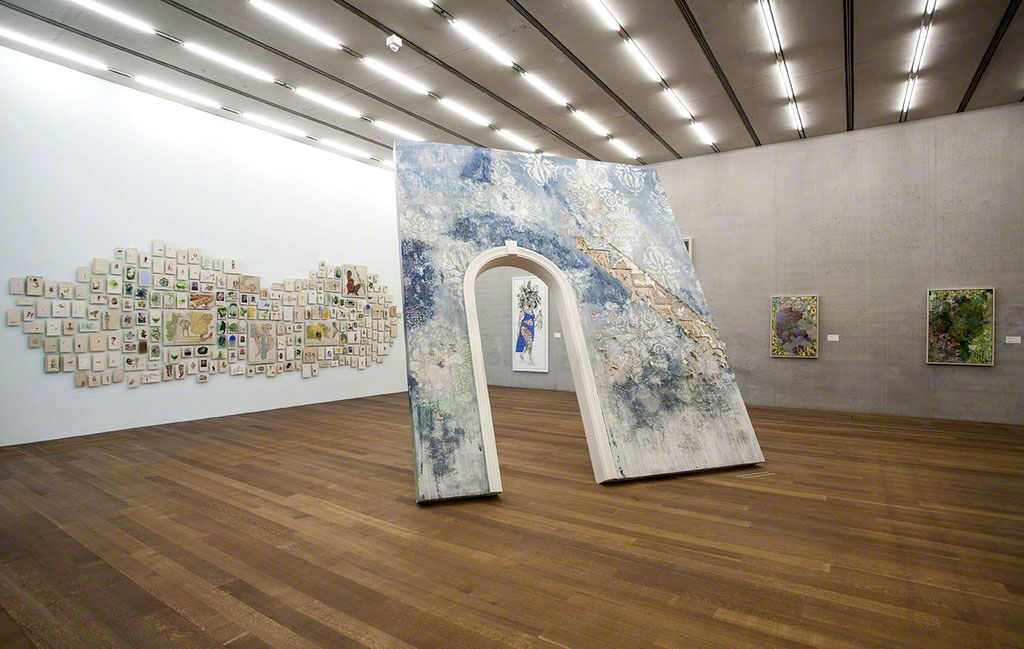 Báez is Dominican by birth and resides in New York, a diasporic context that could be easy to overemphasize in trying to make sense of her work, but that nonetheless must be acknowledged given her many explicit references to it. The primary experience of "Bloodlines," however, is one of overwhelming aesthetic beauty. Báez moves effortlessly between mediums—often within the same works—mixing abstract washes of paint with intricate drawings, an exacting eye for archival materials with an exuberant, impressionistic handling of color and gesture. Patterns abound. Based on flora and fauna, strict geometry and swirling mandalas, these visual rhythms soar in their current installation under the southern Atlantic light. They draw you in close and yet cannot help but evoke the Caribbean islands just over the horizon.
The works' ornate, colorful designs are not simply there for our visual consumption, delectable as they might be. In many cases, they converge into powerful female figures, saved from complete abstraction by their piercing eyes and distinctive fashions and hairstyles. In other cases the opposite dynamic is at play, and a closer inspection of the patterns reveals symbols and narrative vignettes that reference the experiences of African-American and Afro-Caribbean women—scenes of subjugation and, more frequently, radical self-making in the face of it. It's at this point that the real politics of Báez's work surfaces, delivered to your consciousness in opulent, impeccably made packages.
A self-proclaimed interest in the craft and art forms traditionally thought of as "women's work"—textiles, jewelry, ceramics—permeates the artist's practice. Báez channels the long history of ornamentation and fashion as acts of resistance among women of the
In her "Geographic Delay" series, different combinations of African, Caribbean, and American textiles and fashions coalesce into sturdy, self-possessed women that express "the layered histories that make up individuals, and all the alternative possible selves that can emerge out of chance and choice," as Báez
describes
. In "Bloodlines," a new body of work shown for the first time, the figures wear
tignons
—headwraps that women of color were forced by law to wear in 18th-century Louisiana, but whose oppressiveness they inverted with brilliant self-expression through design.
The showstopper of the exhibition is Man Without a Country (aka anthropophagist wading in the Artibonite River) (2014), a massive wall installation of over 144 small drawings on archival materials like maps and book pages. They recall
Báez reveals the centrality of art and creative expression in the construction of identity and in the act of resistance. She collapses diasporic experiences and teases out connections into forceful works that demand and reward your attention. Her subject matter could be didactic in the wrong hands, but she sidesteps that risk with her focus on beauty, engagement, and emotion, seducing viewers into a contemplative space in which to confront them with painful histories. She is truly an artist for our time.