The urgency of Alfred Conteh's portraits lies in the present. He portrays Black people he meets around Atlanta, creating monumental works that accentuate the material both physically and metaphorically, in their mediums and the critical analysis of current social conditions. "Black folks are not doing well in this country," Conteh tells Colossal. "We will not do well until we come to terms with how this country was built, and the resulting racial wealth gaps and social decay. Nothing is being done to improve that, first and foremost economically."
Layered with urethane plastic or steel and bronze dust, the works, which are on view at Kavi Gupta in Chicago as part of Conteh's solo show It Is What It Is, are distressed with cracked surfaces and blotches of acrylic paint. Some stand ten feet tall, and the magnitude of their scale echoes that of the issues the artist is addressing. Conteh focuses on the gritty, harsh reality of the lives of Black people in the U.S., particularly as it relates to the historical policies and institutions that continue to affect the economic, social, and cultural conditions of those he meets. "Stanton Road Water Boys," for example, features three young men who were solicited drivers on an Atlanta road. "If there were opportunities for them to work, I doubt they would stand here trying to sell a two dollar bottle of warm water," Conteh shares.
Stanton Road Water Boys (2022), acrylic and urethane plastic on canvas, 84 x 84 inches
As the title suggests, the exhibition exposes the overlooked or disregarded truths about life today, centering on current conditions rather than a hopeful view for the future. The myth of meritocracy is widespread, and Conteh rails against willful ignorance of privilege and power especially as it relates to wealth and access to opportunity. He explains:
Aspiration is a viewpoint that someone would have if they had the tools and the undergirding to be able to make an idea real, to make whatever they conceptualize a reality. That has not largely been available to African Americans as a whole, to aspire. Historically, legally, African Americans were enslaved, marginalized, segregated, red lined, ostracized, kept from wealth—the list goes on and on. So how can you honestly say "aspire to be something greater" when the policies and norms and mores of this country say no? It infantilizes people when we say things are gonna be alright.
It Is What It Is is on view through March 4, 2023.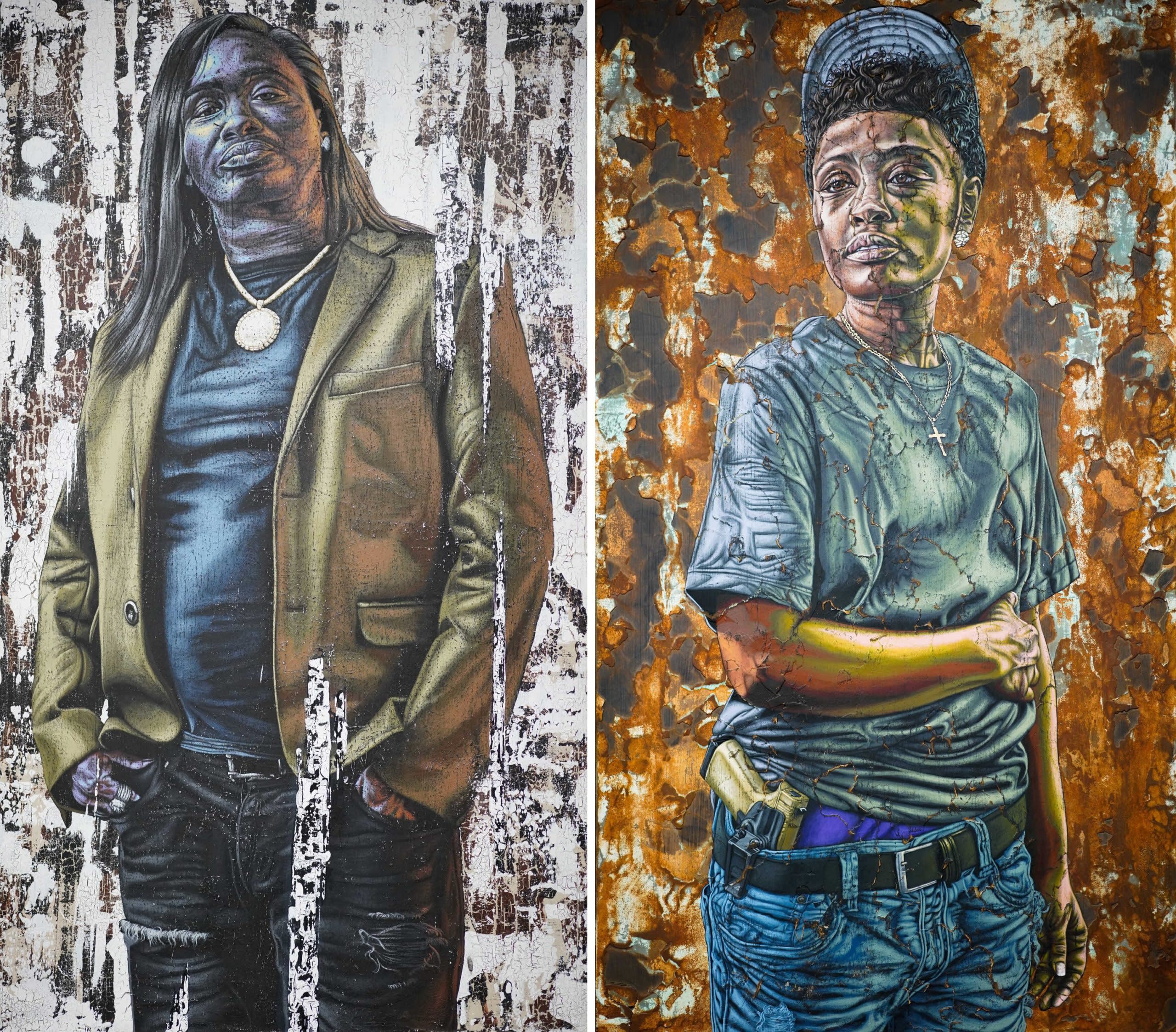 Left: Shampoo (2022), acrylic and urethane plastic on canvas, 84 x 48 inches. Right: IWB Shawty (2022), acrylic, urethane plastic, and atomized steel dust on canvas, 84 x 48 inches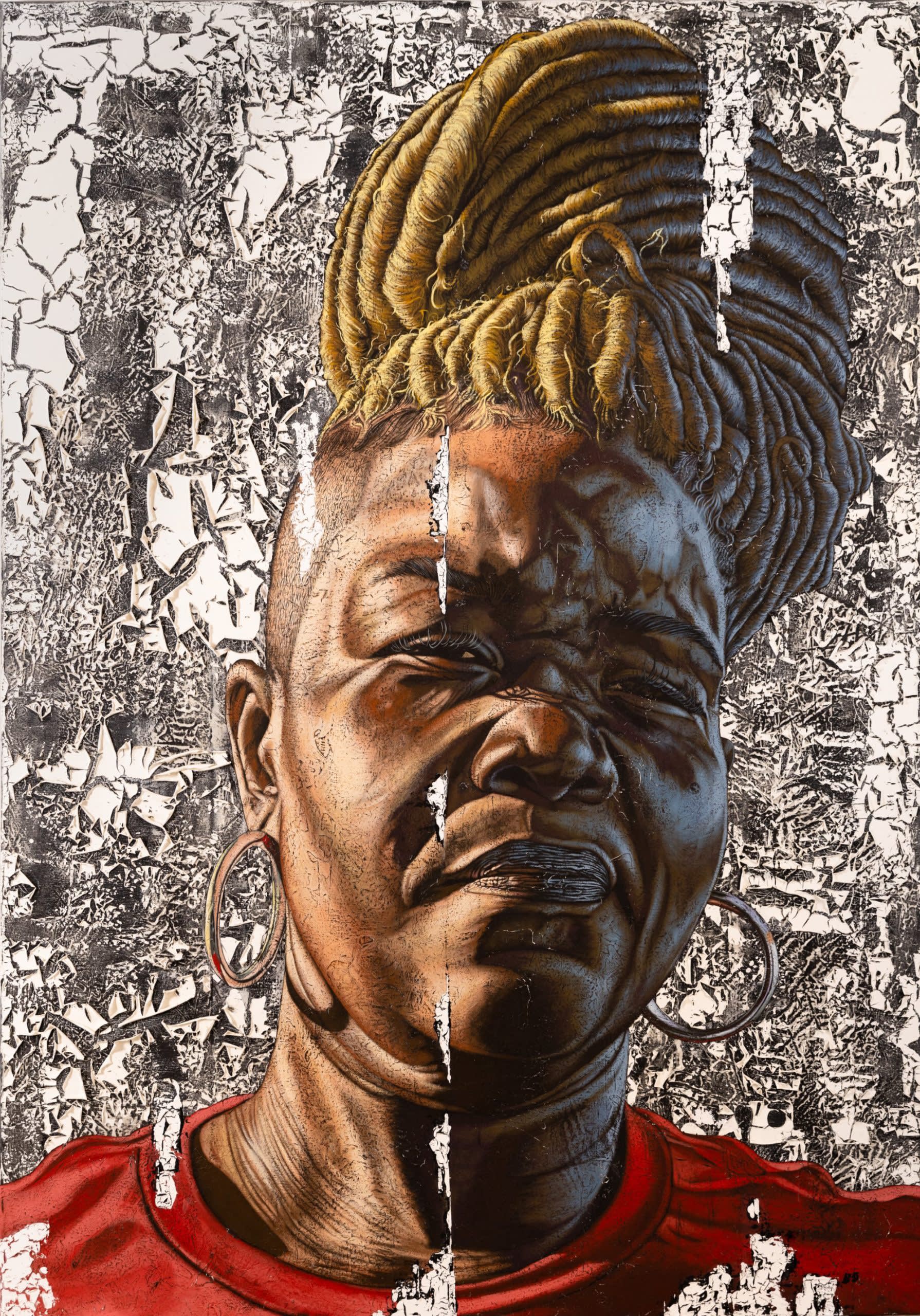 Loretta (Ms. T) (2022), acrylic and urethane plastic on canvas, 120 x 84 inches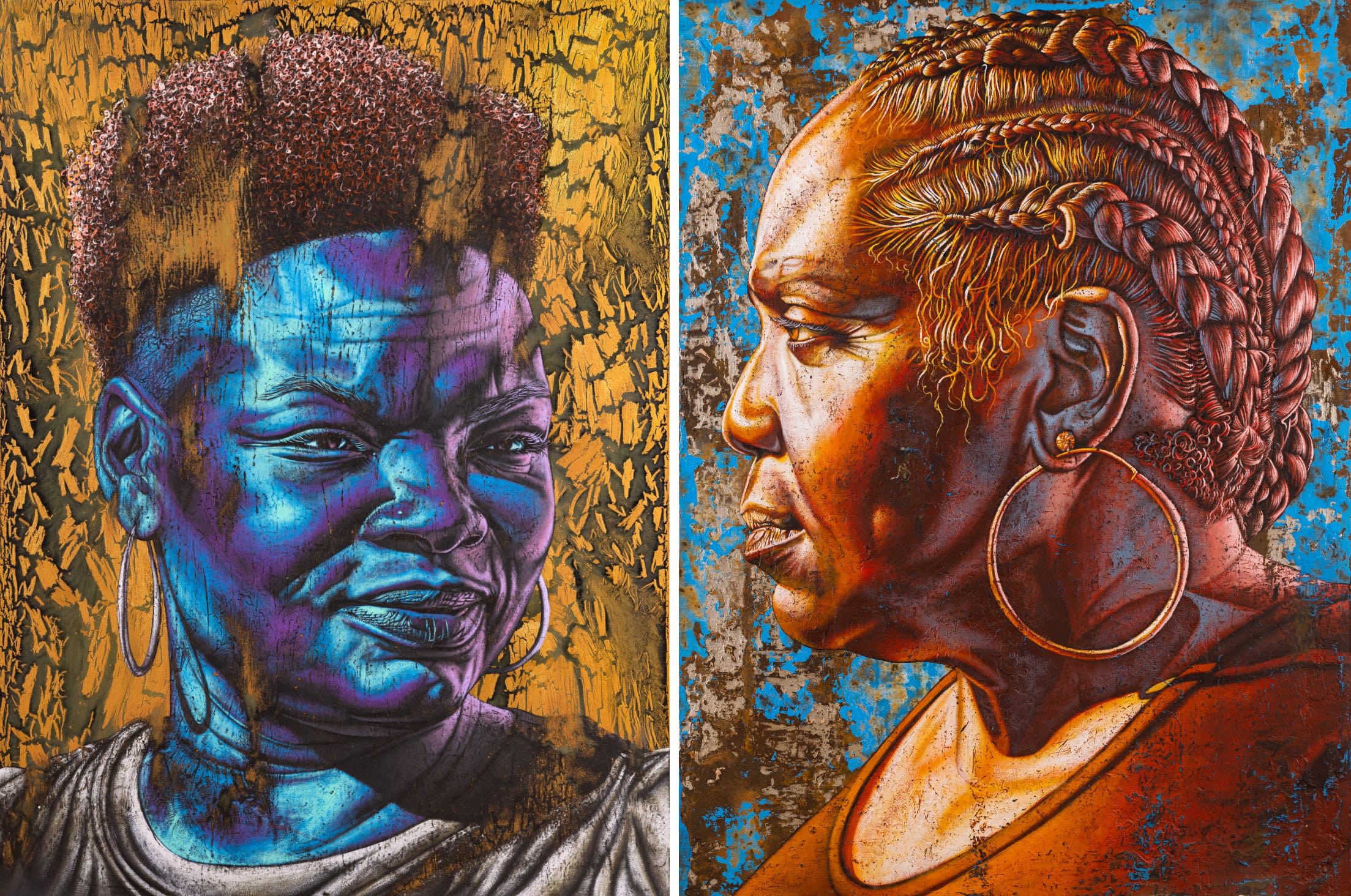 Left: Reesie (2020), acrylic and urethane plastic on canvas, 48 x 36 x 3 inches. Right: Reneé (2020), acrylic and atomized steel dust on canvas, 48 x 36 x 3 inches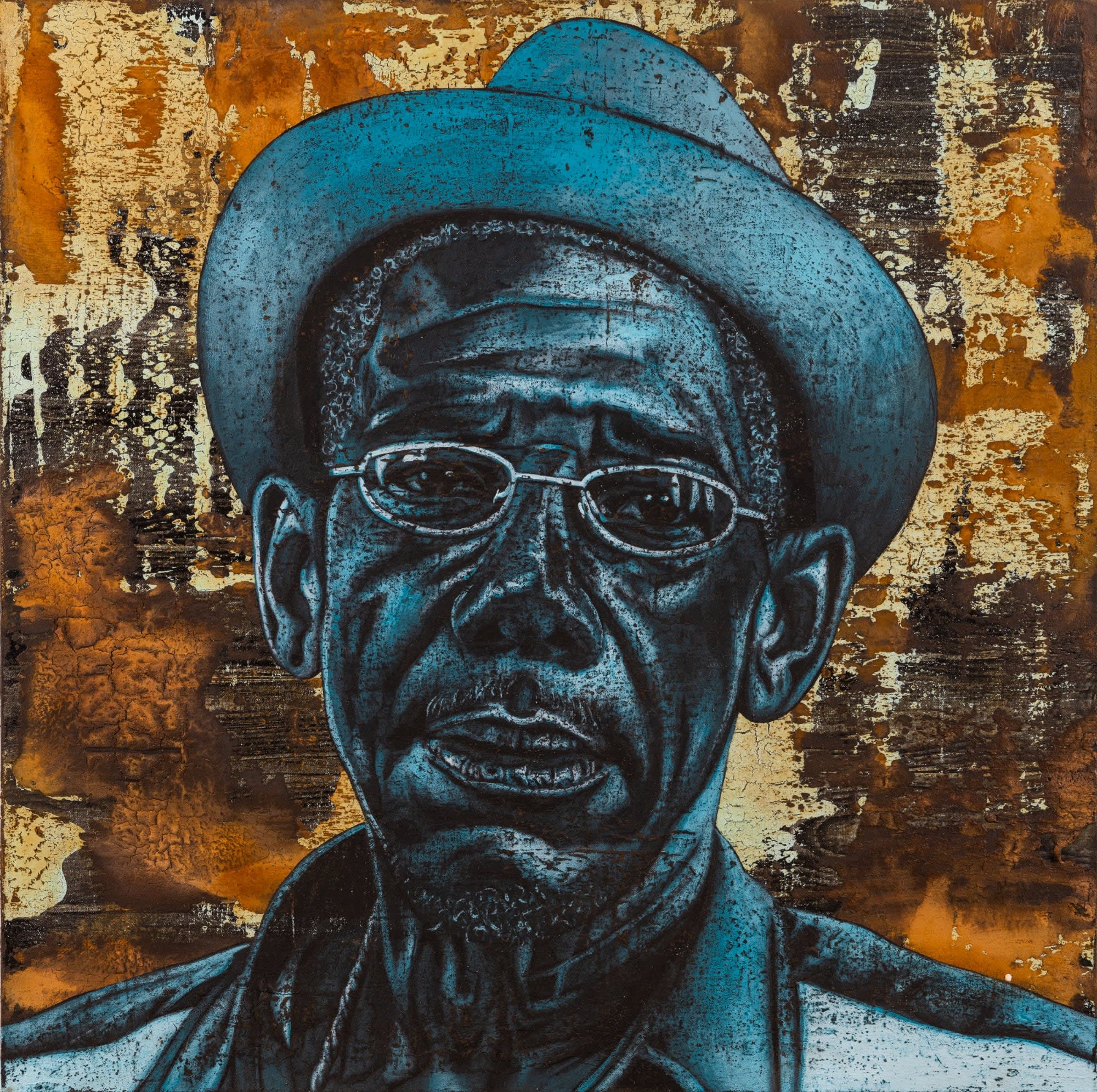 Minnesota (2022), acrylic and atomized steel dust on canvas, 25 x 25 inches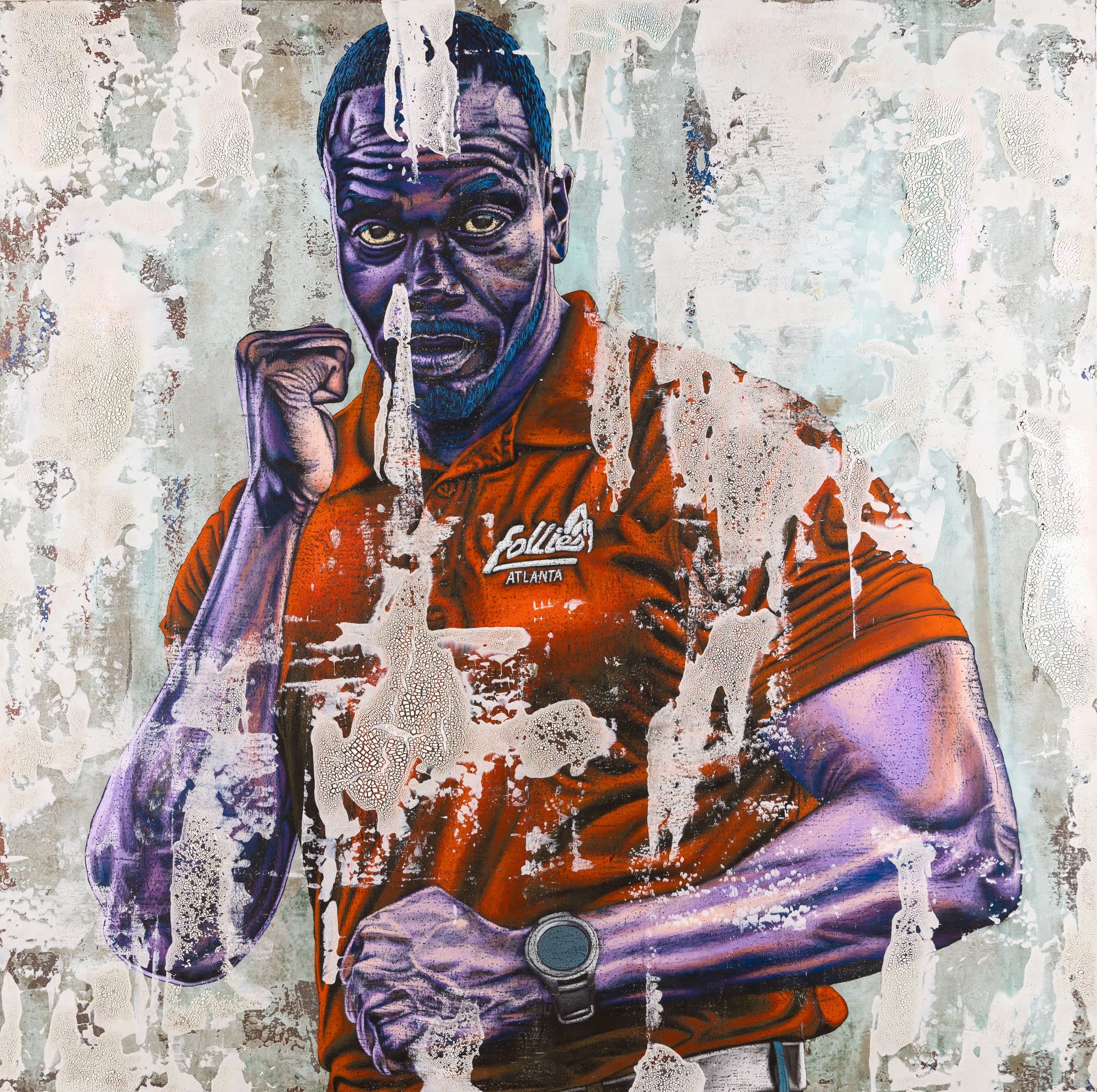 Isiah (The Boxer, The Bouncer) (2021), acrylic and atomized bronze dust on canvas, 60 x 60 inches