The American artist, Mickalene Thomas saw in the year taking part in Black American Portraits at LACMA, a show that presented her work alongside historic, modern and contemporary pictures of Black American subjects, sitters, and spaces.
Spanning over two centuries from the 19th century to the present day, this selection of approximately 140 works demonstrated how Thomas, alongside many notable others, has helped change the way racial diversity is represented within American art.
Some would have been happy with this simple achievement, but in April, she switched roles, to serve as producer for the 2022 revival of Ntozake Shange's ground-breaking poetry and choreographic work, For Colored Girls Who Have Considered Suicide / When the Rainbow Is Enuf. The production ran at the Booth Theatre on Broadway through to October and received seven TONY nominations.
The following month, the artist changed lanes again, to open her co-curated group exhibition, Set It Off, at the Parrish Art Museum in Watermill, NY. Working with her former romantic partner, Racquel Chevremont, Thomas drew together works by Leilah Babirye, Torkwase Dyson, February James, Karyn Olivier, Kameelah Janan Rasheed, and Kennedy Yanko, which though varied in their approach (there was text, sculpture, abstract painting and figurative works), were united in the progressive dynamism suggested in the show's title.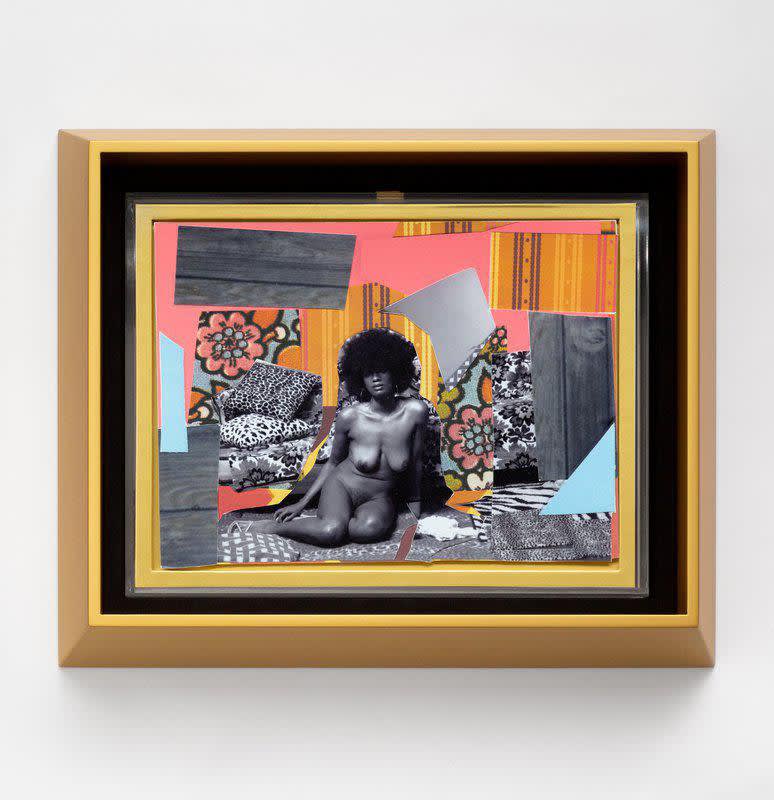 Mickalene Thomas, Left Behind, 2021.
Thomas also had a little fun over the summer, enjoying a warm reception for her work at LGDR's booth, at Art Basel, and posing for fellow artist Marilyn Minter (this latter experience "a dream come true" according to Thomas).
However, it was in the fall that her year got serious. In October, Pratt>FORWARD, the mentorship progam the artist co-founded at the Pratt Institute, welcomed its first in-person sessions, with 10, specially invited emerging artists arriving at Newlab, a center of invention located in the Brooklyn Navy Yard, to meet and work with a wide range of more experienced practitioners across creative fields, from fine art to technology.
Meanwhile, over in London, a 2005 work by Thomas, As If You Read My Mind, doubled its high estimate, to sell at Phillips for £504,000, proving the market has remained remarkably buoyant for this widely collected artist. Institutional acclaim followed fast, with the Newark Museum of Art in Thomas's home state of New Jersey acquiring Isn't She Lovely?, a monumental 2022 work by the artist.
However, Thomas's true 2022 highlight came quite far from home, when she opened her first museum exhibition in France. Entitled Mickalene Thomas: Avec Monet, the show, which runs until February 2023, comprises three new large-scale collages, one monumental painting and an immersive site-specific installation featuring her 2016 video/ sculpture Me As Muse.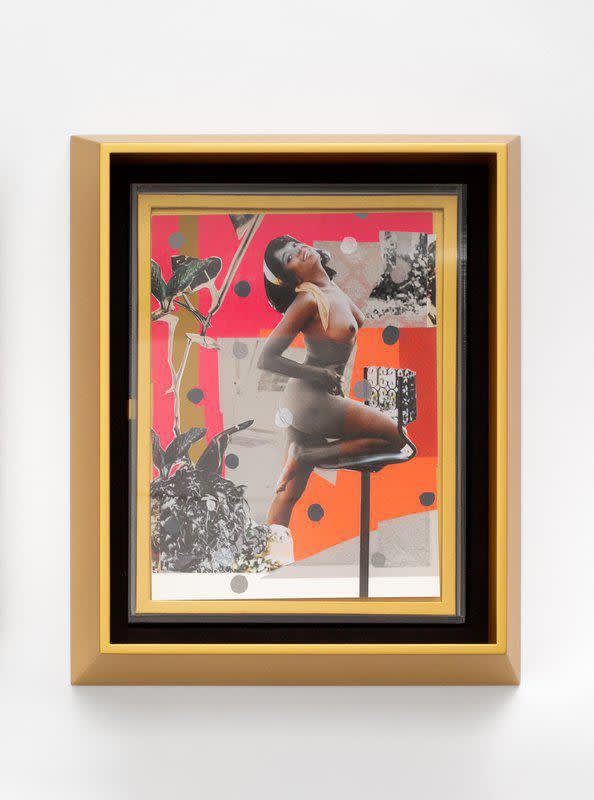 Mickalene Thomas, Jet Blue #11, 2021.
The show, in part, developed from the residency Thomas undertook at Claude Monet's home in Giverny, France in 2011. It also responds to that old Impressionist staple – the good life – in new ways. "Projecting joy is really important to me," Thomas told BAZAAR magazine, in a profile timed to coincide with the show's opening.
And that joy may find unusual new forms in 2023. "One of the things I'm working on right now is Black beauty pageants," the artist told Oprah Daily. There was a lot of non-inclusion in the mainstream pageants like Miss America. So we had to create that space for ourselves, and there was this community that was built up and all these women that went through that trajectory of where they are today. And so for me, it's very exciting to start there."