The beginning of Art Basel Miami Beach each winter heralds the end to the year's demanding art fair calendar. It always makes for a busy finale, and this time around, the fair, which opened to VIPs on Tuesday, was even more intense than usual, now that it had returned to its pre-pandemic size, both in terms of exhibitors and visitors.
Art Basel Miami Beach's opening was thrumming with people, and a number of sales were reported by galleries over the course of the day. Though last year's fair was marked by a multitude of NFT-related projects, digital art initiatives like these were noticeably absent at this fair. (Other NFT-related launches are still happening elsewhere in Miami and Miami Beach this week, and invites for them have been piling up in people's inboxes.)
As with any fair, particularly one run by Art Basel, blue-chip trophy pieces abounded as did small clusters of works associated with the Arte Povera and Op art movements. This edition is of particular note, as the fair is celebrating its 20th anniversary in South Florida, and dealers seemed to toast the occasion by bringing out heavyweight works.
Below, a look at the best on offer at the 2022 edition of Art Basel Miami Beach, which runs until December 3.
Arghavan Khosravi and Suchitra Mattai at Kavi Gupta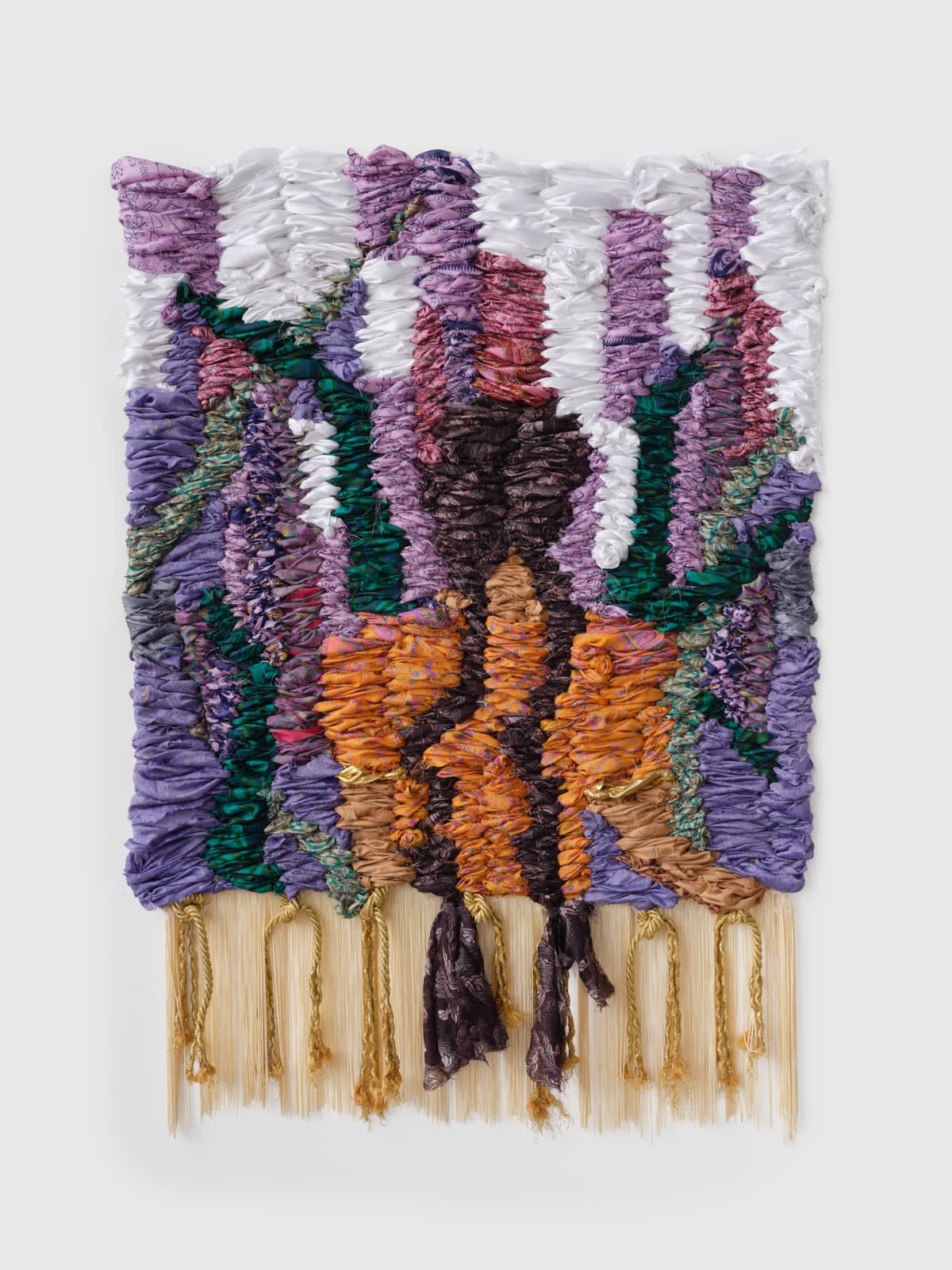 Suchitra Mattai, two plaits (braids) one heart, 2022. Vintage saris, fabric, fringe, and cord, 50 x 35 in.
Two of the fair's strongest presentations were mounted by Kavi Gupta. Arghavan Khosravi is showing a striking new painting in which a woman with her long hair is passed through a guillotine, whose form is echoed by the work's carved wooden frame. Made this year, the work directly comments on the ongoing protests over the death of Mahsa Amini in Iran, where Khosravi was born and where she lived until a decade ago. Though Khosravi's work has long reflected on the status of Iranian women, often filtered through the aesthetics of historical Persian art, this new piece, titled Our Hair Has Always Been the Problem, poignantly brings this important political situation to the fore, begging viewers not to look away.
Nearby are three works by Suchitra Mattai, which incorporate bunched and sewn saris. The works bring together the confluence of influences that the artist has experienced—she is Indian descent and was raised in Guyana. To these works, she often adds various objects, from found tapestries that she embroiders on top of analogue film reels containing Bollywood movies to the shards of glass that remained after someone attempted to break into her studio.