Right now, the work of two very different artists, Joan Mitchell and Mickalene Thomas, can be seen in Paris alongside the paintings of Impressionist master Claude Monet. Although Abstract Expressionist artist Mitchell was always reticent about associations with Monet, Fondation Louis Vuitton is presenting their work in dialogue. Monet–Mitchell, on view through February 27, 2023, aims to reveal the themes and approaches shared between the two artists.
Meanwhile, Thomas—who's known for addressing Black beauty, desire, and power in her art—is more welcoming of the connection. For Mickalene Thomas: Avec Monet, on view through February 6, 2023, at the Musée de l'Orangerie, Thomas created new works inspired by her time as an artist in residence at Monet's Giverny home in 2011. Both exhibitions reveal not only the exceptional talents of Thomas and Mitchell, but also encourage us to revisit with new eyes the work of Monet, an artist whose very familiarity sometimes blinds us to the groundbreaking nature of his practice.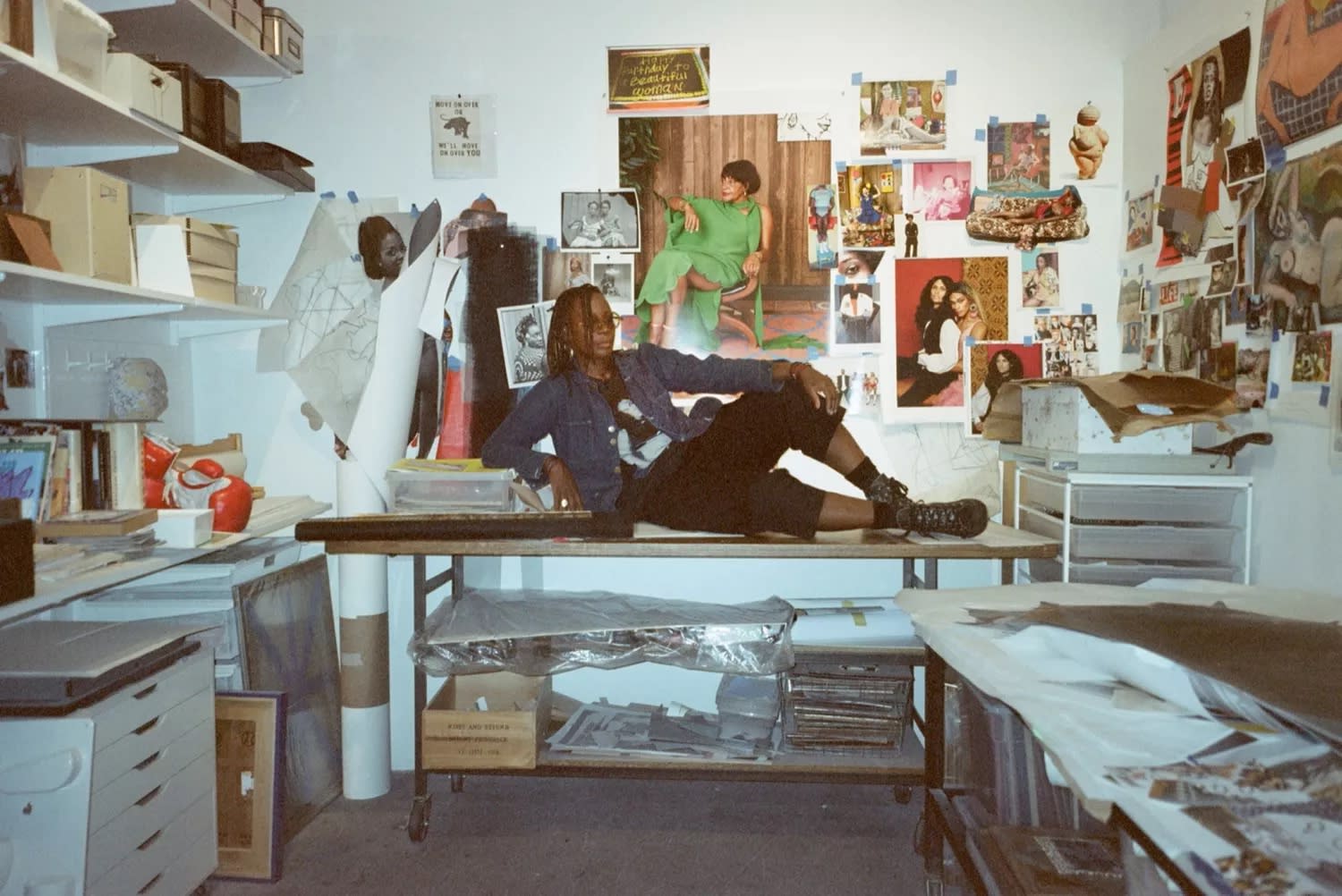 Portrait of Mickalene Thomas by Luisa Opalesky.
Mitchell, like many artists of her generation, discovered Monet in the 1950s—a time when he was emerging from critical oblivion to be hailed as a revolutionary precursor to Abstract Expressionism. Though Monet died the year after Mitchell's birth, both artists shared an almost exclusive interest in nature and rejected any attempt to theorize their practices. Monet instead defined his paintings as a pictorial representation of "sensation"; for Mitchell, her paintings represented "feelings."
Just as Monet adapted a more liberated style and technique in his later years, Mitchell's bold, gestural brushstrokes and dripping paint sought a similar freedom. While Monet's subject matter remained legible, however, Mitchell's canvases are unfailingly abstract. "In all my paintings, there are trees, water, grasses, flowers, sunflowers, etc…but not directly," as Mitchell is quoted as saying in the exhibition catalogue.
In the late 1960s, Mitchell moved to the village of Vétheuil in Normandy where Monet once lived. Though his former home at Giverny was a mere 15 kilometers away, the famous garden was then in a sorry state of disrepair. The same landscapes and motifs that moved Monet would inspire Mitchell, "creating an endless knowing and conscious interplay of homage and denial between her work, Monet's, and their common territory," wrote Sylvie Patry, the Musée d'Orsay's general heritage curator and director of conservation and collections, in the catalogue.
Monet and Mitchell's connection is presented in particularly spectacular fashion in the final rooms of their Fondation Louis Vuitton show. Monet's monumental triptych Agapanthus (1915–26), displayed as a whole in France for the first time, is paired with 10 panels of Mitchell's Le Grande Vallée series (1983–84). Removed from their frames, Monet's works take on a new dimension, highlighting the truly avant-garde nature of their composition and execution. With no reference to horizon or bank, the water lilies on the surface of the pond coexist with grassy fronds that rise up from murky depths in an ethereal, dreamlike vision of nature's beauty.
Mitchell's canvases, inspired by a secret childhood sanctuary described to her by her friend, the composer Gisèle Barreau, are equally immersive. Each panel was conceived "as a sacred space where the human, animal, and plant worlds meet and merge in the lyricism of color and the gestural rhythm of the painted surface," wrote Claudia Buizza, assistant curator at the Fondation Louis Vuitton, in the catalogue. Both Monet and Mitchell worked on their series at times of great personal loss, and their exuberant brushwork and approach to color can be seen as evidence of their shared belief in the redemptive power of both painting and nature.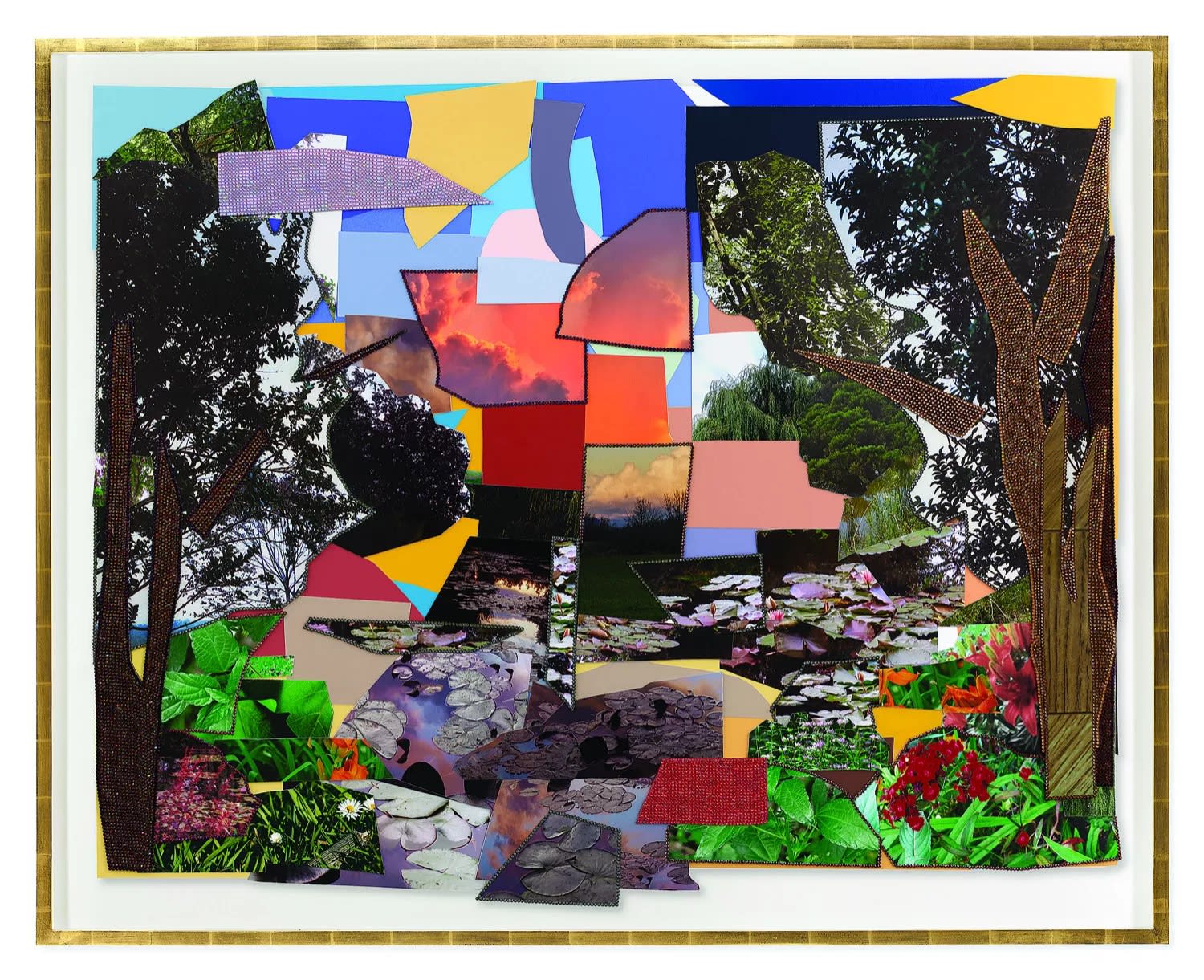 Mickalene Thomas, Le Jardin d'Eau de Monet, 2022. Photo © Mickalene Thomas. © Adagp, Paris, 2022. Courtesy of the artist and Musée de l'Orangerie.
For Thomas, whose work frequently critiques the art historical canon dominated by white men, her time spent at Giverny was eye-opening. "Giverny gave her the opportunity to reflect on Monet's compositional work and to investigate landscape, which was not a central genre in her work," explained curator Sophie Crépy in an interview with Artsy. "The painter's biography also offered her a story of freedom, of rebellion against the norms of his time."
In response, Thomas produced her own works of rebellion: three new large-scale collages, one monumental painting, and an immersive site-specific installation featuring her 2016 video/sculpture Me as Muse. In the collages, Thomas makes herself at home in the rooms and outdoor environments Monet designed and drew his own inspiration from. By adding her trademark rhinestones and other bright elements, Thomas transforms Monet's spaces into her own.
Photographs from Monet's garden form the background of Le Dejeuner sur l'herbe: les Trois Femmes avec Monet (2022), Thomas's radical and celebratory response to Le Dejeuner sur l'herbe, first painted by Édouard Manet in 1862–63 and then reinterpreted by Monet in 1865–66. Thomas replaces the white figures with three Black women gazing confidently at the viewer. Their hair is proudly worn naturally or styled in intricate braids, while their clothing alludes to the 1970s—the height of the civil rights and Black is Beautiful movements in the United States.
The garden reappears when Thomas updates Me as Muse (2016) with photographs and fake floral arrangements, providing a background to the video screens on which the artist uses her own naked body to critique the tradition of the odalisque in Western art. Recordings of the birds at Giverny are combined with the voice of singer Eartha Kitt, an inspirational figure for Thomas, listing the mistreatment she has endured throughout her life.
Mickalene Thomas, installation view of Me as Muse, 2016, in Mickalene Thomas: Avec Monet at Musée de l'Orangerie, 2022. Photo © Musée de l'Orangerie / Sophie Crépy, 2022. © Mickalene Thomas. © Adagp, Paris, 2022. Courtesy of the artist and Musée de l'Orangerie.
Thomas's innovative and highly personal response to Monet the man and Monet the artist enables us to view his work from new perspectives. "She encourages us to look at Monet with her and to perceive quite different dimensions from those often evoked," Crépy said.
Mitchell, too, in her abstract take on Impressionism, reminds us of Monet's often understated impact on later generations of artists. With Monet–Mitchell receiving rave reviews, and due to reach an even larger audience when an adapted version of the show travels to the Saint Louis Art Museum next March, perhaps a whole new generation of artists will rediscover him all over again.