Jeffrey Gibson isn't from Portland. He lives in New York, but when Kathleen Ash-Milby, the Portland Art Museum's curator of Native American art, was looking for an artist to create a site-responsive piece to complement her retrospective of Oscar Howe, Gibson immediately came to mind.
Howe, a modernist Dakota artist who died in 1983, believed in the importance of supporting younger generations of artists.
"A lot of people think of him as almost a grandfather of contemporary Native American art," Ash-Milby said.
She spent years working on Dakota Modern: The Art of Oscar Howe, which opens at the Portland Art Museum on Oct. 29 after debuting in New York last spring. She said she always wanted a contemporary art component of the show but was unable to get one in time for the initial debut.
Enter Gibson.
"I thought of Jeffrey immediately," Ash-Milby said, "in part because of his use of geometry and geometric abstraction and his real focus on color and sophisticated use of color."
"Oscar uses a lot of geometric abstraction in his work and really was a master of color," she continued, "so there's a formal relationship between the two of them. But also Jeffrey is part of this lineage of contemporary Native American art."
When Gibson, who is a member of the Mississippi Band Choctaw and of Cherokee descent, came to visit the museum in the fall of 2021, Ash-Milby showed him several possible sites where he could create work. When visitors come to Jeffrey Gibson: They Come From Fire, they will see his work displayed in three separate locations.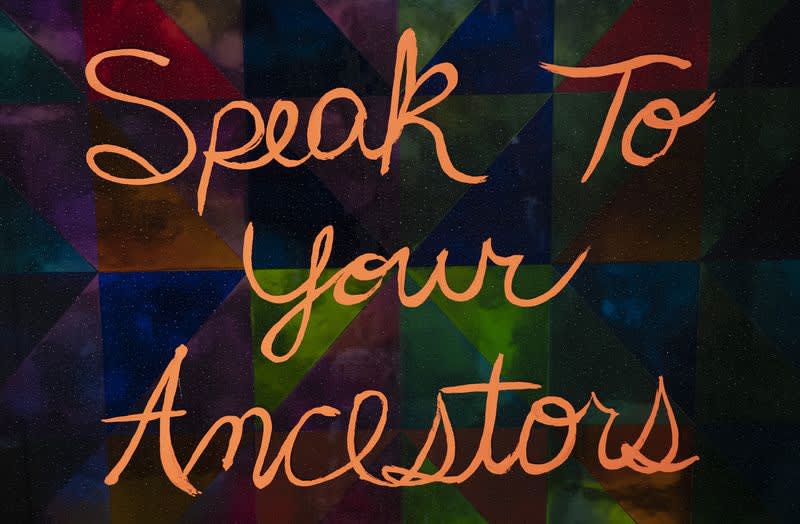 The Jeffrey Gibson exhibit at the Portland Art Museum features several glass panels made by glass fabricators at Portland's Bullseye Studio
Experiencing his first installation doesn't require entering the building.
Colorful panels on the museum's facade give a rough timeline of Native history in Oregon, going from the broad and sometimes tragic – "1930-34, Malaria kills 80-90% of remaining Indigenous populations of the Portland Basin and Willamette Valley" – to the personal and specific – "2018, Silas Hoffer becomes the first ~out~ Two Spirit/Transgender/Gay member in their family."
According to Ash-Milby, these personal moments were "sourced" from the Portland community, who also make up most of the content of the second installation, the centerpiece of Gibson's Portland work.
There, in the museum's Schnitzer Sculpture Court, a wall is covered with portraits of Portlanders standing atop pedestals of downed monuments.
During Gibson's visit, Ash-Milby took the artist was the park blocks.
"I showed him the empty pedestals and talked about the monuments that had been taken down there," she said. "I've always thought, ever since that happened, especially in front of our museum, 'This seems like a perfect spot for an artist intervention.'"
Intervene is exactly what Gibson did. When he returned in May, he and his studio assistant, Brian Barlow, spent three days photographing a diverse group of Portlanders on top of the pedestals that once held statues of Theodore Roosevelt and Abraham Lincoln, toppled during racial justice protests in 2020.
"For Jeffrey, it was like, 'What can I put in place of those monuments? Who can I put on these pedestals that I want to see on the pedestals?'" Ash-Milby said.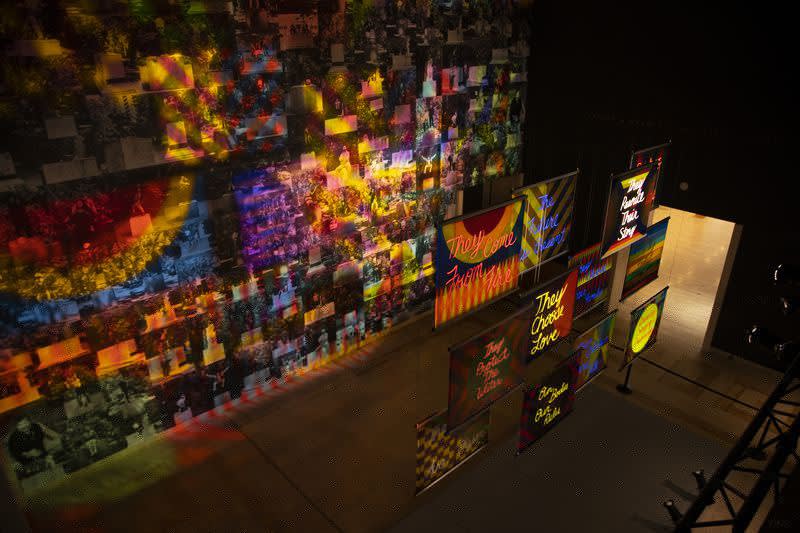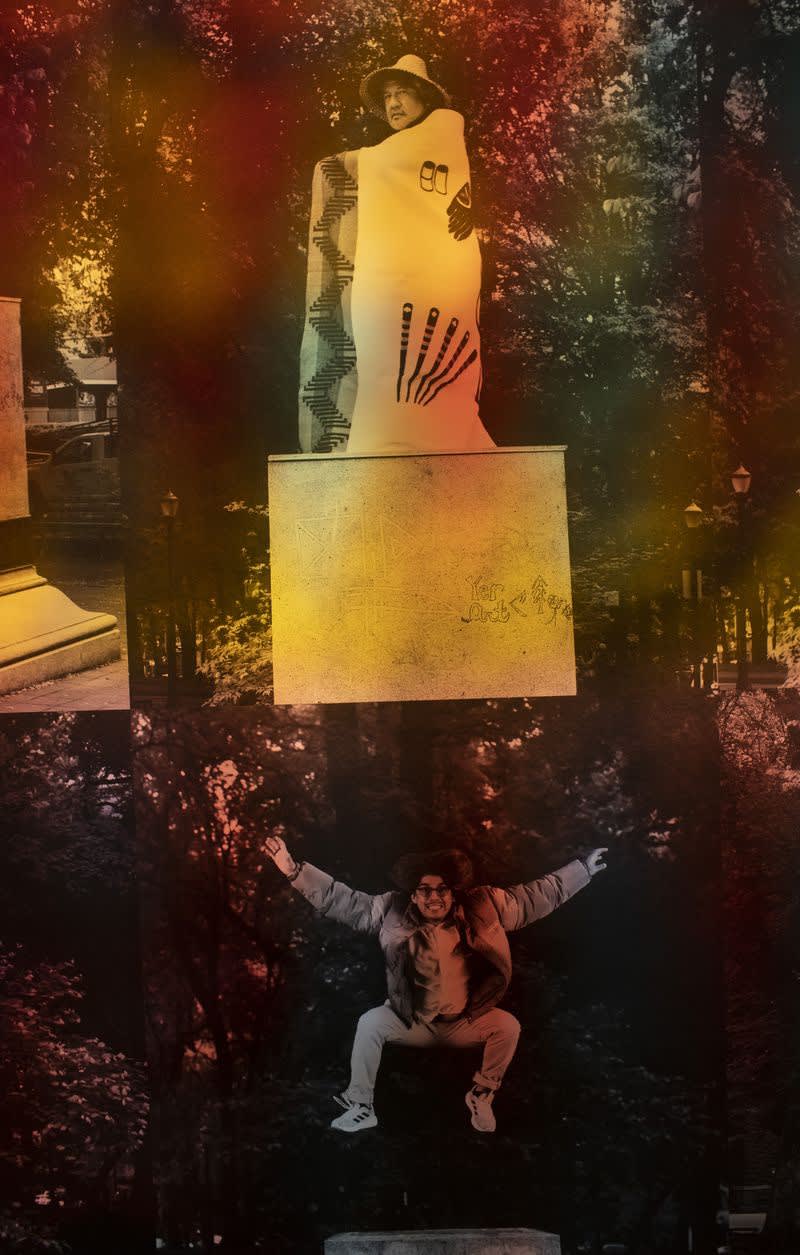 An integral feature of the exhibit is a large wall of photographs of local community members portrayed–literally put on a pedestal–atop the foundation of the Roosevelt statue in the Park Blocks.
For him, the answer was Portlanders of all kinds. Indigenous people. People of color. Families and couples. Children. Elders. Groups. Drag queens. Some wore traditional regalia. Some brought items of importance to them. At least 143 people participated.
In front of the wall of portraits, hanging from the ceiling, are glass panels made at Bullseye Glass. The panels feature phrases that tell their own story and reflect light in patterns across the faces of Gibson's subjects.
The exhibit is both striking and meditative. Viewers must take time to look at the faces of those Portlanders Gibson chose to honor.
The final piece of the Gibson exhibition of a performance-based work is called To Name An Other.
This piece isn't site-specific or new but is on loan from Jordan Schnitzer and fits with the theme of Gibson's other work on display. Generally, Gibson recruits volunteers in local communities who identify as people of color, Indigenous and/or LGBTQ+ to drum and perform the piece.
The Jeffrey Gibson's exhibit at the Portland Art Museum, They Come From Fire, features outdoor elements, including words that highlight Indigenous histories, some more personal than others.
On display in the Meier gallery will be 51 garments with matching drums. A video of the spoken word performance will also play.
Ash-Milby called the exhibition "a great compliment" to Gibson's Portland-specific work "because it exemplifies this idea of connecting with community and amplifying the voices of community members."
In doing so, Gibson takes broad history – both distant and recent – and makes it personal, illuminating what it means to be a human being at this particular point in time.