The Institute of Contemporary Art San Francisco, founded last year by former ICA San Jose director Alison Gass and funded by a handful of prominent names in the Silicon Valley tech and venture capital community, announced itself as a non-collecting museum emphasizing risk-taking exhibitions promoting Bay Area artists and bringing established artists from elsewhere to San Francisco. They wasted no time programming, wading into the local art world with a series of pop-up events, while their Minnesota Street location underwent renovations. Now, the museum has officially opened their first major exhibition, This Burning World, by New York artist Jeffrey Gibson.
Gibson, who exhibited in the 2019 Whitney Biennial, often incorporates text and textile into his studio-made sculptural artworks, which convey and grapple with the contemporary indigenous American experience. Here, he's dispensed with crafted objects in favor of a two-channel video installation and architectural alterations that reinterpret the concept of a land acknowledgement, an increasingly common institutional practice. Perhaps the most high-profile example preceded the 2020 Macy's Thanksgiving Day parade, performed by indigenous musician Joan Henry.
Criticisms of land acknowledgments come from both sides of the political aisle, ranging from seeing them as excessively politically correct to calling them out as empty gestures that don't do nearly enough in the way of reparations for America's history of genocide and colonization. Gibson takes a different tact. For both works in the exhibition, he has collaborated with Henry on what he refers to as a "land apology."
In the titular installation, two facing walls are taken up by a 20-minute looping video of nature scenes, mostly filmed in the Hudson Valley where Gibson lives and works, the footage often overlapping and interlaced in triangular patterns. Henry's dancing figure, singing voice and instrumentalization is the only human presence throughout. The audio fades gently into the background, creating a restful atmosphere to the room, while the patterned splicing intrigues, but the footage ultimately feels like something you might see on the Nature Channel.
More striking is how Gibson invites viewers into a direct dialogue with nature, two rows of the ICA's concrete floor torn up to reveal the earth below the building. These twin trenches, like inverted furrows of land, intimate a natural reclamation of the manmade space, in which one can imagine a slow return of plant growth consuming the surrounding concrete.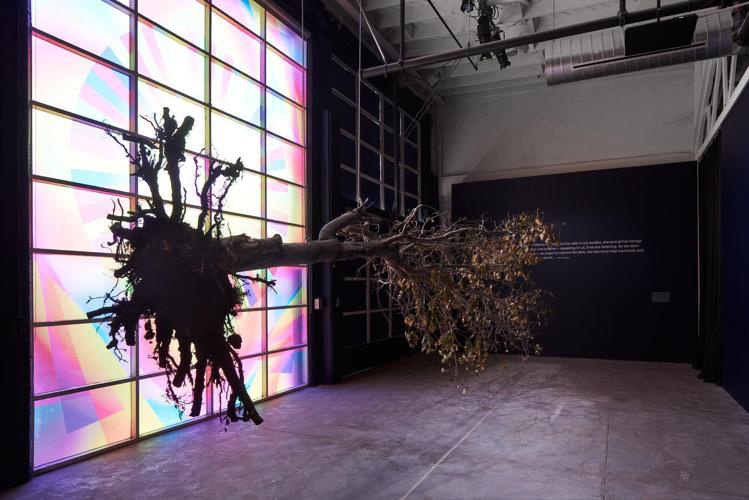 Jeffrey Gibson, The Future is Present, 2011-22. Image by Impart Photography.
A second gallery space contains The Future is Present, 2011-2022, an adult maple tree suspended from the ceiling by steel cables. The tree, which was hit by a car in the East Bay and transported to the ICA, is another instance of Gibson bringing the outside in, feeling almost shrine-like in its exaltation of the dead maple. The single, large window in the room has been covered with a vinyl graphic of colorful, geometric patterning, furthering the reverent feel of the room in its resemblance to a chapel's rose window. Henry has supplied vocal intonations here, too, often shushing visitors, a gentle reminder to take a meditative approach to the work.
Similar vinyls have been applied to the building's street-facing windows, these ones featuring text reading "The trees are witnesses" and "Speaking to the sky and kissing the ground." If these are warnings or instructions, they're gentle ones, encouraging a kind of tenderness that is often absent in climate crisis rhetoric. Given the increasing devastation wrought by climate change in Northern California, This Burning World feels locally relevant, while avoiding the sort of didactics muddying many climate art exhibitions. Instead, Gibson posits a kind of communion with nature, leading by example rather than sermon, and making space for us to join in his devotion.