Outdoor sculpture gardens hold many wonders for art aficionados as well as the botanically inclined, with quirky works that are also appealing to the younger members of the family. Imagine discovering a an abstract iron windmill nestled in a forest, or coming upon a larger-than-life happy face set in a well-tended lawn.
Wander through any of these 10 nature-based gallery spaces, and you'll be enwrapped in a sense of the magical, and come away with a deeper appreciation for both the wonders of nature and the human imagination. All offer free admission, and are listed in order of distance from downtown Chicago.
Nathan Manilow Sculpture Park (University Park): 45 minutes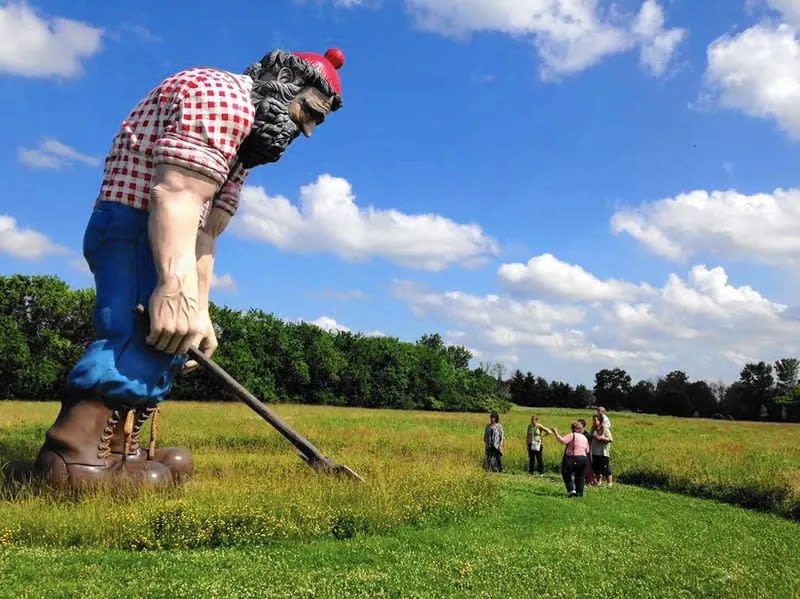 Tony Tassett's Paul at the Nathan Manilow Sculpture Park.
Often referred to as the Nate, this park shares 100-some acres with Governors State University, just 35 miles from downtown Chicago. Visitors meandering the mowed grassy paths around the lake and through the recreated prairie landscape will see over two dozen works from celebrated artists, most hailing from Illinois.
The park's first sculpture, Yes! For Lady Day by Mark di Suvero, allows visitors to enter an open train car that swings on an I-beam. One of the most popular works is the monumental — and weary-looking — Paul (referencing Paul Bunyan) by Tony Tasset. Many sculptures, like Bodark Arc by Martin Puryear, reflect a connection to the land. A path offering views of a line of Osage orange trees traces the shape of a Native American hunting bow.
Laumeier Sculpture Park (St. Louis) 4 ¾ hours
Just 20 minutes from downtown St. Louis, this 105-acre sculpture park is one of Missouri's largest and oldest. Three trails and numerous side paths course through the property, allowing you to ramble about and view the more than 70 sculptures that are displayed in fields, woodlands and lawns. (Some are made from repurposed materials.)
One of the park's best-known works is Tony Tasset's Eye, modeled on the artist's own blue irises. The park's largest piece, The Way by Alexander Liberman, consists of red-painted steel oil tanks that are welded together and arranged in all manner of angles. Another standout: Ball? Ball! Wall? Wall! by Donald Lipski, a series of side-by-side old marine buoys that make up this 300-foot-long sculpture.