Multimedia artist Jeffrey Gibson's "Like a Hammer," an amalgamation of various works produced from 2011 on, opened to the public Thursday at the Seattle Art Museum (SAM) and will remain there until May 12.
The Choctaw-Cherokee creator, who is currently based in Hudson, New York, inaugurated the exhibition at the Denver Art Museum last year. Describing the pieces displayed in too much detail is possibly a disservice to their immediacy and flair. They should be experienced in person. A mixture of paintings, structures, collages, figures, and other compositions, the 65-plus-piece show is eye-catchingly imbued with a diverse array of inspirations and influences, rooted in Gibson's queer identity, his indigenousheritage, pop music and culture, colonialism, and more.
I went to a press preview last Tuesday, which began at about 1 p.m. It was made up of a refreshments-enhanced reception backed by the music of Grace Jones, George Michael, and others, and a tour of the exhibit, which was enriched by Gibson's candid, generous commentary.
"It's really a treat to see it all together," Gibson said shortly after we walked into the first part of the showcase.
"Like a Hammer" sits on the SAM's top floor, and is divided into four sections. Each features a distinct assortment of multimedia creations. The visual centerpiece of the first is "Freedom" (2013), a vibrant structure that referencestraditionally indigenous artifacts: thetravois and the parfleche. Through its size, color, and adorning pieces, Gibson, according to a label, sought to motivate audiences to ruminate on the sphere of Native abstraction, and the role women play in art. This particular space is also notable for highlighting some of the earliest works of the exhibit, which came after a period of artistic frustration for Gibson.
Punching bags have been a crucial and recognizable object within Gibson's body of work since 2012. Many were prominently featured in a central grouping in the second room. Gibson explained that his artistic repurposing of the punching bag was preceded by a time in his life where he was debating whether or not he wanted to continue being an artist. Around then, someone told Gibson that he seemed "angry," which led to his meeting with a counselor and then taking boxing lessons at their recommendation as a way to relieve tension. As he pummeled Everlast bags in his free time, Gibson said that he realized that much of his frustration was based in broader societal issues like homophobia, racism, and classism.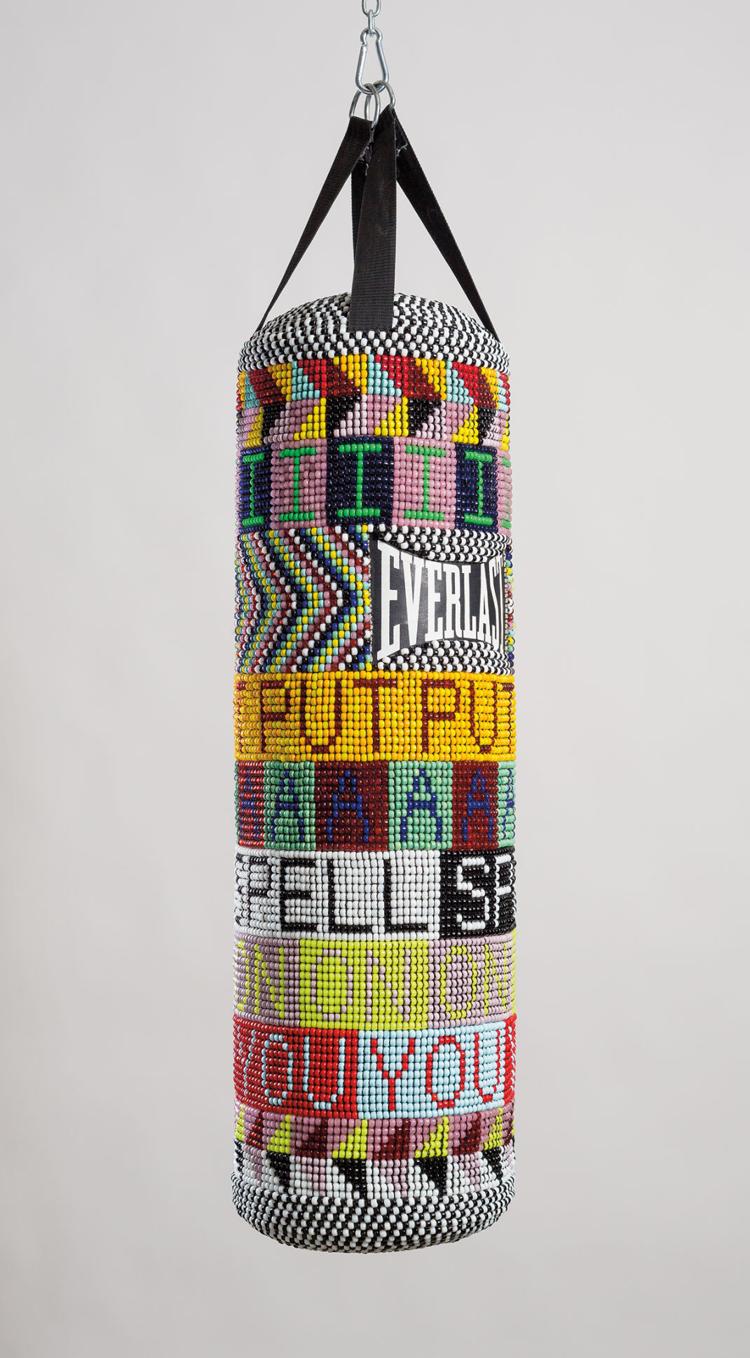 "There's not really one singular person I was angry at," he said.
His punching bags — most of them embellished with beads, artificial sinew, blankets, embedded song lyrics, and other items — came from a subversive desire to transform the cathartic object into something that was suddenly impractical to strike. Gibson estimated that, as of now, about 45 punching bags exist; he makes a few every year with the assistance of his in-studio team.
The third room featured a pair of structures, several paintings, another collection of punching bags, and more. One of my favorite creations in this space, which is located toward the back, was "In Numbers Too Big To Ignore" (2016), an astounding, vibrantly red piece made of a wood panel intricately festooned with artificial sinew, copper jingles, metal studs, a repurposed wool army blanket, and glass beads. Gibson, who stressed the personal importance of the composition as he spoke, explained that the work was inspired by the frequency with which indigenous women are murdered.
"I wanted it to look like an aerial view of a protest," he said in reference to the ripple-like shades of red defining the piece's center.
The fourth room, which is located in the rear of the exhibit, is encircled in several small, innovative diptych paintings examining a dichotomy between separation and unity. The focal point, though, is undeniably the massive "Don't Make Me Over" (2018), which is essentially a performance space and takes up most of the area. At its center is a garment hanging on tipi poles, which is, in turn, surrounded in a rainbow curtain. The curtain itself is covered in the words comprising the title text, which refers to a 1962 Dionne Warwick song about self-possession.
Gibson said that ideas for the piece initially came to him after the presidential election of 2016, which made him feel unsafe as a gay man and parent. Wanting to explore the meaning of the rainbow and its connection to the queer community, he was additionally inspired by camp and kitsch, oft-parodied genres that he wanted to take seriously.
Although the curtain is the most immediately eye-catching part of "Don't Make Me Over," the garment that sits within the space is not to be overlooked. By incorporating both masculine and feminine sartorial traits of traditional powwow regalia, the attire, according to a label, is meant to unify indigenous and queer aesthetics. Via a video that plays on one of the walls across from the installation, we are also able to see Gibson perform in the garment in what is supposed to be a depiction of a private ritual.
After walking through the exhibit, visitors are encouraged to look through a reading room at the end of one of the showcase's hallways, which gives attendees the opportunity to get a more in-depth look at Gibson's many references through books and other ephemera. After being privy to Gibson's artistry, the use of this room as something of an epilogue is canny. Once you get a tangible sense of how Gibson sees the world, you want to prolong that experience for as long as you can.