Asia Society Texas Center's docents are crucial to connecting guests of all ages to our mission by encouraging a learning environment centered on Asian art, history, and culture. Each docent provides a unique perspective, sharing their diverse backgrounds and knowledge as they provide tours of different exhibitions. In our Docent Corner series, we'll share some of the experiences of our docents around various works that have been on view at Asia Society Texas Center.
We'd like to begin the series by featuring our 2019–2020 Docent of the Year, Johanna Brassert, who joined us in the fall and in her short time has become an irreplaceable part of the team. Her passion for the arts is evident in each tour, and her inquisitive nature allows her to approach each exhibition with renewed curiosity. She has shown great flexibility working with all ages, and has also dedicated time to other aspects of the Asia Society mission by acting as a volunteer for various programs.
Learn a little more about the current exhibition on view, Form is Emptiness, Emptiness is Form: Works by Miya Ando through Johanna's point-of-view.
---
An exhibition that has had special significance for me is Form is Emptiness, Emptiness is Form by the artist Miya Ando — an American artist of Japanese and Russian descent — and that opened at Asia Society in November 2019. It was specially created by the artist for Asia Society Texas Center and its architectural space, and clearly revealed the breadth and depth of Miya Ando's artistic expression in the variety of materials, spatial compositions, and the layers of meaning and interpretation within each work and their connection to each other, as well as to Lee Ufan's outdoor installation and to Yoshio Taniguchi's interior architectural design. The importance given to the space around each object as much as to the object itself reflects the exhibition's title and essential Buddhist thought.
The elements of Miya Ando's art that spoke to me so distinctly were her remarkable versatile use of natural and manmade materials (wood, stone, metal), the environmental consciousness in her artistic process, and the layers of metaphysical and universal meaning with the underlying precepts of Buddhist philosophy. I also admired how the art works related to the surrounding space, light, and water to us as spectators and participants, and to the world at large.
I am so thankful to have been able to meet Miya Ando in person and attend her Artist Talk. My impression was that of a delightfully modest person emanating great strength, generosity, and spirituality, and this in my view is reflected in her art. Her bicultural American-Japanese heritage and firsthand knowledge and practice of Buddhism only further enhance her unique personality and the depth of meaning in her work. The four pieces that made up the entirety of the exhibition reflected Miya Ando's invaluable cultural background and boundless creativity, and explains why a one-hour tour passes so quickly, which I experienced several times as both spectator and docent.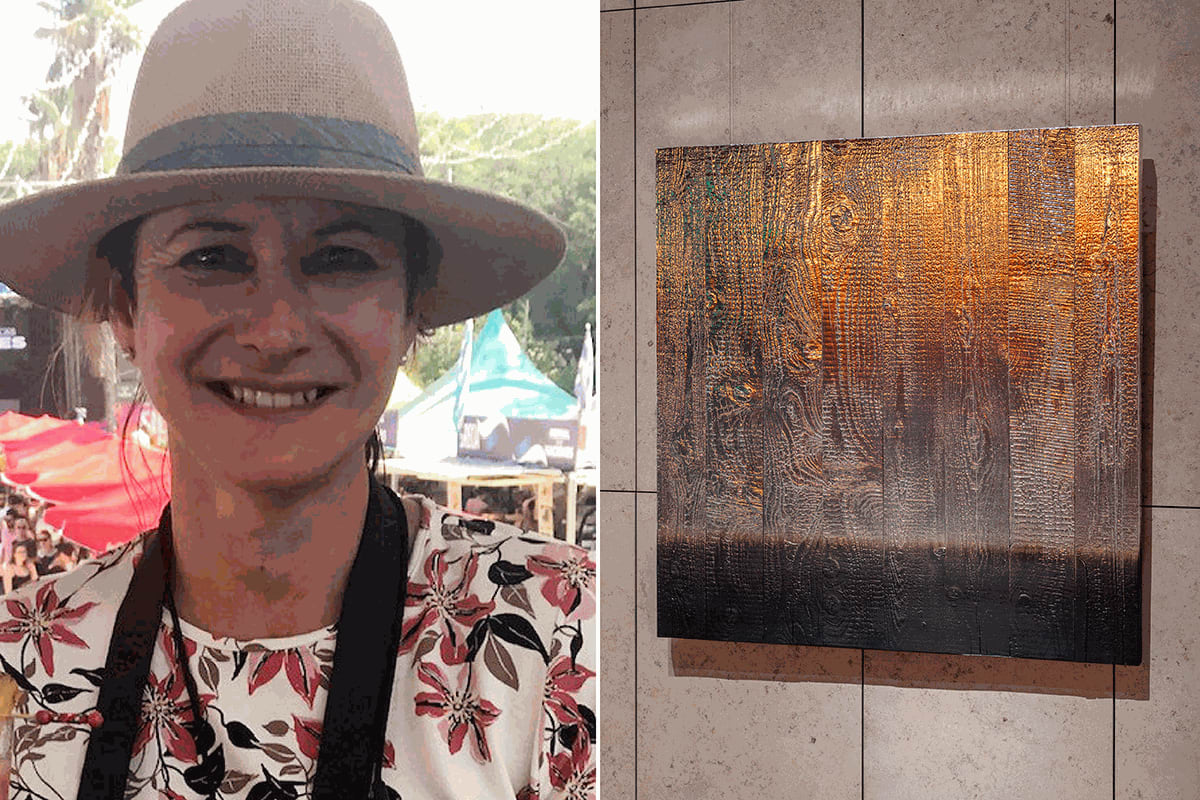 Left: Courtesy of Johanna Brassert. Right: Installation view of Form is Emptiness, Emptiness is Form: Works by Miya Ando, Asia Society Texas Center, November 16, 2019 – August 23, 2020. © Nash Baker
It is difficult for me to pick a favorite piece from the exhibition as each work was so different and yet connected with the next and with the overall building space, thus in a way creating one work out of the four (or six, if you include Lee Ufan's installation and Yoshio Taniguchi's architectural design as part of the whole). As I practice painting myself, I connected with more familiarity to the two-dimensional panels Tides Shou Sugi Ban — a meaningful combination of natural materials, with silver nitrate highlighting the beauty and complexity of what resembles water but is in fact the intricate grain of wood, and shou sugi ban (traditional Japanese parched-wood protection treatment) that provides a dramatically dark matte contrast to the shiny silver nitrate at different heights (or tidal levels) above it. The panels as such emanate a curious and almost mystical orange glow from the reflection of the 100-year-old cherry wood of the wall and natural sunlight opposite them in Asia Society's grand hall. As you move from one side to another, the play of light changes the effect on the contrasting paneled surfaces so that the art is brought to life by the natural elements, much like sunlight on water. The concept is ingenious, the art is alive and transient in its effects just as with the ocean's tides it represents and with nature in general, and as such the transient nature of all things is conveyed — a recurring theme in Miya Ando's work and one of the principal tenets of Buddhist teachings.
This exhibition has left a unique impression on me. Few, if any, are within an architectural space of such distinction and show such a variety of visual effects and meaning rooted in artistic biculturalism, unique life experiences, and traditional Buddhist philosophy.