CLEVELAND, Ohio — Visitors to the quintet of exhibitions at the Cleveland Museum of Art organized as part of the FRONT International: Cleveland Triennial for Contemporary Art, are in for a delightful, thought-provoking shock.
Gallery 218, the so-called "Glass Box'' on the south end of the museum's East Wing, normally hosts a collection of French 18th- and 19th-century sculptures. Now it has been transformed into something resembling a realization of Claude Debussy's 1910 piano Prelude, "The Sunken Cathedral."


The installation in the museum's gallery isn't specifically related to the Breton myth or the Debussy composition, but it certainly resonates with them.
Firelei Báez, an American artist of Haitian and Dominican descent based in New York, intended her large-scale installation to embody a reimagination of San Souci Palace in northern Haiti. The structure was built as the home of Haiti's first monarch, Henri Christophe after enslaved Africans achieved independence from France in 1804 in a bloody revolution. Damaged by an earthquake in 1842, the palace is now a ruin.
The Báez installation represents a tilted section of the palace, whose name means "without care'' in French as if it were rising from the sea, encrusted by coral and littered with modern-day trash that has sunk below the waves.
The ruin appears to burst from the gallery floor like the cathedral of Ys, rising high toward the lofty ceiling, and disrupting the room's placid, crystalline design.

The installation's canted, faux-masonry walls introduce a note of funhouse distortion and disorientation, inviting visitors to crouch through diagonally-slanting arched doorways.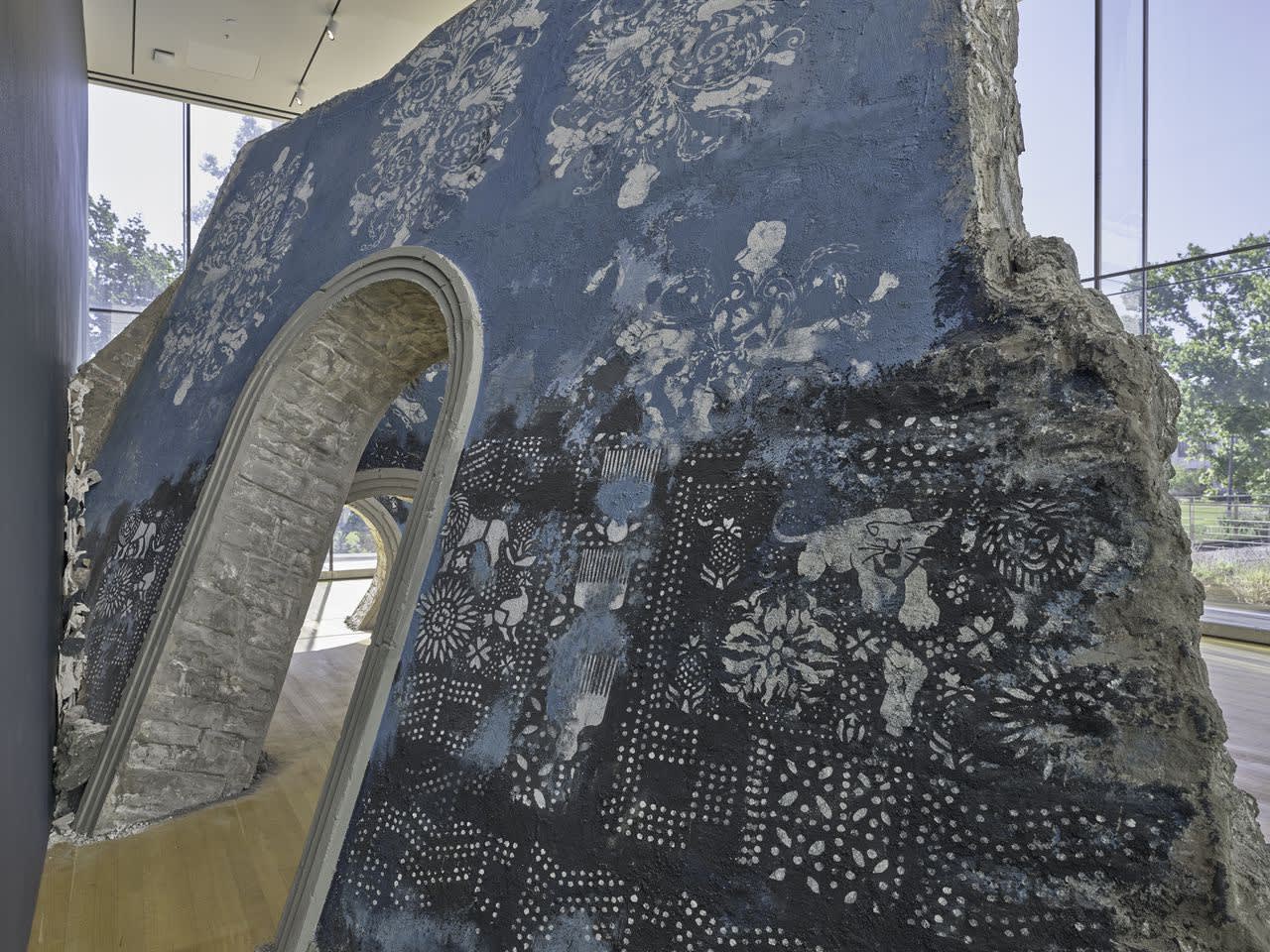 Firelei Báez (b. 1981, Dominican Republic), the vast ocean of all possibilities (19°36'16.9"N 72°13'07.0"W, 41°30'32.3"N 81°36'41.7"W), 2022. Mixed-media installation; dimensions variable. Courtesy the artist and James Cohan Gallery. © Firelei Báez.

There's another deep cultural resonance here, to the 16th-century "Garden of Monsters'' in Bomarzo, Italy, about 75 minutes north of Rome. Attributed to architect Pirro Ligorio, the garden is filled with fantastic and grotesque creatures carved in stone, now covered in moss. It also includes a tilted, open-air palace with off-kilter rooms that induce dry-land seasickness because the floors inside are not in sync with the horizon outside.


Freedom underwater

Nadiah Rivera Fellah, the museum's associate curator of contemporary art, who worked with Báez to realize the FRONT installation, said that instead of tapping into Debussy or the Garden of Monsters, the artist was motivated both by a desire to evoke the cataclysmic history of Haiti and French colonialism, along with another oceanic myth related to slavery, that of Drexciya.
Invented in the 1990s by a Detroit band of the same name, the Drexciya myth holds that the children of pregnant enslaved Africans who were thrown overboard to drown during the Middle Passage swam from their mother's wombs to establish an underwater empire.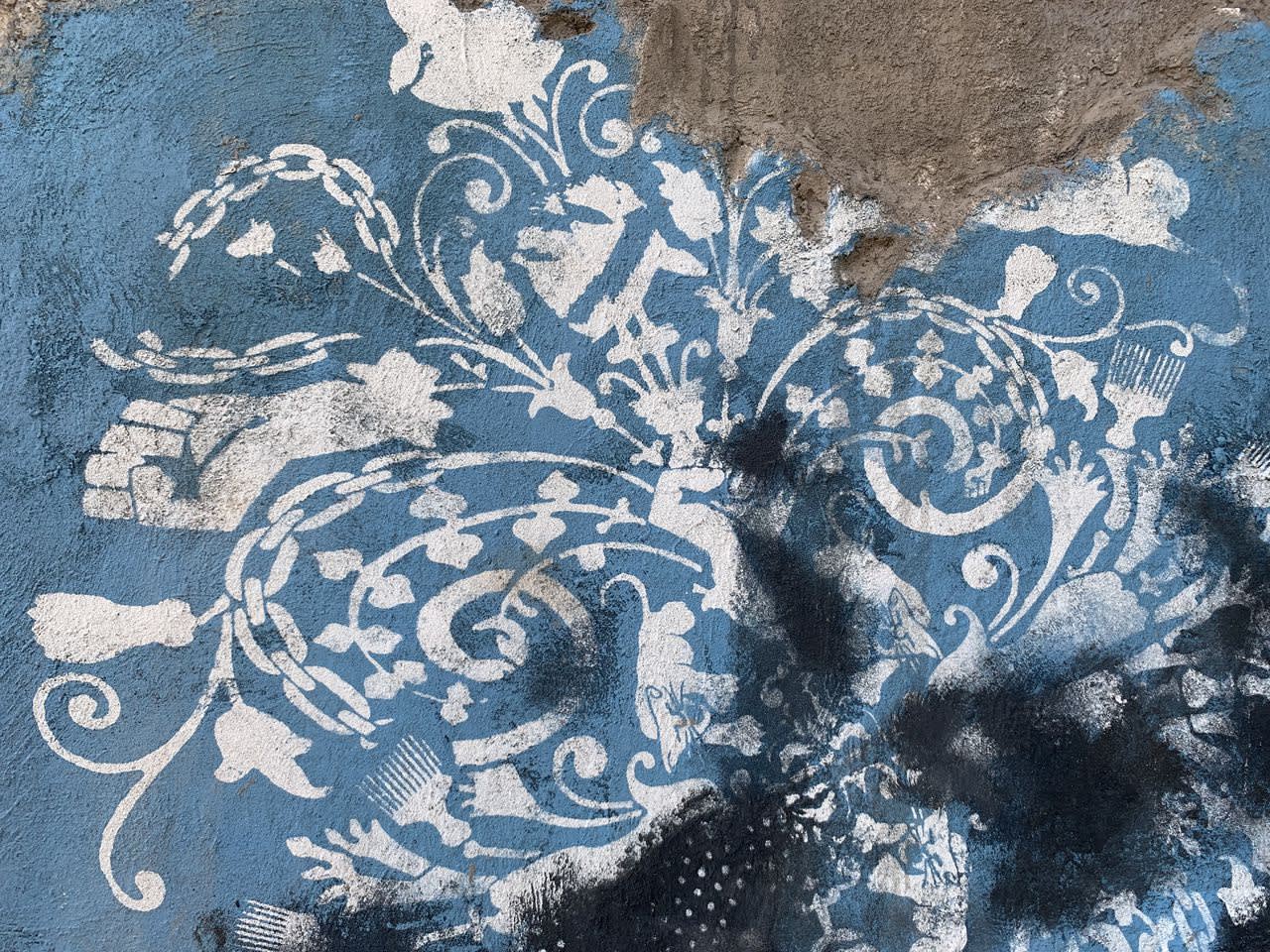 A detail of the Firelei Baez installation at the Cleveland Museum of Art, part of the FRONT 2022 Triennial. Courtesy of
Steven Litt for cleveland.com
Stenciled in turquoise and white with images of raised fists and broken chains, Báez's palace walls signal defiance, and triumph, even as they appear to crumble and perhaps sink back into the sea.
The work's complex imagery and numerous cultural echoes make it an ideal entry point for this year's FRONT, dedicated to the idea that art can promote healing from traumas affecting individuals, communities, and entire societies.
The triennial, which opened with previews on July 14, will run through Oct. 2 with exhibits of works by more than 100 artists at 30 venues across Cleveland, Akron, and Oberlin, including the Cleveland Museum of Art, which has five individual FRONT components, including the Baez piece.
Upcoming reviews will dive into additional portions of the triennial, a brainchild of Cleveland-based philanthropist, collector, and cultural entrepreneur Fred Bidwell. But if you're looking for a place to get started on FRONT 2022, the museum's East Wing Glass Box is ideal.
In addition to its rich imagery, the Báez piece occupies a strategic location in the museum's footprint at the beginning of a sequence of galleries that trace the rise of modernism, represented mainly through French art.
As such, the Báez installation opens a fresh perspective on how all the wonders of French 19th-century painting, from Camille Corot's idyllic landscapes of Italy to Claude Monet's waterlilies, emerged from a society busily engaged in colonial exploitation.