Celebrating pride month with a curated selection from our archives. Past and recent histories of queer sloganeering, movement, poetry, and documentary.
1980s
Fiction, nonfiction, and theater about femininity, anti-blackness, and against sentimentality.
"Cookie as my ex-boyfriend," NYC, 1980. Photo by Gary Indiana.
"The Simplest Thing" by Cookie Mueller
"Molly had been extremely overworked since December, seven months, and very hostile but fragile, much like a thin cracking china cup full of bitter hot tea."
Celebrating pride month with a curated selection from our archives. Past and recent histories of queer sloganeering, movement, poetry, and documentary.
1990s
From Félix Gonzalez-Torres's poetic memorials to Gran Fury's New York City-wide works, artists resoundingly respond to the AIDS crisis, amid the government's denial and inaction.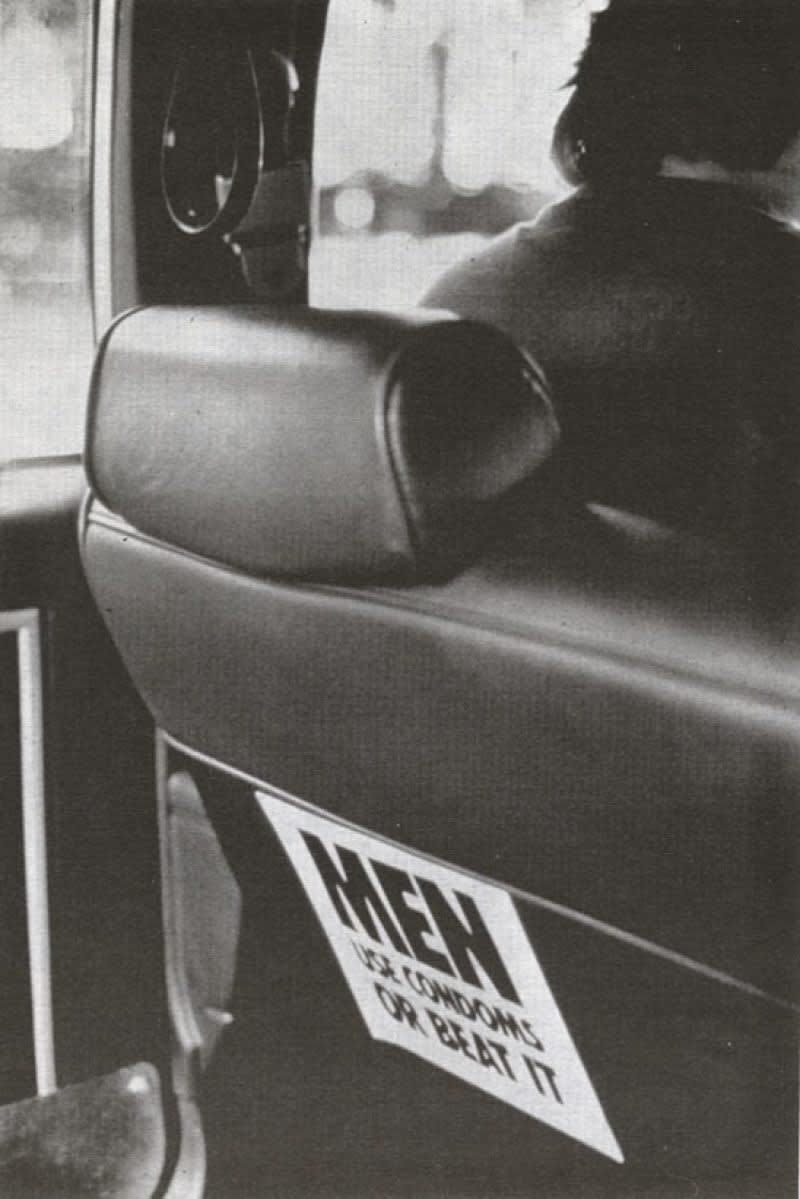 Gran Fury, Men Use Condoms or Beat It, 1988, offset lithography, 9 × 12 inches.

Excerpt of "Horse Crazy" by Gary Indiana
"Every time I catch his gaze he tilts his head as if peering into a favorite mirror."

Craig Lucas Interviewed by Billy Hopkins
"I'm not afraid of death. I'm fascinated by death. It's an equal part of our life; it's the other end-cover of the book."
Jeff Weiss by Bill Rice and Dorothy Cantwell
"Only a craft can be this hard. Building a table that stays up, making a good frame. Doing something practical. I was conquering a speech impediment and getting rid of an accent that made me incoherent. I was finding a way to express myself in writing."
Audre Lorde Interviewed by Ada Gay Griffin & Michelle Parkerson
"I learned to write love poems by reading poems I never understood but the words would get me high."

Gran Fury Interviewed by Robert Gober
"My fear is that the heavy emphasis on the cultural analysis of AIDS distances us from the fact that this is a living, breathing crisis in which lives are at stake right at this moment."

Félix González-Torres Interviewed by Ross Bleckner
"Sometimes you have to look back and say, 'Fuck, how was I able to make that shit?' And laugh about it and then move on… I've destroyed a lot of work; I'm not afraid of mistakes. I'm afraid of keeping them."

Wayne Wang Interviewed by bell hooks
"The first time you see an empty space, it is probably as pure as it can be. But as you see people interact in that space over time it gains more meaning, and a different kind of meaning emerges from that image."
Hilton Als Interviewed by Coco Fusco

"One of the great problems I had with each of these subjects was to avoid the sentimental or the simplistic. I had to make the book as complex as possible to show the different shadings (no pun intended) just with three people, let alone the 20 million black people who are in America."
2000s
Novelists, poets, and video artists on performances and their audiences.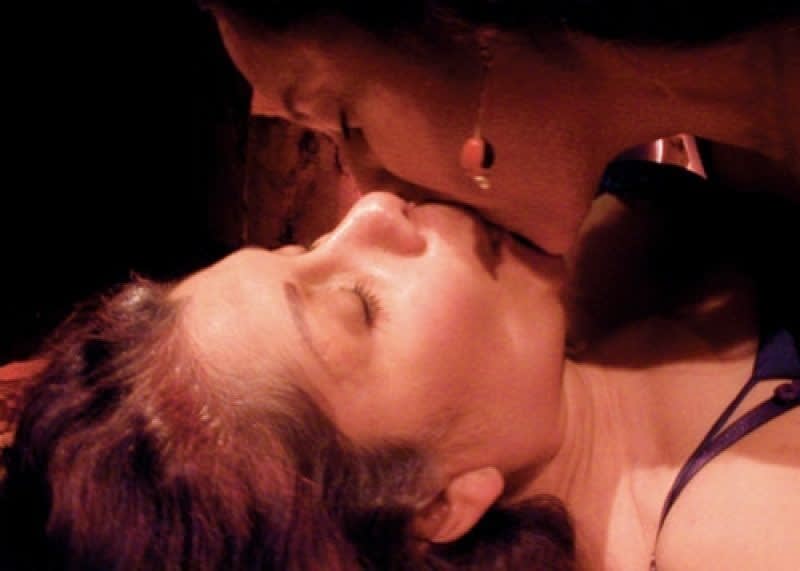 Vivis as Medea and Adelina Anthony as Luna in Cherríe Moraga's
The Hungry Woman
, 2005.
Chris Abani Interviewed by Colm Tóibín
"I think that with every novel, there's this shadow novel: the novel that should have been and that was in my head at first, that was set in a much more public place."

Cherríe Moraga Interviewed by Adelina Anthony
"Everything I write, even essays, really has an oral quality. I am a body articulating these thoughts, which implies that there is another body on the other end that hears them out loud—if only in her head. She is my auditor-witness."

Remembering John Giorno
"When a poem works the way that poem works, it becomes the reflection of the mind of each person in the audience. If there are 500 people in the audience, it's like 500 mirrors looking at themselves."

Harry Dodge and Stanya Kahn Interviewed by Michael Smith
"When I'm rebuffing the word 'character' I'm rebuffing the self-distancing process implied by the traditional theatrical reading of that word. I see 'character' as a metaphorical space, a state of being for myself." —Stanya Kahn
2010s
On the Orlando nightclub shooting, queer feminism, and gender politics.
Photo by Teju Cole.
We are Orlando (3/5) Gerard and Kelly
"I cry because my body understands I am not safe in a church, in a school, in a cafe, in a concert hall, or in a nightclub. I cry for my mother, who texts her queer son: I love you."

Rachel Nelson and Fabi Reyna Conversation
"Besides the fact that I'm considered queer, I guess I don't really know what it means to be a queer feminist. My work doesn't necessarily revolve around being queer although I like to think that if you're going to consider yourself a feminist, you're going to fight for more than one kind of equality." —Fabi Reyna

Young Joon Kwak by Charles Long
"For me, the notion of a pan identity implies the undoing of existing gender categories. From a young age, I knew I was different. I always identified with the girls and my feminine side, but I tried to pass as a boy all my childhood and into my teens, thinking and hoping that it was just a phase. I grew up in a conservative Korean, evangelical Christian community and I thought that this secret of mine was born of my own sin—that if I repented and prayed enough to God, I would be made normal."

Roxane Gay Interviewed by John Freeman
"As long as I can remember, reading has offered me light through the darkness of loneliness, shyness, pain."

Teju Cole Interviewed by Aleksandar Hemon
"What do I believe in? Imagination, gardens, science, poetry, love, and a variety of non-violent consolations. I suspect that in aggregate all this isn't enough, but it's where I am for now."

Justin Vivian Bond Interviewed by Joy Episalla
"It's not necessarily a healthy spell, wanting to be an aspirational white woman of elegance. It means you're never actually going to be what you are aspiring to be, because aspiring to something implies that you are, in fact, not that."

Deborah Kass Interviewed by Irving Sandler
"It was a bad business decision to not be attached to a man. I had no idea about the difference in money, security, and status, about how much all that matters in the art world. I was very naïve. Without a man, a woman, straight or gay, is vulnerable in ways I never could have imagined."
2020s
Works and writing that address the body as art.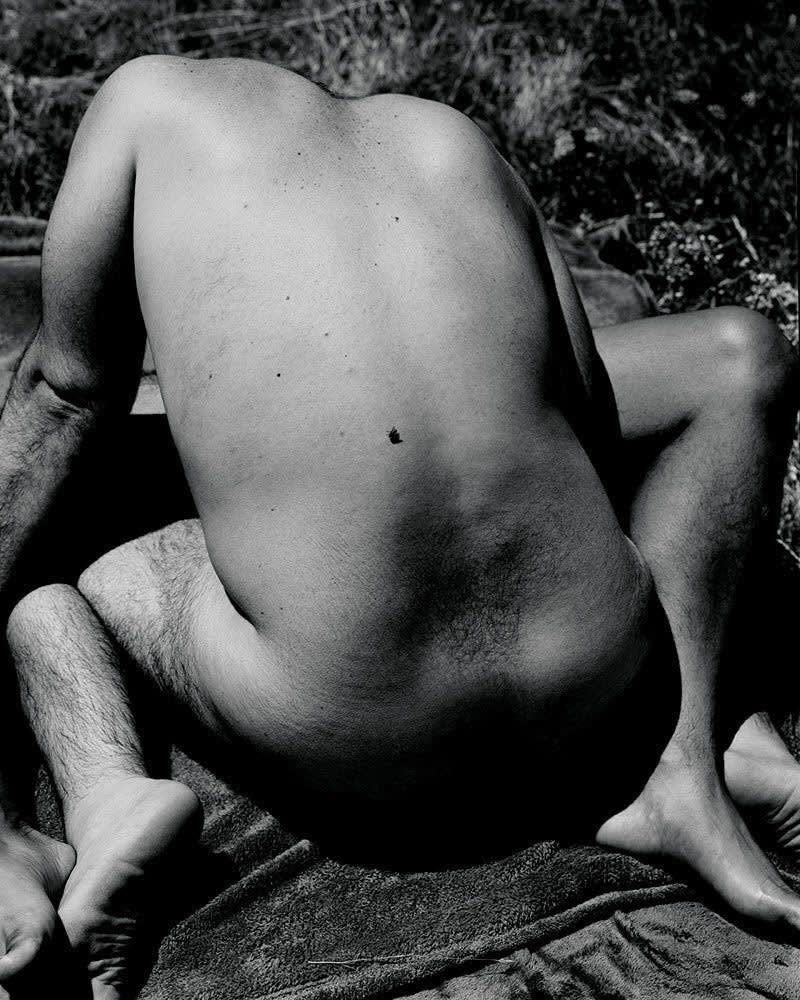 Mark McKnight, Black fly with bodies, 2020. Gelatin silver print, 40 x 50 inches. Image courtesy of artist.
Mark McKnight: Portfolio
"His images propose a queer ecology that eschews the boundaries of a reductionist or essentialist biology and look, rather, at the ligaments—a stream of piss into water, the pucker of a cave's opening—that bind the living and nonliving." —Nich Hance McElroy on Mark McKnight

"Three Boyfriends" by Brontez Purnell
"'Yes, I want to be famous, it's all I've ever wanted,' I said, stumbling naked around his Hell's Kitchen loft, high on Percocet and with nine glasses too many of white wine in my belly."

Jacolby Satterwhite by Sean Capone
"To survive as a queer person in this world, you extrude a fantasy and commit to it, assimilating into structures where you don't necessarily belong. I create safe spaces to stay sane."

Becca Blackwell and Okwui Okpokwasili: FUSE Episode
"When I did my solo show, I was having to teach audiences how to see my body" —Becca Blackwell

Jibz Cameron (Dynasty Handbag) Interviewed by Svetlana Kitto
"When people ask me why I do live performance, maybe this is an obvious thing to say, but it's this exchange that happens. People go insane without contact—like babies need to be touched and held, even though they are disgusting."