Su Su & Suchitra Mattai in State of the Art 2020: Constructs
:
Sarasota Art Museum, Sarasota, FL
Past exhibition
State of the Art 2020: Constructs is an exploration into how contemporary art – produced all across the country including regions outside traditional art centers – reflects the present moment.
A construct is a summation of parts. It's the relationships between a network of small ideas coming together that build any single, weighty concept. The artworks in this show tackle extremely complex topics—from those affecting humanity as a whole to more personal but no less complicated questions of self. The exhibition begins at a macro level: looking at artists concerned with environmental issues on a global scale. From there, the lens narrows, focusing on artists investigating specific locations and their relationships to people. In the final section, all eyes are on the individual, with artworks that explore personal identity.


These 21 artists, a group of the 61 artists from the original State of the Art 2020 exhibition, represent a taste of American art created in recent years. The approaches, backgrounds, and details of these artists' practices vary widely, but the echoes across works and sections of the show speak to broader trends in contemporary art in this country. Reorganized around the theme of "constructs," this focused exhibition invites visitors to consider how these artists put this theme in action.
State of The Art 2020: Constructs is organized by Crystal Bridges Museum of American Art, Bentonville, Arkansas.
---
PLANET
In the current era, humans are responsible for the biggest impacts on the environment. The artists grouped in this section emphasize our outsized impact on the world. While all of the artworks investigate the interwoven relationship between humanity and our planet, the methods and tone vary widely. For some artists, their works function as somber reflections on the current moment. For others, their works speculate on the future, looking back on the mistakes of recent years.
Place
Locations often carry threads of memory and tradition. This links people and objects to specific places and frequently aids in the creation of identity. The artists in this section re-contextualize objects, highlight particular details, and explore changing histories, but always with a connection back to a specific place. For these artists, the sites they reference are more than just a spot on a map. Each one is the summation of ideas, sounds, people, and stories—the small parts that collectively reveal the fullness of a place.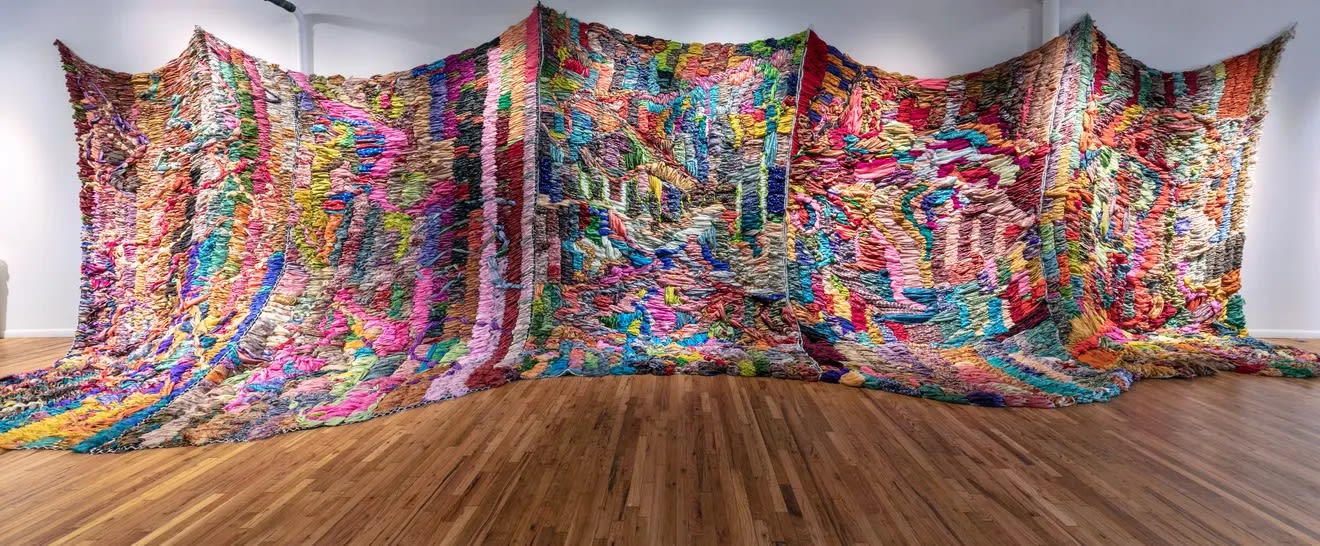 Suchitra Mattai, Exodus, 2019. Vintage saris from India, Sharjah and artist's Indo-Guyanese family and rope net. Crystal Bridges Museum of American Art, Bentonville, Arkansas.
Suchitra Mattai weaves vintage Indian saris from her own family with saris from the United Arab Emirates and India. A woman's garment from the Indian subcontinent, a sari is often a long strip of cloth that can be draped around the body in different ways. For Mattai, Exodus "connects diasporic communities of South Asians across the globe, giving voice to generations of women while also probing questions of displacement resulting from European colonization. Focusing on this period is both a means of tracing my family's history in Guyana and of fostering discussion around contemporary issues surrounding labor and gender."
SELF
For the most part, we control our identities. While we can't alter certain aspects of our origins, part of being human means having the agency to build your own sense of self. For the artists in this section, the construction of identity plays an important role in their work. For some, their work reflects their relationship to cultural norms and how they incorporate or deflect those influences. For others, this construction takes the shape of an additional façade or persona—a chance to bring out certain elements through their practice.